Sub Menu Toggle
Art, science and technology meet in UTRGV's newly founded "fab lab"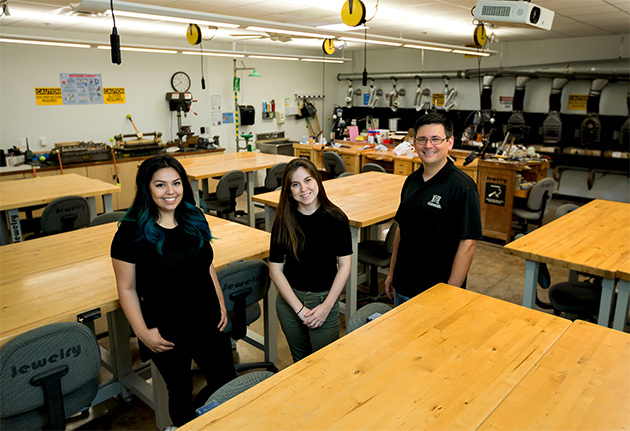 UTRGV students Vilma Flores and Alissa Flores with Dr. Emmett Tomai, associate professor of Computer Science, are working on the start-up of the UTRGV Fabrication Lab, to be located in the Visual Arts Building in Edinburg. The 'fab lab' will create a new space for people to design products using technology, science and art. Not pictured is Donna Sweigart, associate professor of art, who is collaborating with Tomai on the project. (UTRGV Photo by Paul Chouy) 
"After a certain high level of technical skill is achieved, science and art tend to coalesce in esthetics, plasticity, and form. The greatest scientists are always artists as well."
— Albert Einstein
PHOTO GALLERY
Password: fablab
By J. Edward Moreno      
EDINBURG, TEXAS — AUG. 7, 2017 — Two faculty members at The University of Texas Rio Grande Valley are teaming up to create a new place for people to design products using technology, science and art.
Donna Sweigart, associate professor of art, in partnership with Dr. Emmett Tomai, associate professor of computer science, are establishing a fabrication laboratory, commonly referred to as a "fab lab," at UTRGV's Art Annex in Edinburg.
Sweigart and Tomai in January received an Internal Seed Research Program grant from UTRGV's Office of Research, Innovation, & Economic Development to start the endeavor.
The Fab Foundation website says "activities in fab labs range from technological empowerment to peer-to-peer project-based technical training to local problem-solving to small-scale high-tech business incubation to grass-roots research."
The goal of the UTRGV initiative is to make technology available for creative and entrepreneurial purposes in underprivileged areas.
For the future facility to be recognized as an official fab lab, it must be reviewed by the Fab Foundation, and if approved, will be the first fab lab in South Texas.
The nascent UTRGV fab lab will be available for community use and is focused on encouraging youth, particularly young girls, to explore fields in creative technology.
Alissa Flores, 20, a computer engineering student who is helping start the fab lab, has participated in other programs to promote STEM among young girls. She said she is excited to continue that once the center is open.
"I get a kick out of seeing the girls enjoy coding," Flores said. "When they enjoy it, that's how we know we're doing something right."
Sweigart, who specializes in metals, jewelry and computerized design, has co-taught a game design course with Tomai for the past four years. She said collaboration between two departments is imperative.
"It's a way to encourage collaboration between what we usually think are disparate disciplines," she said. "The modern inventor is more than one thing – more than a computer scientist or engineer, or even an artist."
Vilma Flores, 24, a studio art and sociology student who is helping start the fab lab, said this program has given her the opportunity to explore a different side of her field.
"My brother did electrical engineering, which is what got me interested in the 'techy' side of art, and now I have the resources to explore that," she said. "It's going to be awesome to see girls become interested in this at such a young age because, personally, I did not experience that."
Tomai said the fab lab could also mean big things for the future of Valley industries.
"This is really relevant for the Valley in particular because we need more tech out here," Tomai said. "We really want to advance computing technology industry here in our area."
The immediate purpose of the facility will be to give students and the community the resources explore their potential and discover new things.
"We're excited to see people come in and make great stuff," Tomai said. "That's what we want out of this – a place where people can come and they realize what they can do. Then they do it and blow the rest of us away."
The fab lab pilot will launch Aug. 17 with a group of Girl Scouts, who will be the first in the community to try out the facility.
ABOUT UTRGV
The University of Texas Rio Grande Valley (UTRGV) was created by the Texas Legislature in 2013 as the first major public university of the 21st century in Texas. This transformative initiative provided the opportunity to expand educational opportunities in the Rio Grande Valley, including a new School of Medicine, and made it possible for residents of the region to benefit from the Permanent University Fund – a public endowment contributing support to the University of Texas System and other institutions.
UTRGV has campuses and off-campus research and teaching sites throughout the Rio Grande Valley including in Boca Chica Beach, Brownsville (formerly The University of Texas at Brownsville campus), Edinburg (formerly The University of Texas-Pan American campus), Harlingen, McAllen, Port Isabel, Rio Grande City, and South Padre Island. UTRGV, a comprehensive academic institution, enrolled its first class in the fall of 2015, and the School of Medicine welcomed its first class in the summer of 2016.
MEDIA CONTACTS
J. Edward Moreno
UTRGV Staff Writer / 956-665-3639 
Marci Caltabiano-Ponce
UTRGV Director of News and Internal Communications / 956-665-2742