Sub Menu Toggle
UTRGV University Productions presents "Bug Joy" by 2012 Texas Poet Laureate Jan Seale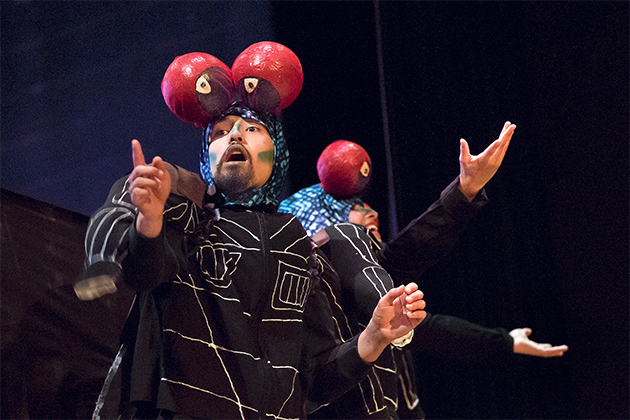 (UTRGV Photos by Paul Chouy)
PHOTO GALLERY
Password: bugjoy (case sensitive)
EDINBURG, TEXAS – APRIL 27, 2017 – The University of Texas Rio Grande Valley's University Productions will close its spring semester with the Theatre for Young Audiences production of "Bug Joy," a fantasy by Jan Seale, the 2012 Texas Poet Laureate.
Performances will be at 7 p.m. Thursday, April 27, through Saturday, April 29, and at 2 p.m. Saturday, April 29, and Sunday, April 30, at the Albert L. Jeffers Theatre, Liberal Arts Building South (ELABS), on the Edinburg Campus.
"Bug Joy" celebrates the life cycle of cicadas – the largest and loudest of all insects, often heard "singing" throughout the Rio Grande Valley in the spring – and the pleasures of being alive.
Seale, a McAllen resident and 2012 Texas Poet Laureate, a prolific author of plays, books of poetry, and fiction and nonfiction for children and adults, wrote "Bug Joy" with Valley children in mind. It is appropriate for all ages.
Here, cast and crew are preparing for opening night.