Sub Menu Toggle
Two honored at UTRGV as top Student Employees of the Year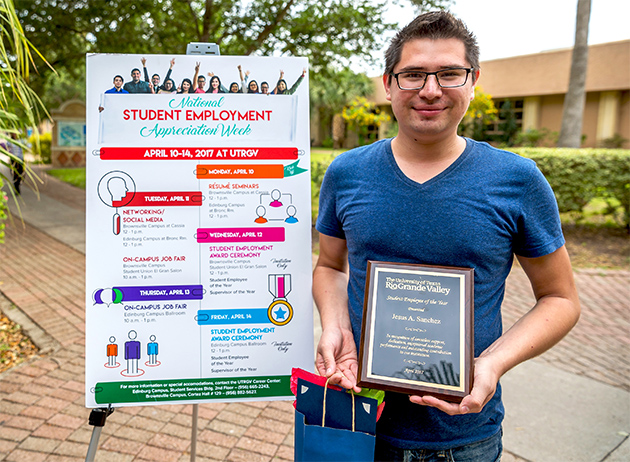 Jesús A. Sánchez, who works in the UTRGV Office of Academic Affairs, has been named the Brownsville Campus Student Employee of the Year. He was selected from among the 29 Brownsville Campus nominees recognized during the university's annual National Student Employment Appreciation Week, held April 10-14. (UTRGV Photo by David Pike)
By Gail Fagan
RIO GRANDE VALLEY, TEXAS – APRIL 13, 2017 – UTRGV has named two Student Employees of the Year, during ceremonies held for the university's National Student Employment Appreciation Week, April 10-14.
There are currently more than 2,600 student employees across UTRGV's multiple campuses.
At a ceremony held April 12 on the Brownsville Campus, where 29 student employees were nominated, the top honor went to Jesús A. Sánchez, who works in the Office of Academic Affairs.
On April 14 on the Edinburg Campus, Priscilla Guillén, who works in the School of Rehabilitation Services & Counseling office, was selected as the other Student Employee of the Year. Forty-two students who work on the Edinburg Campus were nominated.
Candidates nominated for the student award had to have been employed for one year and were rated on quality of work, reliability, initiative, professionalism and the uniqueness of their contribution to the department.
Each Student Employee of the Year received a plaque and a $300 scholarship.
At each event, recognition was also given to a Supervisor of the Year, a staff member who oversees and mentors student employees, and to a Success Profile – someone who is now in a career but worked as a student employee while in college.
The Supervisor of the Year on the Brownsville Campus was Tammy Muñoz, laboratory coordinator supervisor, Department of Health & Biomedical Sciences. The supervisor honored on the Edinburg Campus was Viola Dominguez, records specialist, Department of Records Management.
Recognized as a Success Profile on the Brownsville Campus was Blanca Davila, postsecondary success coordinator at the United Way of Southern Cameron County. Davila worked as a student ambassador for the United Way's All In Program while attending then UT Brownsville / Texas Southmost College, where she earned a master's degree in public policy and management.
The Success Profile honored at the Edinburg ceremony was Marcos Silva, an 11th-grade teacher for IDEA public schools and co-founder of Border Kids Code, an educational initiative that promotes the fundamentals of computer science in K through eighth-grade classrooms.
While a college student, Silva, who earned a B.A. in psychology and a master's in educational administration from UT Pan American, worked as a student career advisor for the Office of Career Services and as a research assistant for the Department of Educational Psychology.
National Student Employment Week was initiated by the National Student Employee Association to recognize the impact of student work experience at universities and colleges nationwide. 
At UTRGV, the week's activities on both campuses also included a job fair, résumé seminar and networking event.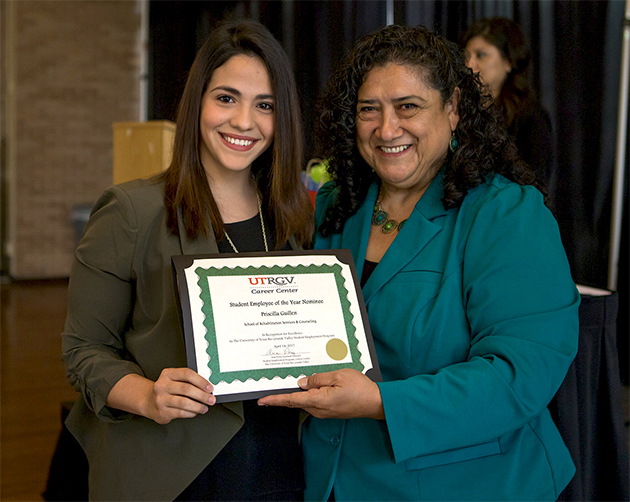 Priscilla Guillén, who works in the School of Rehabilitation Services & Counseling office, has been named the Edinburg Campus Student Employee of the Year. Forty-two students who work on the Edinburg Campus were nominated for the recognition, as part of UTRGV's annual National Student Employment Appreciation Week, held April 10-14. She is presented a certificate of appreciation by Ana B. Perez (at right), assistant director for Student Employment. (UTRGV Photo by Silver Salas)
MEDIA CONTACTS
Gail.Fagan@UTRGV.edu
Senior Writer / 956-665-7995
Marci.Caltabiano@UTRGV.edu
UTRGV Director of News and Internal Communications / 956-665-2742