Sub Menu Toggle
T Rex named Sue joins UTRGV in celebrating 15th anniversary of HESTEC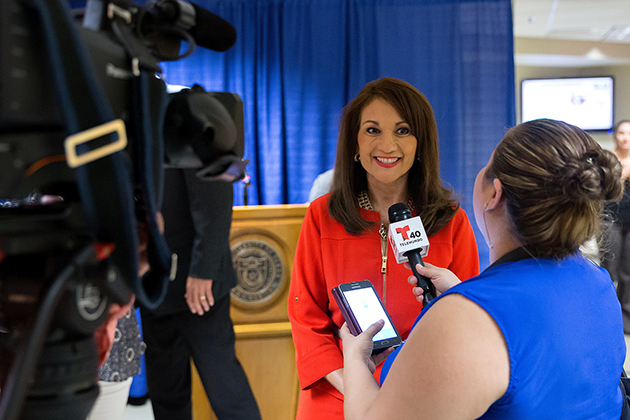 Veronica Gonzales, UTRGV vice president of Governmental & Community Relations, kicked off HESTEC 2016 during a special press conference Thursday, Sept. 29, 2016, on the Edinburg Campus. HESTEC – Hispanic Engineering, Science and Technology Week – this year runs Oct. 2 through Oct. 8, and for the first time has expanded to activities in Harlingen and Brownsville. (UTRGV Photo by Paul Chouy)
By Gail Fagan
EDINBURG, TEXAS – SEPT. 29, 2016 – The University of Texas Rio Grande Valley is celebrating the quinceañera (15th birthday) of HESTEC (Hispanic Engineering, Science and Technology) Week, Oct. 2-8, by expanding its activities to Harlingen and Brownsville and welcoming back a very old visitor – Sue, the dinosaur.
At a press conference today, Sept. 29, 2016, on the Edinburg Campus, university administrators touted the achievements of the annual weeklong initiative designed to promote higher education in South Texas and the opportunities and careers available in STEM (science, technology, engineering and mathematics).
"This event has had a transformational impact on our community and our students," said Dr. Havidán Rodríguez, UTRGV provost and executive vice president for Academic Affairs. "It is a nationally recognized model for inspiring students to seek careers in science, technology, engineering and math. This is not just a model of success for the Rio Grande Valley. This is not just a model of success for Texas. This is a model of success for the country." 
HESTEC last year was recognized as a "Bright Spot in Hispanic Education" by the White House Initiative on Educational Excellence for Hispanics, for its support of Latino educational attainment and excellence. Since its inception, HESTEC has been estimated to have impacted more than 1 million students, educators and community members who have participated in its events. 
Rodríguez praised the support of the community, corporate sponsors, the Region One Education Service Center, GEAR UP and U.S. Congressman Rubén Hinojosa (TX-15), who initiated HESTEC in partnership with then UT Pan American and its then president, Dr. Miguel Nevárez.
In honor of Hinojosa's contributions, UTRGV soon will be establishing a scholarship for students pursuing a degree in STEM.
In a taped message from Washington, D.C., Hinojosa said he is proud of the event, which has motivated and inspired students and widened the pipeline for Latinos and Latinas to enter STEM fields
"HESTEC has been one of the greatest creations and initiatives of my entire Congressional career," he said. 
A T-REX NAMED SUE
A highlight of this year's HESTEC is the exhibition of Sue – a complete replica of one of the largest, most complete Tyrannosaurus rex dinosaurs ever unearthed. The exhibit is being made available by The Field Museum, Chicago, with the support of McDonald's Corporation, the RGV McDonald's Group, and IBC Bank.
At 42 feet long and 12 feet tall at the hips, this Sue is a full-sized skeleton cast. She will be on display through Jan. 8, 2017, in the Visitor's Center on the Edinburg Campus. The exhibition is free and open to the public and includes a variety of multimedia and interactive elements that make Sue's life come alive for young and old.
"Everyone from 6 to 86 loves dinosaurs," said Jeffrey Schmatz, spokesperson for the five Valley owner/operators and the 5,000 Valley employees of McDonald's supporting the exhibit. "This is part of our continuing pledge to education, not only on a national basis with the Field Museum, but locally."
COMING UP DURING HESTEC 2016
HESTEC activities continue next week with themed daily events tailored for Valley educators and thousands of high school and middle school students. They include
Educator Day – Monday, Oct. 3. (Edinburg Campus)
Student Leadership Day – Tuesday, Oct. 4. (Edinburg Campus)
Latina Day – Wednesday, Oct. 5 (Edinburg Campus)
Robotics Day – Thursday, Oct. 6 (In Brownsville)
SeaPerch Challenge – Friday, Oct. 7 (In Harlingen)
Community Day – Saturday, Oct. 8. (Edinburg Campus)
The week's activities include workshops, competitions, educational presentations and entertaining performances, all designed to spark interest in STEM fields.
This year, Robotics Day will be held at the Jacob Brown Building Auditorium on the campus of Texas Southmost College. HESTEC's Sea Perch Challenge (Oct. 7) will be held at the Harlingen CISD's Aquatics Center.
HESTEC's Career Expos will be offered on both UTRGV campuses. 
SPECIAL HESTEC GUESTS
HESTEC 2016 keynote speakers include Faridodin "Fredi" Lajvardi, acclaimed STEM educator and subject of the documentary "Underwater Dreams" and motion picture "Spare Parts"; Albert Manero, engineer and creator of Limbitless Solutions, a nonprofit organization that provides children with affordable 3D-printed limbs; Rosa Flores, CNN correspondent; and Sara Martinez Tucker, The University of Texas System Regent and former CEO of the National Math and Science Initiative.
Students and educators also will hear from corporate and government leaders from Shell, ExxonMobil, Toyota, U.S. Navy, U.S. Department of Energy, the U.S. Department of Agriculture,the National Science Foundation, H-E-B, and others.
HESTEC 2016 will feature first-time musical performances by the U.S. Navy Band Southeast at the TSC Arts Center in Brownsville on Oct. 4, and by the U.S. Navy Band Southeast brass quintet during Student Leadership Day on the Edinburg Campus.
HESTEC, AND COMMUNITY DAY
HESTEC's popular Community Day on Saturday, Oct. 8, has drawn hundreds of thousands visitors to the university over the years. HESTEC 2016 will feature a multitude of free interactive educational exhibits, with hands-on activities to excite youngsters and their families about the STEM fields.
Visitors will be able to participate in lawn chess, build and launch a bottle rocket, view life snakes and tarantulas, learn how a build a mini-baja car or watch a magic physics-based show, among a long list of intriguing and fun activities being held across the Edinburg Campus.
Student organizations also will offer food and drinks for sale to support their year-round activities.
This year, musical entertainment will be highlighted by Disney Channel's Sabrina Carpenter, star of "Girl Meets World."
Also performing will be the Powell Brothers, Riverside Boys, the U.S. Navy Band Southeast and the UTRGV Mariachi Aztlán.
WANT MORE INFORMATION?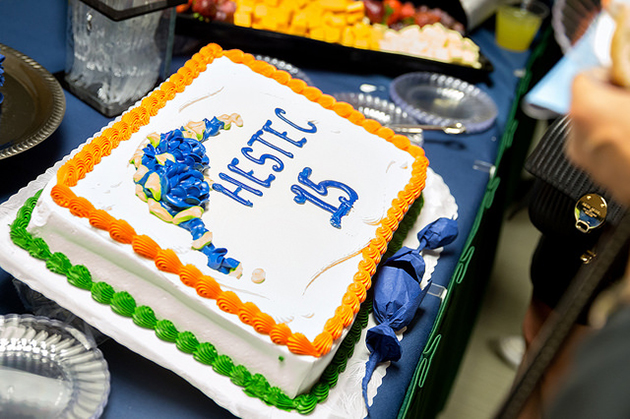 What's an anniversary celebration without cake! UTRGV on Thursday, Sept. 29, 2016, launched the 15th anniversary of HESTEC, during a press conference at the Visitors Center on the Edinburg Campus. (UTRGV Photo by Paul Chouy)
UTRGV student tour guides Valeria Salinas and Gabrielle Silva in front of Sue the Tyrannosaurus rex exhibit, following the press conference launch for the 15th anniversary of HESTEC 2016, on Thursday, Sep. 29, at the Visitors Center on the Edinburg Campus. (UTRGV Photo by Paul Chouy)
MEDIA CONTACTS
Gail.Fagan@UTRGV.edu
Senior Writer / 956-665-7995 
Marci.Caltabiano@UTRGV.edu
UTRGV Director of News and Internal Communications / 956-665-2742 
Letty.Fernandez@utrgv.edu
UTRGV Community Relations Liaison / (956) 882-6535