Sub Menu Toggle
Large DOD grant to UTRGV will purchase cutting-edge equipment for research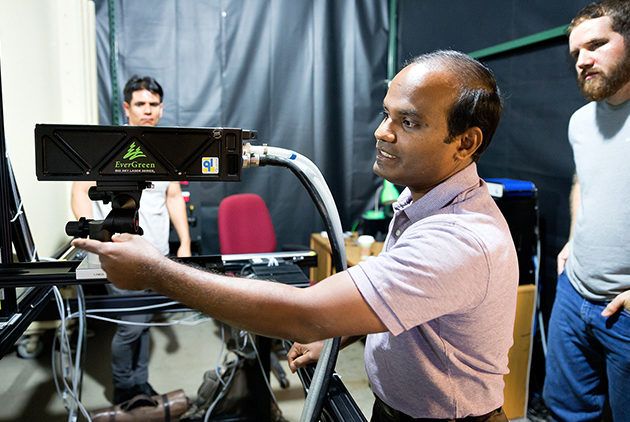 Dr. Isaac Choutapalli, an associate professor of mechanical engineering at UTRGV who oversees the university's Aerodynamics and Propulsion Lab, is co-principal investigator on a half a million dollar grant from the U.S. Department of Defense that will fund state-of-the-art equipment and instrumentation to measure the flow structure and turbulences of fluids. Here, Choutapalli positions a laser diagnostic system currently used in UTRGV's Aerodynamics and Propulsion Lab to measure the velocity of fluid flow over different surfaces. (UTRGV Photo by Paul Chouy)
By Gail Fagan
RIO GRANDE VALLEY, TEXAS – SEPT. 12, 2016 – The U.S. Department of Defense has awarded almost half a million dollars to UTRGV to help STEM students and faculty go with the flow.
The $499,519, one-year grant will provide for state-of-the-art equipment and instrumentation, called a Tomographic Particle Image Velocimetry (Tomo-PIV) system, which allows for more precise 3-D measurement of the flow structure and turbulences of fluids, including liquids and gases, like air, particularly valuable in numerous engineering applications like aerodynamics and propulsion.
The equipment will be a shared resource among UTRGV's mechanical engineering, civil engineering, physics and geology departments, and the School of Medicine.
The co-principal investigators on the grant are Dr. Isaac M. Choutapalli, associate professor of mechanical engineering, and Dr. Robert Freeman, professor and chair of the Department of Mechanical Engineering.
"This acquisition is important to UTRGV because of the ability of the instrument to study propulsion systems," Choutapalli said. "With SpaceX setting up shop in Brownsville, this will be an excellent opportunity to work alongside the SpaceX propulsion division."
The grant is part of $28 million allocated under the National Defense Authorization Act for Fiscal Year 2016, under the authority of the Office of the Assistant Secretary of Defense for Research and Engineering, to go toward assisting Minority Serving Institutions and Historically Black Colleges and Universities to enhance their capacity to participate broadly in defense research programs and activities and to increase the number of graduates, including underrepresented minorities, in fields of science, technology, engineering and mathematics (STEM).
Choutapalli oversees the Aerodynamics and Propulsion Laboratory, one of many labs at UTRGV where faculty and student research is conducted. In aerodynamics, his research addresses drag and noise reduction and increasing fuel efficiency. In his propulsion research, he studies ways to enhance thrust and reduce jet noise. 
The Tomo-PIV system also provides critical instrumentation regarding research in biological flows, such as airflow in human lungs and blood flows in large arteries.
"In collaboration with the UTRGV School of Medicine, this equipment will also be used to study blood flow patterns in brain aneurysms," Choutapalli said. "One of our goals with its use is the endovascular treatment of intracranial aneurysms using fluid flow diverters."
Choutapalli said both undergraduate and graduate students will gain experience in using the Tomo-PIV.
"This is a state-of-the-art measurement technique in fluid dynamics, and not many schools in the country are equipped with such instrumentation," he said. 
Currently in Texas, only The University of Texas at Austin and Texas A&M-College Station have a Tomo-PIV system on campus. 
Dr. Constantine Tarawneh, professor of mechanical engineering, Bentsen Fellow, and associate dean of research in the College of Engineering and Computer Science, UTRGV hopes to develop a certificate or minor in aerospace.
"Having this equipment will allow faculty to offer technical electives in areas connected to aerospace, and aerodynamics is one of them," he said. "It would be useful for a student with a manufacturing engineering degree to have a minor or certificate in aerospace, for example."
Tarawneh said new equipment is necessary with ever-changing technology and will provide the university a better opportunity to gain grants to support student researchers.
Choutapalli said the Tomo-PIV system will serve as an active tool for learning and training for students.
"Hopefully, it will increase the number of undergraduate and graduate students at UTRGV who pursue a Ph.D. at tier-one institutions and in STEM-related careers," he said.
The equipment, to be located on the Edinburg Campus, is expected to be operable within the 2016-17 academic year. 
MEDIA CONTACTS

Gail.Fagan@UTRGV.edu
Senior Writer / 956-665-7995
Marci.Caltabiano@UTRGV.edu
UTRGV Director of News and Internal Communications / 956-665-2742