Sub Menu Toggle
Undead raise awareness about food insecurity with UTRGV Zombie Walk
UTRGV psychology student Mayra Espinoza, center, with her sisters Gaby and Elizabeth Espinoza, participated in the Zombie Walk on Wednesday, Oct. 26, 2016, on the Edinburg Campus, as part of a class project to draw awareness to food insecurity. (UTRGV Photo by Paul Chouy)
By Neiby Rodriguez Rangel
EDINBURG, TEXAS – OCT. 31, 2016 – Ashen-faced students with bruises, blood stains and infected wounds crept along UTRGV's Bronc Trail on the Edinburg Campus on Wednesday, Oct. 26, to help raise awareness about #theneedtofeed fellow students who experience food insecurity.
UTRGV students dressed as zombies as part of the second annual Zombie Walk Food Drive,  hosted by students in the English 1302 class taught by lecturer Mary Ann Escamilla.
"I usually don't like apocalyptic shows, but I fell in love with the TV Show 'Z Nation,'" Escamilla said. "And as I kept watching, I started noticing there where many things happening now that were being talked about there – and one of them was hunger."
The Zombie Walk Food Drive focused on helping the UTRGV Student Food Pantry collect food donations to continue serving the student population.
"The purpose of this event is actually a couple of things," Escamilla said. "The first thing is to help the people from the food pantry get food to give to the students. Second would be having students be aware that we have a food pantry."
Earlier in the day, students participated in a blood drive, a food collection drive, and a poster presentation that explained food insecurity – the inability to buy food because of a lack of financial or other resources.
To promote the events, Escamilla's class developed a social media campaign, using the hashtag #needtofeed, which Escamilla and her students came up with last year and kept.
"It has a dual meaning," Escamilla said. "One, as zombies, they know nothing but eating brains. It's also the cause we have taken: the need to feed those who have a food insecurity."
Students participating in the walk were required to bring a donation of canned food to have theater students do their makeup to look like zombies.
Teodoro Alvarado, a 22-year-old nursing student, said he was excited to participate in the walk with his zombie makeup done.
"We were asked to bring two cans of food in order to get our makeup done – it could be meat, beans or anything, to donate it to the food pantry," Alvarado said. "I personally wasn't into the zombie or sci-fi thing, but was excited to participate."
Judith Mendoza, a 19-year-old sophomore majoring in health with a teacher certification, also had theater students apply makeup to have her look like a zombie with a gash to the head.
Mendoza said she expected to have a regular English 1302 class this semester but, once she started Escamilla's class, quickly knew it would be a unique experience.
"The first day that we came into our 1302 class, my teacher was like, 'Hey guys, guess what we're doing? We are planning a Zombie event'," Mendoza said. "I thought it was crazy, I didn't understand what was going on."
After a couple weeks of planning, she said, she realized the zombie theme was just a hook to call people's attention to food insecurity.
"Throughout the actual class, we learned that the event was designed to raise awareness about the school food pantry, and how hunger insecurity is real here on campus," Mendoza said. "Zombies weren't the focus, just something to grab people's attention."
Mendoza said she thinks the Student Food Pantry at UTRGV is a great option for those who have food insecurity.
"For those who are hungry here on campus, don't be ashamed of it," she said. "Going to the food pantry is nothing to be ashamed of, especially because the people there at the food pantry want to help you. Take advantage of it."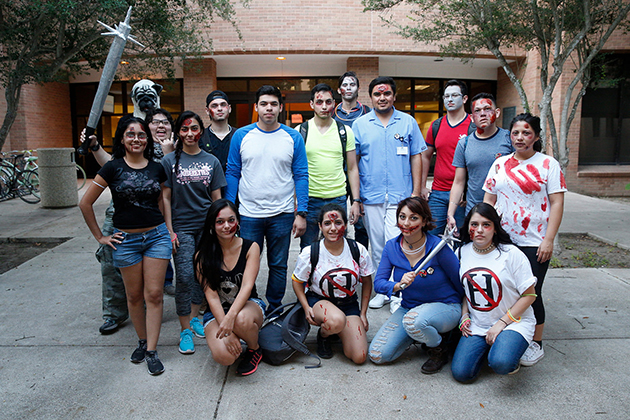 UTRGV students in lecturer Mary Ann Escamilla's Rhetoric and Composition II class participated recently in a Zombie Walk as part of a class project on the Edinburg Campus, to draw awareness to food insecurity. (UTRGV Photo by Paul Chouy)
MEDIA CONTACTS
Neiby.RodriguezRangel01@UTRGV.edu
Staff Writer / 956-665-3639
Marci.Caltabiano@UTRGV.edu 
UTRGV Director of News and Internal Communications / 956-665-2742