Sub Menu Toggle
UTRGV continues the tradition of Kids Voting USA in Brownsville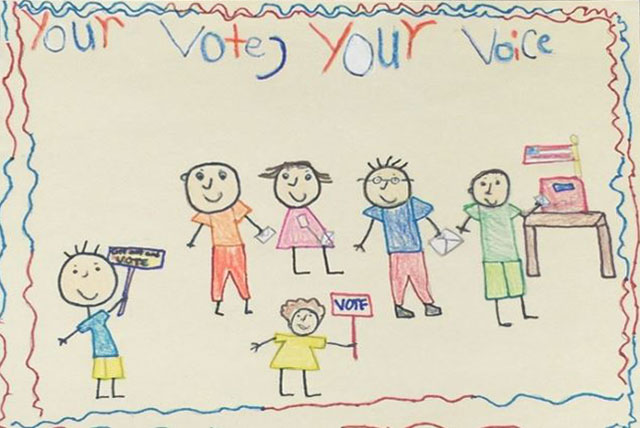 Elementary school students from Brownville ISD drew pictures for an art contest to encourage their peers to participate in Kids Voting USA. (Courtesy photos)
By Vicky Brito
BROWNSVILLE, TEXAS – OCT. 28, 2016 – Since early voting began in Texas on Oct. 24, more than 19,000 Brownsville students have cast their votes in a mock election organized by the UTRGV Office of Student Educational Outreach and the City of Brownsville, in partnership with Kids Voting USA.
Kids Voting USA, a non-partisan voter education program, offers a mock election to elementary, middle and high school students in the Brownsville Independent School District that reflects the national election. Students register online at KidsVotingUSA.org, to access their ballots.
UTRGV's legacy institution, UT Brownsville/Texas Southmost College, had participated in this partnership with the BISD since 2005. The program is now run through UTRGV's Office of Student Educational Outreach (SEO), which is responsible for a variety of academic outreach programs across the Rio Grande Valley.
"The program helps promote civic engagement in students in the district and provides them with the curriculum to learn about the voting process and start a dialogue," said Cynthia Valdez, UTRGV executive vice president of Student Educational Outreach. "Our hope is that when they're adults, they will continue the habit of voting."
The SEO works with school districts and provides teacher training to fit the district's social studies curriculum. The SEO creates the ballot, with the district's social studies departments. A condensed ballot is created for the students, with only the presidential choice for kindergarten through second grade.
An expanded ballot is available for students in third through 12th grades, and consists of the races for U.S. president, U.S. Representative for District 34, and Cameron County Sheriff.
"We set up the entire election and provide teachers with the knowledge to create civic engagement in the classroom," Valdez said.
After students vote, they receive the popular "I Voted" sticker to show their involvement in the process. 
The SEO, in collaboration with the Cameron County Elections Office, visited two Brownsville high schools to register eligible students to vote in the 2016 election season. At Veteran's Early College High School, 124 eligible students were registered, and 119 students were registered at Rivera Early College High School.
Kids Voting USA continues until Nov. 4 for Brownsville ISD students.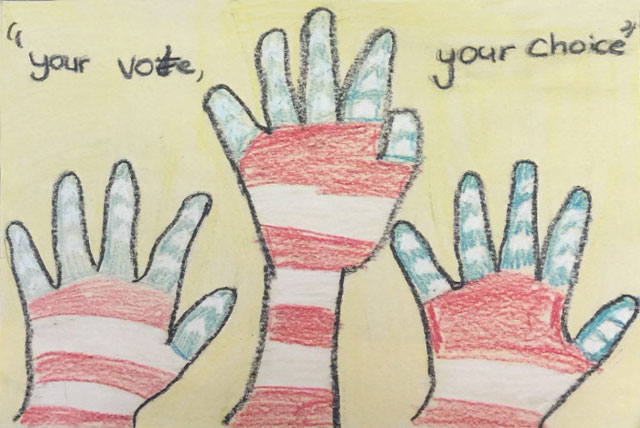 Elementary school students from Brownville ISD drew pictures for an art contest to encourage their peers to participate in Kids Voting USA. (Courtesy photos)
MEDIA CONTACTS
Victoria.Brito @UTRGV.edu
UTRGV Informational Writer / 956-882-4330
Marci.Caltabiano@UTRGV.edu
UTRGV Director of News and Internal Communications / 956-665-2742