Sub Menu Toggle
Region's top business leaders honored at UTRGV Vackar COBE lunch
By Melissa Vasquez
RIO GRANDE VALLEY, TEXAS – OCT. 28, 2016 – Three influential Valley innovators were honored for their business and civic leadership, during the inaugural UTRGV Robert C. Vackar College of Business and Entrepreneurship's Business Leaders Lunch.
Held Friday, Oct. 28 at the Edinburg Conference Center at Renaissance, the event – initially launched five years ago under the guidance of the UTB/TSC College of Business and now under the leadership of the Vackar COBE – brings together Valley business leaders to celebrate their contributions to the region, said Dr. Mark Kroll, dean of the Vackar COBE.
"Thank you very much for joining us today for what we hope will become an annual event intended to bring together the business community of the Valley from both sides of the river and to honor some of our own," Kroll said.
Honored as distinguished business leaders were:
Dr. Carlos J. Cardenas, M.D., co-founder of South Texas Gastroenterology Associates in 1992, where he is actively practicing. He was one of the original physicians who formed Day Surgery at Renaissance, LLC, which became Doctors Hospital at Renaissance (DHR). He was named interim CEO of DHR in January 2013, and currently is chairman of the board and chief administrative officer, providing leadership in addressing key challenges and establishing policies of corporate governance, corporate social responsibility and corporate ethics.
Raul López, co-owner, with his brothers, of the López Pharmacies (Farmácias López), located throughout the Reynosa area. He emerged on the local political scene from the business and institutional sector, to become Reynosa city manager (Primer Síndico), a Nacional Financiera state advisory committee member, Reynosa municipal vice president (Presidente Municipal Suplente), and president of the Administrative Board of COMAPA/Reynosa. Known not only for his entrepreneurial accomplishments but also for his philanthropy, he has led organizations such as "Treviño Kelly" Little League Baseball and Rotary International, and was founder of the Banco de Alimentos de Reynosa (Reynosa Food Bank).
Robert W. Shepard is chairman of the board of the Shepard Walton King Insurance Group. He also is chairman of the Valley Baptist Medical Holdings Board and vice chair of the Valley Baptist Management Services Corporation. He has been actively involved in higher education, statewide and regionally. He was appointed to the Texas Higher Education Coordinating Board by Gov. George W. Bush in 1996, and became chairman in 2005 under Gov. Rick Perry. Shepard has served as chairman and president of the College for All Texans Foundation.
UTRGV President Guy Bailey, via video address, welcomed attendees, and Dr. Havidán Rodríguez, provost and executive vice president for Academic Affairs, offered his appreciation for their support and engagement in higher education.
"I think this is a great example of how the Valley can come together, work together, and find solutions and alternatives to the issues and challenges that we face as a community here in the Rio Grande Valley," Rodríguez said.
Noé Hinojosa Jr., president and CEO of Estrada Hinojosa & Co., served as keynote speaker.
An alumnus of Pan American University, Hinojosa peppered his speech with a few Vince Lombardi quotes and talked about the importance of learning to win and of giving back to the community. Since co-founding Estrada Hinojosa in 1982, Hinojosa has been instrumental in growing the firm to a $48 billion enterprise, with offices throughout the United States, including Dallas, New York, Los Angeles and Chicago.
"I go back to another Lombardi quote," he said. "'Once you learn to quit, it becomes a habit.' So don't quit. Learn to win by educating, empowering and engaging yourself. Get that fire in your belly and get out there and help."
Proceeds from the event went toward supporting VCOBE student organizations.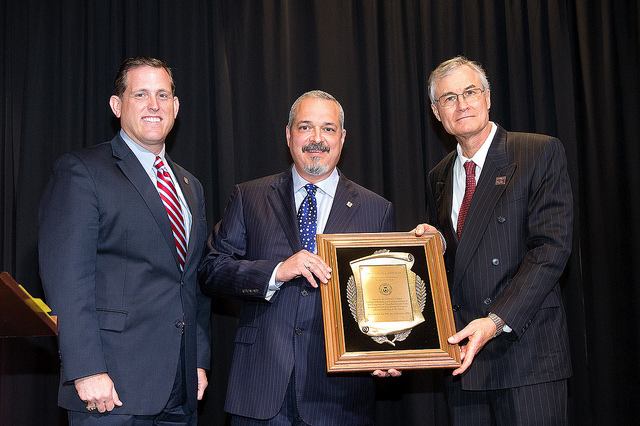 Dr. Carlos Cardenas, center, chairman of the board and chief administrative officer of Doctor's Hospital at Renaissance, accepts an award for business leadership, at the UTRGV Vackar COBE Business Leader Lunch on Friday, Oct. 28, 2016 at the Edinburg Conference Center at Renaissance in Edinburg. At left is Mark Magnon, IBC vice president, and to the right is Dr. Mark Kroll, dean of the Vackar COBE. (UTRGV Photo by Paul Chouy)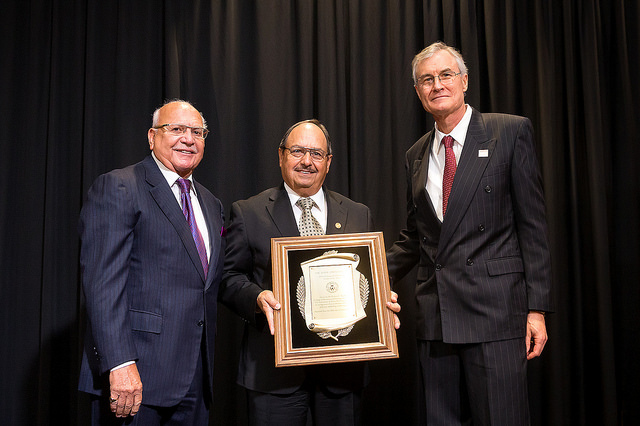 Raul López, center, co-owner of the Farmácias López chain located in Reynosa, accepts an award for business leadership, at the UTRGV Robert C. Vackar College of Business and Entrepreneurship Business Leader Lunch on Friday, Oct. 28, 2016 at the Edinburg Conference Center at Renaissance in Edinburg. At left is Sergio Arguelles, FINSA S.A. chairman of the board, and at right is Dr. Mark Kroll, dean of the Vackar COBE. (UTRGV Photo by Paul Chouy)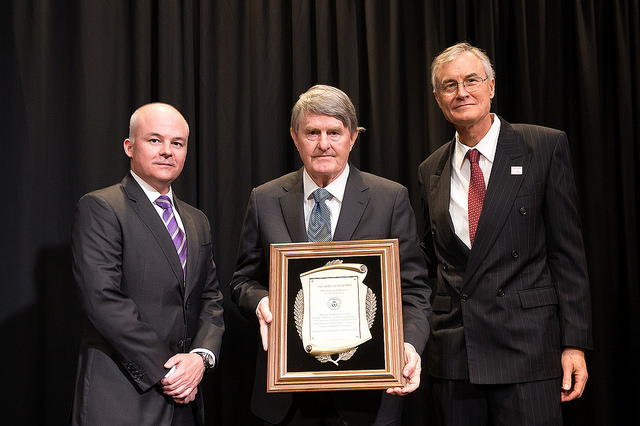 Robert Shepard, center, chairman of the board of the Shepard Walton King Insurance Group, chairman of the Valley Baptist Medical Holdings Board and vice chair of the Valley Baptist Management Services Corporation, accepts an award for business leadership, at the UTRGV Robert C. Vackar College of Business and Entrepreneurship Business Leader Lunch on Friday, Oct. 28, 2016, at the Edinburg Conference Center at Renaissance in Edinburg. At left is Raul Villanueva, PlainsCapital Bank Lower RGV Market president, and at right is Dr. Mark Kroll, dean of the Vackar COBE. (UTRGV Photo by Paul Chouy)
PHOTO GALLERY: https://www.flickr.com/gp/utrgvnews/20Db70
MEDIA CONTACTS
Melissa.Vasquez@UTRGV.edu
Publications Editor / 956-665-8926
Marci.Caltabiano@UTRGV.edu
UTRGV Director of News and Internal Communications / 956-665-2742