Sub Menu Toggle
UTRGV, DHR, City of McAllen tout improved healthcare, economic impact, at research facility groundbreaking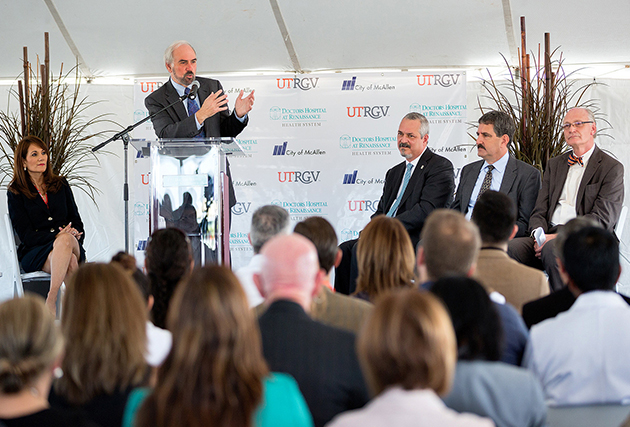 UTRGV President Guy Bailey, during a ground breaking ceremony on Wednesday, Oct. 26, 2016, said the UTRGV Research Facility at DHR will help bring the university one step closer to one of its main goals – achieving Emerging Research University (ERU) status. The new building, at 2300 E. Dove Ave. in McAllen, is a collaborative effort in which UTRGV will lease the facility from Doctors Hospital at Renaissance Health System (which is building it) and the City of McAllen (which has given the land for the project). The approximately 84,000-square-foot building is designed to provide UTRGV and its School of Medicine with vital space for medical research, as well as for educational and clinical uses. (UTRGV Photo by Paul Chouy)
"It's all three of us coming together for a common purpose, making things happen."
— UTRGV President Guy Bailey
By Gail Fagan
McALLEN, TEXAS – OCT. 26, 2016 – The University of Texas Rio Grande Valley, Doctors Hospital at Renaissance  Health System and the City of McAllen celebrated the groundbreaking Oct. 26 of a new research facility designed to transform the Rio Grande Valley in terms of expanded research opportunities, improved healthcare and increased economic development. 
"This building will have a greater economic impact than anything we have built or will build in the next few years," said UTRGV President Guy Bailey. "Each dollar of research expenditures has about a 3-to-1 economic impact. We expect this building, when up and running, to generate … about $15 million in direct research expenditures a year.
"What is the economic impact of that? $45 million a year. Think about that over 20 years. This is a billion-dollar investment in the Rio Grande Valley, in the City of McAllen and in our future as citizens in the Valley."
The nearly 84,000-square-foot facility was made possible by a unique public-private partnership between UTRGV, DHR and the City of McAllen: The building will be built by DHR and DHR Real Estate Management, L.L.C., on land made available by the City of McAllen, and leased to UTRGV. The private-public leasing agreement was approved by The University of Texas System Board of Regents in September 2016.
"It's all three of us coming together for a common purpose, making things happen," Bailey said.
The two-story, standalone building, located at 2300 E. Dove Ave. near the new DHR Family Medicine Center, will house 16 research labs, a vivarium, and core facilities including a microscopy room. It also will include 37 offices for faculty and staff, 12 research technician rooms, collaborative meeting rooms and a large conference room.
The ceremony, moderated by Veronica Gonzales, UTRGV vice president for Governmental and Community Relations, included remarks from Texas Sen. Juan "Chuy" Hinojosa; DHR Interim Chief Administrative Officer and Chairman of the Board Carlos J. Cardenas, M.D.; UTRGV School of Medicine Interim Dean Steve Lieberman, M.D.; DHR Chief Academic Officer R. Armour Forse, M.D.; and City of McAllen Mayor Jim Darling.
Cardenas called construction of the research facility "another chapter in our journey to world- class healthcare and research capacity here in the Rio Grande Valley."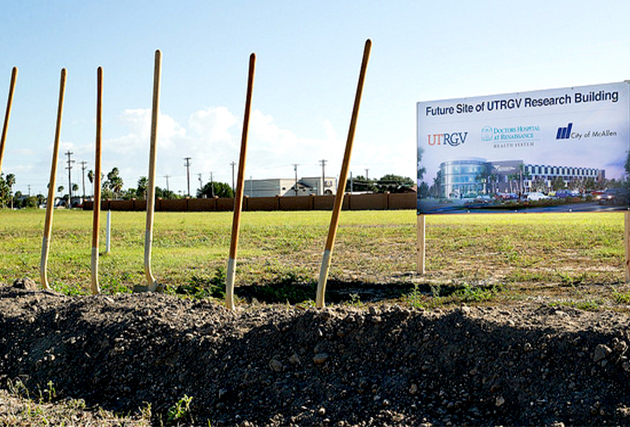 DETAIL PHOTO: Onsite artist's rendering. (UTRGV Photo by Paul Chouy)
DHR is one of the partnering community hospitals that provides clinical sites for the UTRGV School of Medicine's graduate medical education (GME) programs. Currently, the GME programs include family and preventive medicine, internal medicine, surgery, obstetrics and gynecology, and psychiatry and neurology.
Cardenas praised the vision of The UT System, local leaders and elected officials, which has come to fruition.
"I've sat before you before and told you what our vision was for the Rio Grande Valley – that we could transform the area that we live in, that 1.4 million people should not be denied the level of healthcare that is available to other metropolitan areas of similar size," Cardenas said. "All of those seem to be north of the Nueces River. Well, that changes today."
Cardenas and Lieberman both noted that the state-of-the-art research facility will allow the UTRGV School of Medicine – currently training its first cohort of medical students – to attract the highest-caliber researchers and instructors to train its students and residents.
"We can't recruit great faculty unless we have great research space," Lieberman said. "It allows us to bring in people who do more than just research. We will be able to bring in renowned experts who are expert clinicians, researchers and educators, and allow the university to enrich all the activities related to medicine and healthcare in the Valley."
DHR's Forse, who led planning efforts for the building, said it fulfills the School of Medicine's commitment to the community to provide cutting-edge, state-of-the-art healthcare and to produce research that doesn't "end up in a drawer."
"Research is just research until it is translated into clinical care, and that is what we want to happen here," Forse said. "We want our doctors, students and residents to work with scientists so we can translate this research to the healthcare of this community. There are devastating diseases here in a community that has been underserved in so many ways. Today is a step forward in changing that."
Mayor Darling praised DHR's commitment to providing residencies, which he said are necessary for medical schools to be established and flourish. He also touted the economic growth the research facility will bring to the area.
"In San Antonio about 40 years ago, they started a research program that has brought billions and billions of dollars to the city, and it started with one building," Darling said. "This is the one building that is going to start it in the Rio Grande Valley."
Second-year UTRGV Physician Assistant student Andre'lyn Williams, who attended the ceremony, said the building symbolizes a push toward new technology and innovation, and will provide an opportunity for students here to be on the "front edge" of research.
"This is going to be the new and up-and-coming biggest medical center, because the population here is so large and underserved. That is what brought me here to the Valley," said Williams, who is from Houston. "I want to be part of this growth."
Building costs are estimated at between $32 million and $34 million. Final leasing costs, not finalized yet, are projected at $2.5 million for the building and $1.2 to $1.4 million in operational costs annually.
The construction, which will begin in December 2016, is projected to be completed in January 2018.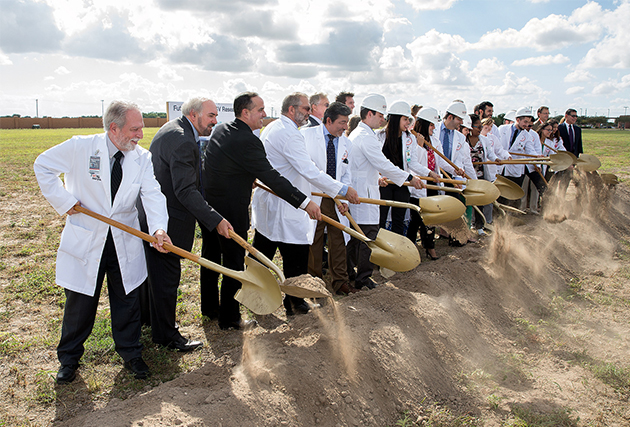 The groundbreaking ceremony for the UTRGV Research Building at DHR was held Wednesday, Oct. 26, 2016, at 2300 E. Dove Ave. in McAllen. The facility will be built by Doctors Hospital at Renaissance Health System and will be leased by the university under a private-public leasing agreement approved by The University of Texas Board of Regents in September 2016. (UTRGV Photo by Paul Chouy)
PHOTO GALLERY: https://www.flickr.com/gp/utrgvnews/fH80F6
GROUNDBREAKING VIDEO: https://youtu.be/f9p3MC_i9Dk
UTRGV research Building at DHR Fact Sheet
MEDIA CONTACTS
Gail.Fagan@UTRGV.edu
Senior Writer / 956-665-7995
Marci.Caltabiano@UTRGV.edu
UTRGV Director of News and Internal Communications / 956-665-2742