Sub Menu Toggle
UTRGV chess team cements Texas brags, brings home first-place Super Finals trophy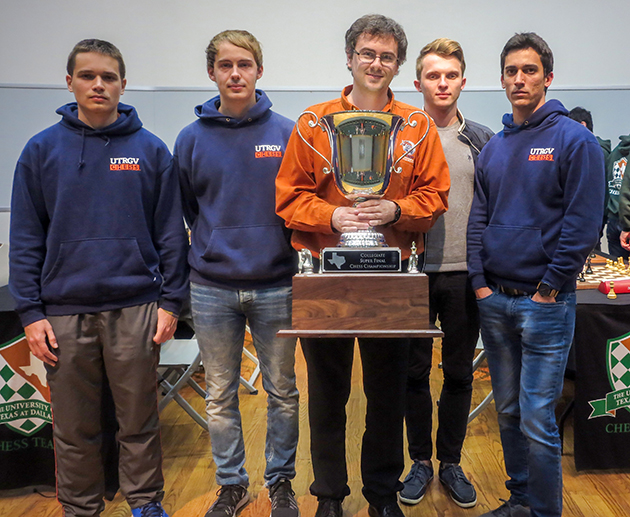 UTRGV Chess Coach Bartek Macieja, center, holds the 2016 Texas Collegiate Super Finals trophy, with Team A members, from left: Grandmaster Anton Kovalyov, senior computer science major from Canada; Grandmaster Andrey Stukopin, junior physics major from Russia; Grandmaster Vladimir Belous, freshman finance major from Ukraine; and Grandmaster Carlos Hevia, freshman computer science major from Cuba. (UT Dallas Courtesy Photo by James Stallings)
By Cheryl Taylor
RIO GRANDE VALLEY, TEXAS – OCT. 26, 2016 – The University of Texas Rio Grande Valley Chess Team A returned home triumphant recently with the first place trophy for the Texas Collegiate Super Finals.
Hosted by The University of Texas at Dallas, and held in the Erik Jonsson Performance Hall, the tournament took place Saturday, Oct. 22, and Sunday, Oct. 23.
UTRGV Team A won three matches and drew one, with no defeat, gathering seven points.
Further, the UTRGV Team B finished fourth in the final classification, placing it best among the B teams.
"The Texas Collegiate Super Finals is the most important and prestigious collegiate chess event in Texas," said UTRGV Chess Coach and Grandmaster Bartek Macieja. "Our team is now poised to shine at the Pan-Am Intercollegiate Chess Championship in December. I am certain UTRGV will qualify for the President's Cup tournament in April for the second time in a row."
Participants in the Texas Collegiate Super Finals are the top three Texas colleges from the 2016 Southwest Collegiate Championship that took place in March.
UTRGV went into the tournament ranked number one. The other teams were second-ranked Texas Tech University and third-ranked UT Dallas.
Each college sent two teams to Dallas, with a total of six teams participating. Every team played against all four teams from the other colleges. There were no matches between teams A and B from the same college.
The tournament winner was based on the number of match points (two for a win, one for a draw, and zero for a loss). The first tie-break was the number of game points. Each team was composed of four players and up to two alternates.
Two players have joined the UTRGV team in the past year.
"Grandmaster Carlos Hevia joined us as a freshman in January 2016," Macieja said. "He was instrumental in the team's second-place finish in the Final Four tournament, and also in the March qualifying tournament, the Southwest Collegiate Championship."
Grandmaster Vladimir Belous joined the team in August, when he became a freshman at UTRGV.
"Vladimir made remarkable progress in improving his English skills after a semester at the UTRGV Language Institute," Macieja said. "He is doing well in his first semester. His confidence has grown and he is a valuable member of the team now."
Individual player standings at the tournament can be found at Chess-Results.
In previous years, the Texas Collegiate Super Finals was called the Texas Collegiate Championship, and was played with a different system. From 2007-2015, UT Brownsville/Texas Southmost College won that event once, in 2014.
MEDIA CONTACTS
Cheryl.Taylor@UTRGV.edu
UTRGV Senior Writer / 956-882-8787 
Marci.Caltabiano@UTRGV.edu
UTRGV Director of News and Internal Communications / 956-665-2742