Sub Menu Toggle
International Ties: UTRGV COEC signs MOU with university in Thailand
Dr. Havidán Rodríguez, UTRGV provost and executive vice president for Academic Affairs, signs an MOU with Somchai Wongkasem, president of Rajabhat Maha Sarakham University (RMU), on Friday, Oct. 21, 2016, at the International Trade & Technology building on the UTRGV Edinburg Campus. RMU is located in the Muang District in northeastern Thailand. (UTRGV Photo by Paul Chouy)
By Vicky Brito
EDINBURG, TEXAS – OCT. 21, 2016 – The University of Texas Rio Grande Valley has signed a memorandum of understanding (MOU) with Rajabhat Maha Sarakham University (RMU), a nonprofit university in the Muang District in northeastern Thailand.
The signing took place at an 8:30 a.m. ceremony on Friday, Oct. 21, at the ITT International Room on the Edinburg Campus.
The goal of the MOU is to create a means for cooperative efforts between UTRGV and RMU for academic interchange of faculty, students, and academic and research information between the two institutions.
Dr. Dennis Hart, associate provost of the UTRGV Office of Global Engagement, introduced the RMU delegation of deans and professors. In all, six representatives from Thailand made the 34-hour journey to UTRGV for the MOU signing.
Dr. Nantakan Wongkasem, UTRGV associate professor of electrical engineering and the daughter of RMU President Somchai Wongkasem, provided translation for the RMU visitors.
The RMU president initially asked his daughter, UTRGV's Dr. Wongkasem, about starting a collaboration with RMU's 2-year-old engineering department. Dr. Wongkasem then reached out to Dr. Alex Domijan, dean of the College of Engineering and Computer Science.
"They said that it is good that UTRGV has its college of engineering here so we can work together, because the RMU president knew that we can help each other, and work together in research and teaching," Dr. Wongkasem said.
RMU has a handful of MOU agreements in various university departments across the United States. UTRGV is RMU's first partnering in a higher education institution in Texas.
Dr. Havidán Rodríguez, UTRGV provost and executive vice president of Academic Affairs, gave the opening remarks at the signing ceremony.
"Our university is your university," Rodríguez told the Thai delegates. "Thank you so much for being here. We understand it was a very long flight, and we appreciate your commitment to doing this. For us, it is an honor and a pleasure to be signing this MOU with you."
The provost pointed out the similarities between the two institutions.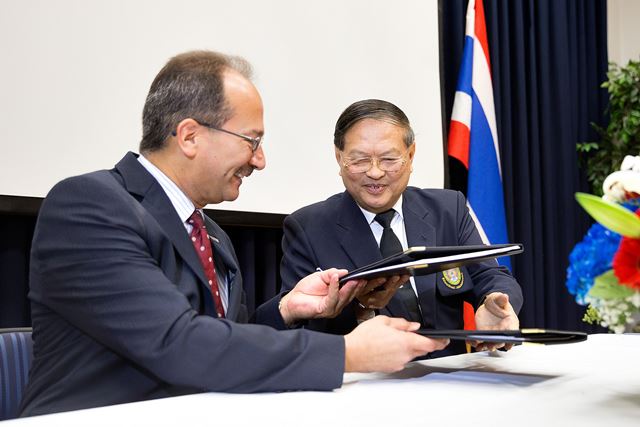 Leaders from The University of Texas Rio Grande Valley and Rajabhat Maha Sarakham University in northeastern Thailand gathered for a group photo following the signing of a Memorandum of Understanding on Friday, Oct. 21, 2016, at the International Trade & Technology building on the UTRGV Edinburg Campus. The MOU paves the way for educational and cultural collaboration between the two universities. (UTRGV Photo by Paul Chouy)
"RMU went through many changes of names and composition of the university, just as we have," Rodríguez said. "We are both over 20,000 students, and have similar numbers of faculties. It almost seems like we are sister institutions."
Domijan, in his remarks at the signing, said this cooperative agreement with RMU fits in well with the four major goals of the UTRGV College of Engineering and Computer Science:
To provide multinational learning in an innovative environment.
To conduct research that has global impact.
To develop opportunities for student engagement and scholarly activity.
To create an ecosystem that attracts and develops new industries.
"We have to connect ourselves with new industries and provide financial opportunities to our students, so we can move forward in our economy," Domijan said. "Our students need to be prepared to develop and deliver upon those dreams."
Dr. Wongkasem translated for her father, and spoke in English on his behalf.
"He thanks you for your welcome, and it is such an honor that he can come to UTRGV and thank you for your kindness," she said in translation.
President Wongkasem said 5 percent of RMU's $400 million budget is devoted to research.
"They are still working on expanding the school and hope to have a medical school," Dr. Wongkasem translated for the RMU president. "It's very important to come here and to have the MOU with UTRGV because we are looking forward to a fruitful collaboration, so we can work together in research … and to help with corporations and companies, in order to build innovation. We can use what we already have to build innovation together."
Deans from a variety of RMU colleges attended the MOU signing and met with UTRGV deans in their related departments to initiate communications for possible future collaborations.
"They can talk about their research and learn from each other as pioneers in their fields, and work together," Dr. Wongkasem said. "This is very beneficial to both institutions."
ABOUT RMU
RMU was founded in 1925 and has 10 colleges, 22,000 students and more than 500 professors. The university offers a variety of educational programs from bachelor to doctoral levels in education, liberal arts, science and business.


MEDIA CONTACTS
Victoria.Brito @UTRGV.edu
UTRGV Informational Writer / 956-882-4330
Marci.Caltabiano@UTRGV.edu
UTRGV Director of News and Internal Communications / 956-665-2742