Sub Menu Toggle
UTRGV, Inter National Bank launch business student mentorship program
Twelve UTRGV students from the Robert C. Vackar College of Business and Entrepreneurship and 12 Inter National Bank executives paired up for the Great Conversations Mentorship Program, a six-month pilot program in which executives will offer advice and guidance to students through one-on-one meetings. Shown are the 12 students and their 12 mentors participating in the inaugural session. (UTRGV Courtesy Photo)
By Lisa Peña
McALLEN, TEXAS – OCT. 20, 2016 – One conversation can change the course of a day, a career or a life, and that belief lies at the core of the innovative Great Conversations Mentorship Program. 
The UTRGV Robert C. Vackar College of Business and Entrepreneurship and Inter National Bank recently launched the mentorship program with a fun and interactive event, linking 12 UTRGV business students with 12 bank executives. 
The pilot program is the first of its kind for UTRGV. 
"I think it's very important that we take time with our next generation and we not only train them, but mentor them," said Inter National Bank President and Chief Executive Officer Sam Munafo. 
"During graduation, you don't get a book on how to handle yourself, how to dress, how to let people know what your goals are," he said. "Hopefully, by spending time with us, they'll get a better feel for how to promote that."
UTRGV students and their INB mentors participated in a "speed meeting," in which they sat at a long table facing each other. Each student had two minutes to get to know each mentor, then moved a seat over to meet the next executive.
The speed meeting was followed by a mixer, and the official pairing of mentors and students.  Each mentor was assigned one student, marking the beginning of a six-month mentorship program that will allow one-on-one interaction outside of the classroom.
The idea of the mentorship program is to open up life-changing conversations that will give students an inside look at the world of business and offer insight not available in the classroom.
"The students will be better prepared for that first job through building their confidence, their soft skills and their resilience," said Dr. Linda Matthews, Vackar CoBE professor of management and associate dean for undergraduate programs.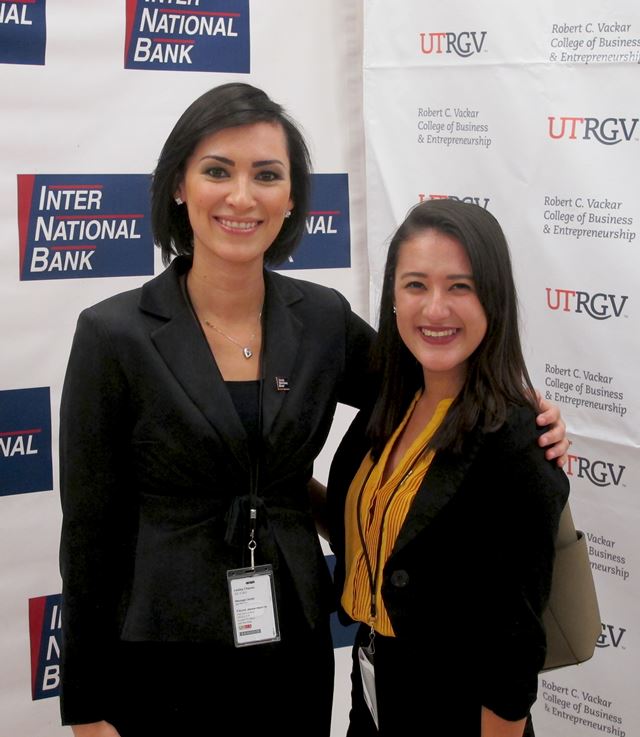 Lesley Chavez, Inter National Bank director of research and development, and Josie Balderrama, a UTRGV junior from Laredo who is majoring in management with a focus in human resources, were matched up during the recent Great Conversations kick-off reception. (UTRGV Courtesy Photo)
"Creating a partnership with an entity like Inter National Bank allows us to become the pipeline for their future employees and success. That whole picture leads to elevating our community," she said.
Organizers said they were looking at the big picture when they started planning the program back in March.
"One of our strategic goals is to be able to attract the best talent," said Lesley Chavez, Inter National Bank director of research and development. "We've been looking for an opportunity to partner with UTRGV to achieve this goal. We could not ask for a better opportunity than bringing your top talent and working with them directly."
Chavez found out at the program kick-off she will be mentoring Josie Balderrama, a UTRGV junior from Laredo who is majoring in management, with a focus in human resources.
"This program gives us the opportunity to grow," Balderrama said.  "Hearing their stories, their wrongs, their rights, being able to see how they got here – all of that will definitely help us develop and grow."
Jose Contreras, a finance major in the Vackar CoBE, said participating in the Great Conversations Mentorship Program is a valuable resource for students.
"If I go through something that I'm having difficulty with, I know that I can come back to them," he said. "I'm not alone here. It's not just me trying to take on the world. It's like, hey, you know what? These people are here to help."
Jay Leal, senior vice president and chief information officer for Inter National Bank, says that is exactly how he wants students to feel.
"I think many times in schools, they teach a lot of the theory, a lot of what you're supposed to do. But coming into the real world, coming in to the work environment, it's very different," he said. "So I want to be able to answer some of those real questions that they may have."
For their part, the mentors said they want to make a difference in the lives of each student and help build the future of the Valley community.
Munafo said the partnership with UTRGV represents a valuable opportunity not only for students, but also for the $1.7 billion bank.
"I would encourage everyone to think about how to get involved with the university, how to help the students and how to make our Rio Grande Valley a better area to live in," Munafo said. "Each one of them has a dream and, if through the mentorship we can help with their dreams, we will all be better off and can help the Valley continue to grow."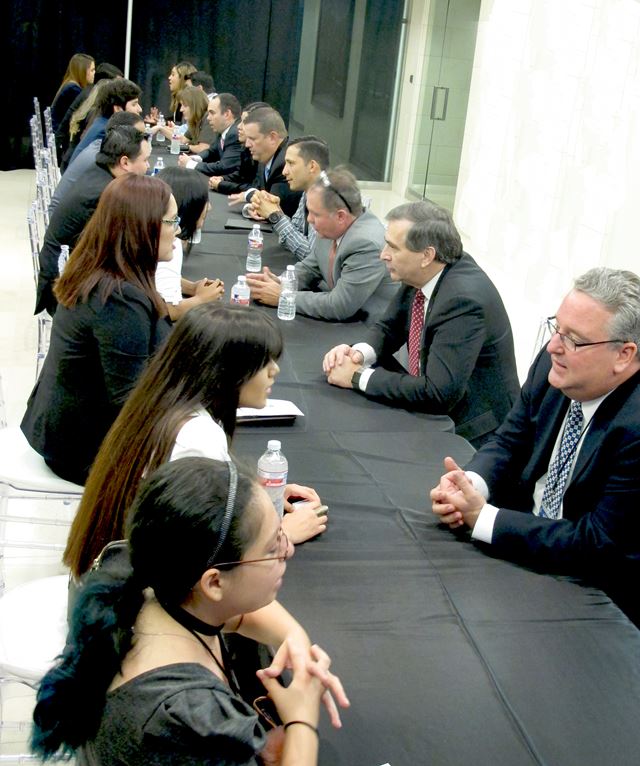 UTRGV students from the Robert C. Vackar College of Business and Entrepreneurship and Inter National Bank executives paired up for the Great Conversations Mentorship Program, a six-month pilot program in which executives offer advice and guidance to business students through one-on-one meetings. Here, students and mentors participate in a "speed meeting" – two-minute sessions to help everyone get to know one another. (UTRGV Courtesy Photo)
MEDIA CONTACTS
Lisa.Pena@UTRGV.edu
UTRGV Development Communications Writer / 956-665-5301
Marci.Caltabiano@UTRGV.edu
UTRGV Director of News and Internal Communications / 956-665-2742