Sub Menu Toggle
UTRGV SEEMS students to be part of $15.4 million NOAA research grant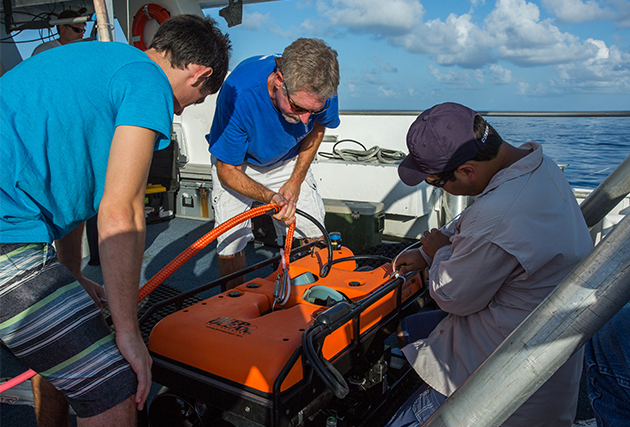 Dr. David W. Hicks (center), director of the UTRGV School of Earth, Environmental and Marine Sciences, said UTRGV SEEMS students are part of a six-university team working with the NOAA Center for Coastal and Marine Ecosystem on research led by Florida A&M University, thanks to a $15.4 million NOAA research grant. Here, UTRGV faculty and students are preparing a remotely operated vehicle (ROV) to study deep sea corals off the South Texas coast. (Courtesy Photo by Seth Patterson)
By Cheryl Taylor
RIO GRANDE VALLEY, TEXAS – OCT. 19, 2016 – The University of Texas Rio Grande Valley has been named one of six universities that will participate in a $15.4 million National Oceanic and Atmospheric Administration (NOAA) grant that will enhance research opportunities for students in the School of Earth, Environmental and Marine Sciences (SEEMS).
Dr. David Hicks, a SEEMS professor and its director, said research funding like this grant has a direct impact on the Lower Rio Grande Valley environment and will help prepare students beyond the classroom.
"The funds will be used to educate and graduate students who pursue degree programs with applied research in NOAA mission-related scientific fields," Hicks said.
Along with Hicks, the co-principal investigators on the grant are Dr. Carlos Cintra, SEEMS associate professor, Alejandro Fierro Cabo, SEEMS assistant professor, Dr. John "Chip" Breier, SEEMS associate professor and Dr. Owen Temby, political science assistant professor.
UTRGV will be part of a six-university team working with the NOAA Center for Coastal and Marine Ecosystem (CCME) on research led by Florida A&M University.
"The focus of UTRGV's research will be complementary to that of our five partner institutions," Hicks said. "Our students will primarily be working on projects aligned with NOAA's current priorities in place-based conservation, coastal resilience and coastal intelligence."
The full complement of the CCME team is:
Florida A&M University, Tallahassee (lead university).
Bethune-Cookman University, Daytona Beach, Fla.
California State University, Monterrey Bay.
Jackson State University, Mississippi.
Texas A&M University–Corpus Christi,
The University of Texas Rio Grande Valley.
The CCME already has begun developing an implementation plan that focuses on student recruitment. One of the unique requirements of the grant, which will be awarded over five years, is that at least 50 percent of the funds are used to support students.
"This is a tremendous opportunity for about 15 graduate and 10 undergraduate students to study various aspects of the Gulf of Mexico, one of our region's most valuable natural resources," Hicks said. "The more we discover about this vital ecosystem, the better equipped we will be to sustain its health, enable its maintenance, and possibly, when and where needed, enhance its revitalization."
Aside from NOAA CCME, the three categories covered by the NOAA EPP/MSI grant are:
NOAA Center for Earth System Sciences and Remote Sensing Technologies.
Lead institution: City College of New York.
NOAA Living Marine Resources Cooperative Science Center.
Lead institution: University of Maryland – Eastern Shore.
NOAA Center for Atmospheric Sciences and Meteorology.
Lead institution; Howard University, Washington, D.C.
Florida A&M University Distinguished Professor Larry Robinson, Ph.D., will serve as the CCME director and principal investigator.
"The entire CCME team should be commended for contributing to this successful outcome in an extremely competitive environment," Robinson said. "We have the opportunity to engage in education, research, and outreach consistent will NOAA's priorities, while contributing to the well-being of the coastal communities and ecosystems so dear to all of our partners."
The NOAA grant is part of an Educational Partnership Program (EPP) for Minority Serving Institutions (MSI), with a goal to increase the number of students, particularly from underrepresented communities, who attend Minority Serving Institutions and graduate with degrees in science, technology, engineering and mathematics.
Dr. Kathryn Sullivan, NOAA administrator, said the excitement and true value of programs such as the EPP/MSI grant is to provide students with an opportunity to help NOAA solve real-world problems in the realms of earth sciences and environmental intelligence.
Retired Coast Guard Vice Adm. Manson Brown, deputy NOAA administrator, said "These programs also give NOAA access and exposure to America's future scientists and technologists as we endeavor to build a workforce that is more diverse and inclusive."
Since the first grants were made in 2001, NOAA EPP/MSI cooperative science centers have awarded degrees to more than 1,600 students who have earned post-secondary degrees in NOAA-mission related fields.
MEDIA CONTACTS

Cheryl.Taylor@UTRGV.edu
UTRGV Senior Writer / 956-882-8787
Marci.Caltabiano@UTRGV.edu
UTRGV Director of News and Internal Communications / 956-665-2742