Sub Menu Toggle
Kirk Clark art now on display at UTRGV School of Medicine's Medical Education Building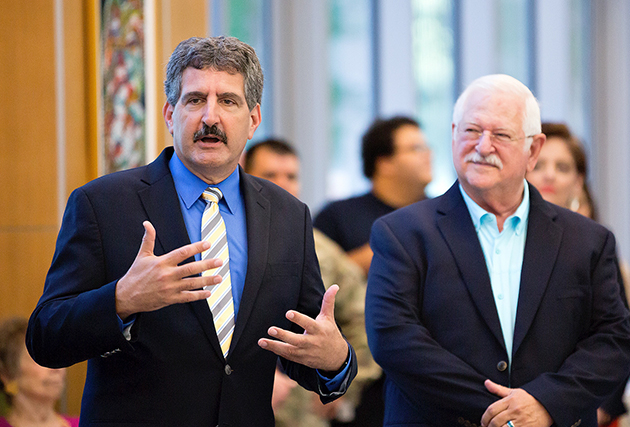 Dr. Steven Lieberman, interim dean of the UTRGV School of Medicine, introduced artist Kirk Clark during a reception in his honor on Wednesday, Oct. 5, 2016, at the Medical Education Building on the Edinburg Campus. Clark's collection, titled "The Visualization of Music," was first exhibited at the opening of UTRGV's Performing Arts Complex last year, and has been made part of the Permanent Clark Collection at the university. It will be on display at the Medical Education Building through February 2017. (UTRGV Photo by Paul Chouy)
By Gail Fagan

EDINBURG, TEXAS – OCT. 17, 2016 – The lobby of the UTRGV School of Medicine's new Medical Education Building on the Edinburg Campus received a boost of glorious color recently, with the opening of a display of 15 paintings by local artist and business owner Kirk Clark.
The collection, titled "The Visualization of Music," was first exhibited at the opening of UTRGV's Performing Arts Complex last year, and has been made part of the Permanent Clark Collection at the university.
"I am very much into sound and healing, so this is the perfect place to take this collection," artist Clark said of exhibiting in an environment focused on wellness.
At a reception Oct. 5 celebrating the opening, Dr. Steven Lieberman, interim dean of the School of Medicine, called the artwork a wonderful addition to the building that contributes much to the environment there for the students and faculty.
"We love this building, we love this space, but it was a little bit naked before we had Kirk's art on the walls," Lieberman said. 
"The abstractness of his work lets people take it to wherever they want to take it and see whatever it is they are inclined to see, which I think is fantastic," he said. "What a great way to keep our students' creativity alive while spending hours and hours every day studying science and filling their heads with information. It is great that they can occupy the other side of their brain at the same time."
Clark's parents – Charles and Dorothy Clark – were longtime collectors and champions of the arts and gifted some of their art collections to UTRGV legacy institution UT Pan American. To honor them, the university houses the Charles and Dorothy Clark Gallery in the Edinburg Campus Liberal Arts Building South.
Clark, owner of a successful automobile dealership in McAllen, created his first oil painting at age 10. He later studied sculpture and drawing at the University of New Mexico. Clark has experimented in a variety of media since then, and his work has been featured in galleries and universities across the United States and internationally.
His most recent works have been inspired through his interest in the science of Cymatics – the visualization of sound and the harmonics of creation inherent in all matter. Through his exploration of Cymatics, Clark said, he discovered his ability to see sound and hear color, called synesthesia.
"It's been a real gift," he said. "I am fascinated by sounds. I think that we are receptors and transmitters of harmonic resonances at a level that is not even recordable. But it doesn't mean that we can't sense that. It is a God-given characteristic of all living things, including plants."
Clark said he plans to continue exploring those hidden connections "that make us alike and make us different." His next collection, already underway, is called "The Visualization of Intuition."
The display of Clark's art, which was curated by Maria Elena Macias, associate dean of the UTRGV School of Art, will be on display in the Medical Education Building until the end of February 2017.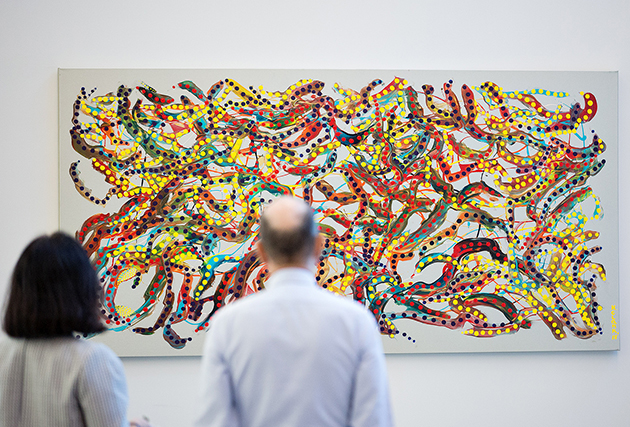 Guests at the UTRGV School of Medicine reception for artist Kirk Clark were able to view his works now on exhibit at the Medical Education Building on the UTRGV Edinburg Campus. (UTRGV Photo by Paul Chouy)
MEDIA CONTACTS

Gail.Fagan@UTRGV.edu
Senior Writer / 956-665-7995
Marci.Caltabiano@UTRGV.edu
UTRGV Director of News and Internal Communications / 956-665-2742