Sub Menu Toggle
Harlingen High School wins HESTEC Navy SeaPerch Challenge on home turf
UTRGV's HESTEC 2016 continued Friday with the Navy SeaPerch Challenge, held for the first time at the Harlingen CISD Aquatic Center. Students from across the Rio Grande Valley participated in a day of underwater robotic competitions, where they pitted their designs and piloting skills against other schools. Each team had a series of timed tasks – from weaving their robot through underwater hoops, to performing a series of dexterity challenges. (UTRGV Photo by David Pike)
By Vicky Brito
HARLINGEN, TEXAS – OCT. 7, 2016 – After a full day of competition, Harlingen High School won HESTEC 2016's Navy SeaPerch Underwater Robotic Challenge, held Friday, Oct. 7, for the first time at the Harlingen CISD Aquatics Center.
The annual competition is part of The University of Texas Rio Grande Valley's Hispanic Engineering, Science and Technology Week, which celebrates its 15th anniversary this year. 
The team's Remotely Operated Vehicle (ROV) – the aptly named Red Rovr – has been in production since early September.
"It paid off," said Harlingen High School senior Vivian Lopez, who also serves as team president. "We worked day in and day out. We did Saturday practices. All the hard work paid off."
Though the team was tired after the long day, they all agreed the accomplishment of winning was "amazing."
For HHS sophomore Coltin Lopez, and juniors Nathan Bauer and Ryan Arnold, this win is fuel to make them even stronger for next year's SeaPerch Challenge.
"We want to inspire next year's group to work just as hard and be just as good," Arnold said.
Each member of the winning team received a TI-Nspire CX calculator provided by Texas Instruments.
The top six teams now advance to the national competition. They are:
FIRST PLACE – Harlingen High School.

SECOND PLACE – Early College High School, Harlingen.

THIRD PLACE – San Isidro High School.

NOT RANKED – Rio Hondo High School, Juan Diego High School, Los Fresnos Night School.
The national competition will take place Mother's Day weekend 2017 at a location still to be determined.
A total of 33 teams competed in this regional competition, which drew schools from across the Rio Grande Valley. 
Teams had four to five members, and were judged on their robot's design, as well as the accuracy of their aquatic robots in navigating underwater obstacle courses.
They also were judged on the appearance, organization and objectives of their accompanying poster, which detailed the creation of their ROV.
The final portion of the Challenge was an interview process in which they were graded on their professionalism and knowledge of STEM concepts.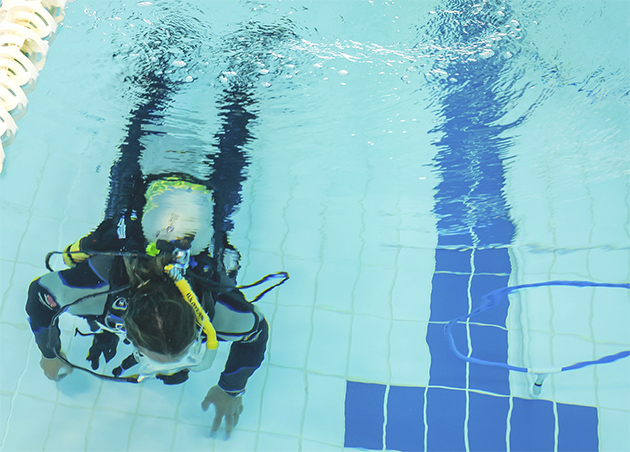 A diver looks for a part that fell off a robot, during UTRGV's HESTEC 2016 Navy SeaPerch Challenge, held for the first time this year in Harlingen, at the Harlingen CISD Aquatic Center. Students from across the Rio Grande Valley participated in a day of underwater robotic competitions. (UTRGV Photo by David Pike)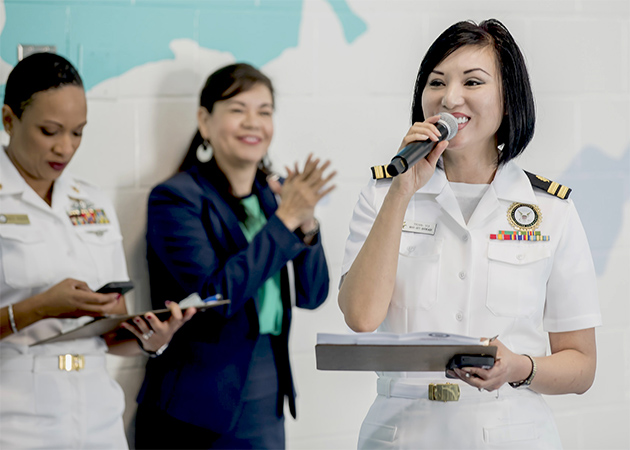 Navy Officer Tran-Yu welcomed area students to the UTRGV HESTEC 2016 Navy SeaPerch Competitions on Friday, hosted for the first time this year at the Harlingen CISD Aquatic Center. Students from across the Valley participated in a day of underwater robotic competition, where they pitted their designs and piloting skills against other schools. (UTRGV Photo by David Pike.)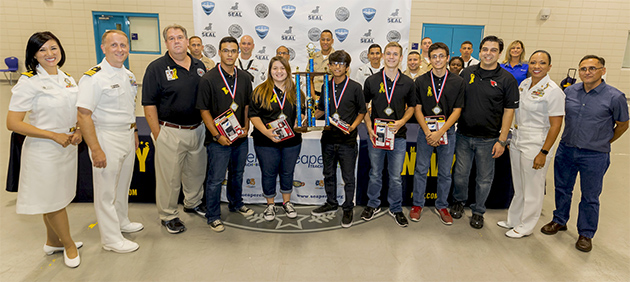 AND THE WINNER IS!: Harlingen High School's Engineering and Tech Club won UTRGV's HESTEC 2016 Navy SeaPerch Challenge on its home turf. The underwater robotics competition was held for the first time ever in Harlingen, at the Harlingen CISD Aquatic Center. Students from across the Valley participated in the full day of underwater robotic performance in timed tasks, including moving their robots through underwater rings, and a series of dexterity challenges. (UTRGV Photo by David Pike)
SEAPERCH CHALLENGE PHOTO GALLERY: https://www.flickr.com/gp/utrgvnews/3SJgdu
SEAPERCH CHALLENGE WINNERS: https://www.flickr.com/gp/utrgvnews/C9c75b
VIDEO QUOTES OF THE DAY: https://youtu.be/PlnBQo4uh6I
MEDIA CONTACTS
Victoria.Brito@utrgv.edu
Informational Writer / 956-882-4330
Marci.Caltabiano@UTRGV.edu
UTRGV Director of News and Internal Communications / 956-665-2742