Sub Menu Toggle
HESTEC 2016 in Brownsville: Recruiters visit UTRGV Brownsville Campus to share information on employment opportunities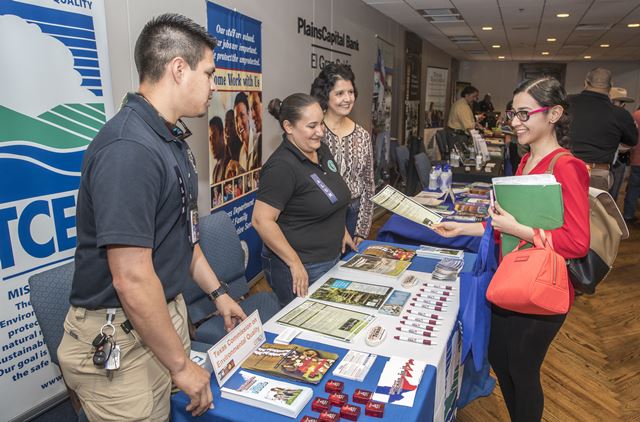 Forty-nine companies sent recruiters to the UTRGV Brownsville Campus on Wednesday, Oct. 5, 2016, to share information about their organizations for HESTEC Career Day. There will be another Career Day on the UTRGV Edinburg Campus Friday, Oct. 7. Here, Alma Martinez, a UTRGV graduate with a biology degree, gets employment information from the Texas Commission on Environmental Quality. (UTRGV Photo by David Pike)
By Cheryl Taylor
BROWNSVILLE, TEXAS – OCT. 5, 2016 – As part of the expansion of HESTEC (Hispanic Engineering, Science and Technology) Week to the UTRGV Brownsville Campus, the university's Career Center held a Fall Career Expo in the PlainsCapital El Gran Salón room of the Student Union on Wednesday, Oct. 5.
Representatives from 49 businesses, non-profit organizations, schools, branches of the U.S. military, and municipal, state and federal agencies were on hand to meet interested students and share employment information.
Among those represented were Accenture Federal Services, Dallas Police Department, Easter Seals of Central Texas, New York Life Insurance, Doctors Hospital at Renaissance, Simmons Foods, Inc., Texas Department of Family and Protective Services, and Valley Baptist Health System.
Student Maribel Reyna made her first stop at the Texas Commission on Environmental Quality (TCEQ) table, where she chatted with Guadalupe Garcia III, an air quality environmental investigator, and Jennifer Graves, a water quality investigator, both UT Brownsville/Texas Southmost College graduates.
"My major is criminal justice, and I have just learned about an opening for a special agent in field work," said Reyna, who will graduate in December this year. "This is a great opportunity, to work at TCEQ. The pay is good and it's open to recent grads, so that's a plus, because it's not that simple to start at the state level."
Texas Parks and Wildlife Department (TPWD) human resources recruiter Joe Beach was drawing a lot of inquiring students, like biology major Joanna Castro, due to receive her degree in May 2017.
Castro talked to Beach about the many job opportunities at TPWD for biologists. And accounting major Claudia Moreno, also an upcoming spring graduate, learned that her degree is in demand at TPWD. Beach told Moreno not to discount TPWD because there is a high need for employees skilled in management, accounting and finance.
Aldo Bañuelos, Leonel Villafranca and David Juarez, majoring in computer science, mechanical engineering and chemical engineering, respectively, will graduate in May 2019. The proactive trio attended the expo to look for internships, a subject that a number of the recruiters seemed eager to discuss with students.
Juanita Baldwin, recruitment and internship coordinator for TECQ, spoke with students about the Mickey Leland Environmental Internship Program, now in its 25th year.
"During these 25 years, we have placed a couple thousand undergraduate and graduate students in paid, full-time summer internships," Baldwin said. "These are in Austin at our central office or in one of our 60 regional offices throughout the state. Our primary focus is STEM majors, but I turn no major away."
Several of the recruiters, among them Esteban Maldonado with Dallas Fire-Rescue, said one of the first questions asked by students is, "What does this job pay?"
Maldonado caught some attention when he told students the starting pay at Dallas Fire-Rescue, while attending the academy, is $50,000.
The U.S. Navy and the U.S. Army were at side-by-side tables, fielding questions from students.
Naval Lt. Cmdr. Michael Rauen, the recruiting division officer for South Texas, talked to students about a number of programs for students to finish their degrees or continue their educations while being paid as a commissioned officer.
The director of the UTRGV Career Center, Juan Rodriguez-Nieto, said he was very pleased with the outcome of the Fall Career Expo and the large number of attendees – at last count, more than 300.
"Our responsibility is to provide assistance to undergraduates, graduate students and alumni with the latest in career information," Rodriguez-Nieto said. "One way we help is to arrange opportunities for one-on-one connections with recruiters, such as at this Career Expo. These human resources representatives make the effort to attend because they are aware of the excellent reputation of UTRGV's talented, often bilingual, students."
The HESTEC Fall Career Expo will continue at the UTRGV Edinburg Campus from 10 a.m. to 3 p.m. on Friday, Oct. 7, in the Fieldhouse.
For more information or special accommodations, contact the UTRGV Career Center at 956-665-2243 or 956-882-5627.

PHOTO GALLERY: Fall Career Expo – Brownsville Campus  
MEDIA CONTACTS

Cheryl.Taylor@UTRGV.edu
UTRGV Senior Writer / 956-882-8787 
Marci.Caltabiano@UTRGV.edu
UTRGV Director of News and Internal Communications / 956-665-2742