Sub Menu Toggle
Girl power rules third day of HESTEC 2016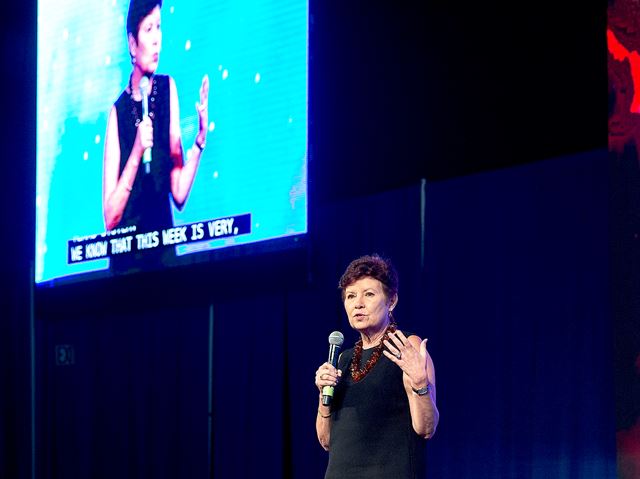 UT System Regent Sara Martinez Tucker, a Laredo native, spoke to about 700 Valley students and their mothers during HESTEC Latina Day on Wednesday, Oct. 05, 2016 at the Fieldhouse on the UTRGV Edinburg Campus. She encouraged them to always remember to follow their dreams, and that all things are possible. (UTRGV Photo by Paul Chouy)
By Melissa Vasquez
EDINBURG, TEXAS – OCT. 5, 2016 – Amazing Latinas took over the third day of HESTEC 2016 on Wednesday, Oct. 5, on the UTRGV Edinburg Campus.

Featuring some of the most prominent and successful Hispanic women in the United States, Latina Day also drew about 700 mothers and daughters from South Texas to find inspiration for pursuing their dreams.

Among the day's influential speakers was Sara Martinez Tucker, a University of Texas System Board of Regent who is originally from Laredo.

"Why are we here? I can boil it down to one sentence: 'We need you,'" she said.

Martinez Tucker said Texas will need 88,000 engineers and computer scientists in the next 10 years. In addition, the state needs to graduate 9,000 engineers and computer scientists a year, but only 5,500 are graduating each year – and the majority of those are from UT System institutions.

She was the first in her family to go to college, she said, but she could not have done it without her parents' support.

In high school, a counselor told her she was not college material, even though she was ranked No. 1 of 364 students. So, she carved her own path to success, with the support of her parents. Her first job out of college was as a reporter for the San Antonio Express News.

She had some advice for students as they head into their next journey – college life.

"Don't underestimate the help that is out there for you," she said.

She told them to not overestimate the obstacles they think they may encounter in the future, and to not be embarrassed to ask questions.

"I never attended anything like this, so I know that you are starting stronger than I did," she said.

Martinez Tucker also serves on the University of Notre Dame's Board of Trustees, and has affected the lives of students not only in Texas, but nationally as Under Secretary of the U.S. Department of Education, where she oversaw all policies, programs and activities related to postsecondary education, vocational and adult education, and federal student aid.

In addition, she was CEO and president of the Hispanic Scholarship Fund (HSF), where she pursued an aggressive goal of doubling the rate of Hispanics earning college degrees. In her time at the helm of HSF, Tucker raised $280 million for scholarships, growing annual scholarships from $3 million to more than $25 million, and launching community outreach programs to raise college expectations in Latino families and communities.

"Whether you want to be a reporter, whether you want to work in corporate America, whether you want to lead a national not-for-profit, whether you want to work for the president of the United States, or now serve on the governing board for The University of Texas System and you sit back and think, 'It's not possible' – I want you to sit back and remember you are starting out stronger than I am."

"Everything is possible for you, and for everyone who will follow in your footsteps," she said.

REGALBUTO: TACKLING THE BIG ISSUES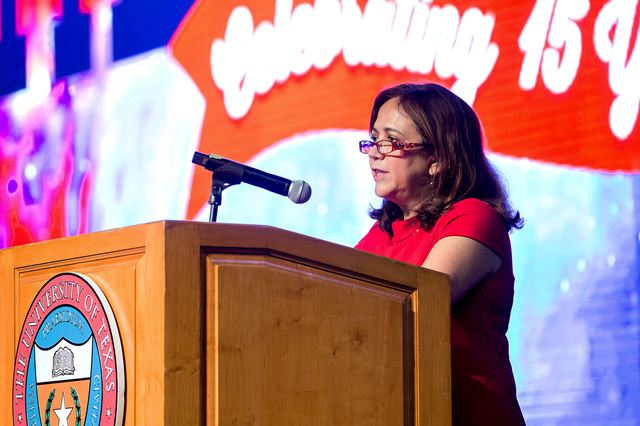 Dr. Monica Regalbuto, U.S. Department of Energy Assistant Secretary for Environmental Management who grew up in Monterrey, Mexico, spoke to about 700 female students and their mothers during HESTEC Latina Day on Wednesday, Oct. 5, 2016, at the Fieldhouse on the UTRGV Edinburg Campus. (UTRGV Photo by Paul Chouy)
Another high profile speaker to Latina Day was Dr. Monica Regalbuto, assistant secretary for the U.S. Department of Energy's Office of Environmental Management. Regalbuto, who was named to the position in August 2015, provides the leadership necessary to continue the safe cleanup of the environmental legacy brought about from five decades of nuclear weapons development and government-sponsored nuclear energy research.

"When I was 16 or 17 years old, back in Monterrey, Mexico, I would have never dreamed that the president of the United States would have nominated me for this honorable position," she said. "So if I can do that, then all of you can do that."

Regalbuto said she oversees more than 20,000 federal and contracted employees across 16 different sites in the country, and is in charge of a $6 billion budget.

"The science and engineering behind me has helped me tackle some of the biggest problems facing our world and country today. As the person responsible for one of the largest environmental cleanup programs in the world I can tell you that we need scientists and engineers in all disciplines and all different levels for decades to come."

She said there still remains a critical shortage in females in STEM careers – only a quarter of the STEM workforce is females while women make up half the workers in the country. She also invited the young students and their mothers to come out to Washington, D.C. and discover what the U.S. Department of Energy is all about.

"Remember Latina women are smart and Latina women are strong," she told the girls and their mothers.

MEDIA CONTACTS
Melissa.Vasquez@UTRGV.edu
Publications Editor / 956-665-8926

Marci.Caltabiano@UTRGV.edu
UTRGV Director of News and Internal Communications / 956-665-2742