Sub Menu Toggle
UTRGV-Harlingen CISD share new teacher prep program at national summit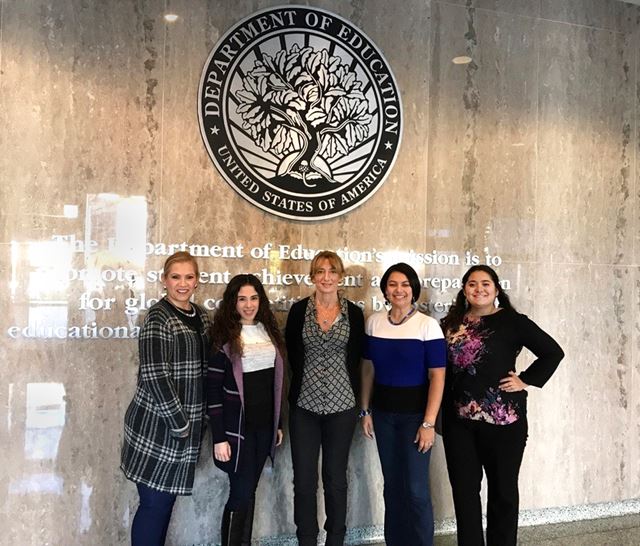 A team comprised of a partnership between UTRGV's College of Education and P-16 Integration and the Harlingen CISD was selected via competitive process to attend the national Teach to Lead summit in Washington, D.C., in early November. The team's proposal was among 16 selected from the 90 submitted, and was the only one chosen from Texas. The theme of the proposal was improving teacher preparation field experience for bilingual teachers. From left are Mindy Sanchez, principal of Lee H. Means Elementary School in Harlingen; Mayela Cantu, teacher candidate in the EC-6 Bilingual Certification program; Dr. Sandra Musanti, UTRGV associate professor, Department of Bilingual and Literacy Studies; Maria Meza, second-grade bilingual education teacher, Lee H. Means Elementary School in Harlingen; and Kassandra Cantu, teacher candidate in the EC-6 Bilingual Certification program. (Courtesy Photo)
By Gail Fagan
RIO GRANDE VALLEY, TEXAS – NOV. 28, 2016 – A partnership between The University of Texas Rio Grande Valley's College of Education and P-16 Integration and the Harlingen CISD to improve teacher preparation field experience for bilingual teachers was in the spotlight Nov. 3-4 at the national Teach to Lead summit in Washington, D.C.
Selected in a competitive process to attend the summit were Dr. Sandra Musanti, associate professor in the Department of Bilingual and Literacy Studies at UTRGV; Mayela Cantu and Kassandra Cantu, teacher candidates in the EC-6 Bilingual Certification program; and Maria Meza, second-grade bilingual education teacher, and Mindy Sanchez, principal, both from Lee H. Means Elementary School in Harlingen.
The team's proposal was among 16, and the only one from Texas, accepted of 90 proposals received to attend the summit, which for the first time was devoted to a specific topic – teacher preparation. 
"The selection of our proposal clearly indicates the value of our work," said Dr. Patricia McHatton, dean of the UTRGV College of Education and P-16 Integration. "We were the only group to focus on bilingual learners. Our participation elevates our standing within educator preparation and informs our work. It also provides our candidates with an opportunity to network and learn from educators from throughout the United States."
Teach to Lead – an initiative of the U.S. Department of Education, the National Board for Professional Teaching Standards and the ASCD (formerly the Association for Supervision and Curriculum Development) – seeks to improve student outcomes by expanding opportunities for teacher leadership.
Since 2014, Teach to Lead has hosted summits in various locations across the country in coordination with supporting organizations to highlight and advance groundbreaking, teacher-led work that is happening in states, districts and schools nationwide.
At the summits, ideas and best practices are shared by participating teachers, principals, districts and others, as well as common challenges and plans to address them.
The November summit included presentations from numerous national education leaders, including Dr. John King, U.S. Secretary of Education, who discussed the important role of clinical practice partnerships with school districts to better prepare profession-ready teachers.
The proposal from UTRGV and the Harlingen CISD touted their joint development and initial success of the Student Teacher-Educator Preparation University Partnership (STEP UP) program in a bilingual education class at Harlingen's Lee H. Means Elementary School.  
In the STEP UP university-district partnership, teacher candidates spend a full year as student teachers – in the fall semester one day a week from the beginning of the school year, followed by the daily student-teacher clinical experience with the same teacher mentor in the spring semester.
McHatton said STEP UP stemmed from a desire by the education college and Harlingen CISD Superintendent Dr. Art J. Cavazos to redefine teacher preparation, such that graduates enter the field performing as second-year teachers.
STEP UP is also underway for teacher candidates in early childhood and special education programs at the same school. 
"There is a strong body of research in support of clinically rich preparation programs, those in which teacher candidates have an opportunity to apply theory to practice in authentic settings," McHatton said. "Further, it is important for education preparation programs to work in collaboration with our K-12 partners to ensure our faculty and graduates are abreast of the current realities that our graduates will face once they begin their career."
Cantu, an interdisciplinary studies major with a minor in bilingual education, who is being mentored by Meza, said STEP UP allows the student teacher to be there from day one and experience the evolution of the class through a full academic year.
"For any field, I think it is very different from hearing about it in a college classroom and actually practicing it," she said. "We can be taught about how to do a lesson plan or how to teach a lesson, but without practicing you don't really get that full understanding of how or why it works."
Cantu said attending the summit provided a great opportunity to learn from prominent national educational leaders as well as other universities and districts striving to improve teacher preparation.
"It was encouraging to get together and connect with those other groups to improve teacher education at UTRGV, possibly at other UT System schools and across the United States," she said.
Meza, an alumna with bachelor's and master's degrees from UT Brownsville/Texas Southmost College, said the more intensive, clinically embedded teacher preparation facilitates student teachers to learn more about the gamut of a teacher's responsibilities, including lesson planning, administrative duties, and even parent-teacher conferences.
"They are able to see the entire picture and see the tremendous changes in students from week to week over an entire school year," said Meza, who praised the opportunity the summit gave her to spend quality time with her principal, professor and student teachers. "Both of my student teachers are on top of things … that driven motivation from them is excellent because you have to have that in teaching." 
In preparing their proposal, Musanti said the team focused on the best-practices approach to teacher candidate mentoring to implement bilingual high-leverage practices for teaching ESLs, including activating background knowledge, developing academic vocabulary and identifying language objectives.
"The team's goal was to develop a field experience approach that prepares student teachers to implement research-based bilingual teaching practices to design effective instruction for English learners' success," Musanti said.
"I was so proud of our student teachers and the deep knowledge they demonstrated at the summit about teaching and learning, bilingual education, and the potential impact of the STEP UP program in future teacher preparation at UTRGV," she said.  
MEDIA CONTACTS

Gail.Fagan@UTRGV.edu
Senior Writer / 956-665-7995
Marci.Caltabiano@UTRGV.edu
UTRGV Director of News and Internal Communications / 956-665-2742