Sub Menu Toggle
UTRGV students share holiday cheer with Thanksgiving meal deliveries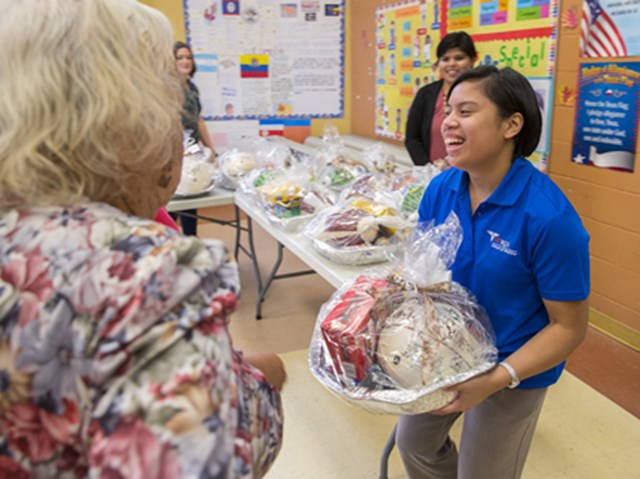 UTRGV students on Wednesday, Nov. 23, delivered turkeys and Thanksgiving food baskets to families from six Valley communities. The event was spearheaded by ENACTUS, a student organization in the Robert C. Vackar College of Business and Entrepreneurship, with students from about a half dozen student organizations and the School of Medicine. Together, they raised money and hosted food drives for canned goods to help 180 families. Here, Shuemara Ondoy, a student in the UTRGV School of Medicine's first cohort, delivers a turkey and food basket to a family in San Carlos. (UTRGV Photo by David Pike)
By Jennifer L. Berghom
RIO GRANDE VALLEY, TEXAS – NOV. 23, 2016 – Students, faculty and staff from The University of Texas Rio Grande Valley spent the day before the Thanksgiving holiday break delivering turkey meals with all the trimmings to families in six Valley communities.
At one of the delivery locations, the San Carlos Community Resource Center, rows of gift baskets were stuffed with disposable roasting pans, frozen turkeys and canned foods, all wrapped in plastic and tied with bows. The baskets were lined up atop folding tables in the multipurpose room, waiting for residents to pick them up.
One family at a time quietly entered the room, many stopping abruptly to look upon the display in amazement. Many of the residents said "Thank you" and "God bless you" as the students handed them their Thanksgiving meal baskets.
Alicia Rodriguez, the center's director, called the meal delivery "a blessing."
"In the community of San Carlos, there are a lot of needs. So whenever an organization or university calls me that they want to do something for the community, I embrace it and the community embraces it," she said.
Spearheaded by ENACTUS, a student organization in the Robert C. Vackar College of Business and Entrepreneurship, students representing about a half dozen extracurricular organizations within that college, as well as students from the UTRGV School of Medicine, raised more than $3,000 for the baskets.
In addition, since Nov. 1, they have hosted food drives that brought in canned goods to help 180 families in need. Community leaders had been asked earlier to identify families who would benefit greatly from receiving a meal.
Students visited the following communities:
El Paraiso, Office of Hidalgo County Precinct 3 Commissioner Joe Flores, 724 N. Breyfogle Road, Mission.
Proyecto Desarrollo Humano, 17617 Sabal Palm Drive, Peñitas.
Alamo Community Resource Center, 1429 S. Tower Road, Alamo.
San Carlos Community Resource Center, 230 N. 86th St., Edinburg.
La Victoria Community Center, 532 Gabriela St., Rio Grande City.
La Feria, City of La Feria facility, 1001 Pancho Maples Drive, La Feria.
The communities selected are participating with the university in an initiative in which UTRGV students and residents work together to develop programs that benefit these neighborhoods. The School of Medicine is heading that endeavor, which is being called a community-university partnership.
Students began preparing meal baskets Monday morning, Nov. 21, and put the finishing touches on their gifts Wednesday with a frozen turkey for each family before heading out to deliver the meals.
This is the second year ENACTUS has hosted the holiday meal drive. Last year, the club and other student organizations delivered 25 meals to families.
STUDENT SPIRIT
Rebecca Reyes, president of ENACTUS, said she and fellow club members see need in communities through their community outreach efforts throughout the year, but the holidays are especially poignant.
"We all know there's a need and the holidays are all about giving back," said Reyes, who is expected to graduate in December with a bachelor's degree in business administration with a concentration in management. "I feel a responsibility to do it."
Katarina Longoria, a first-year medical student from Mission, said she was excited to give back to her community.
"I grew up here, so to be able to do this is really near and dear to my heart," she said.
The meal delivery also ties in with the medical school's commitment to community service.
"We really want to serve the community, whether it be through Thanksgiving meals or whatever we can do, because all of that, in the end, impacts health," Longoria said.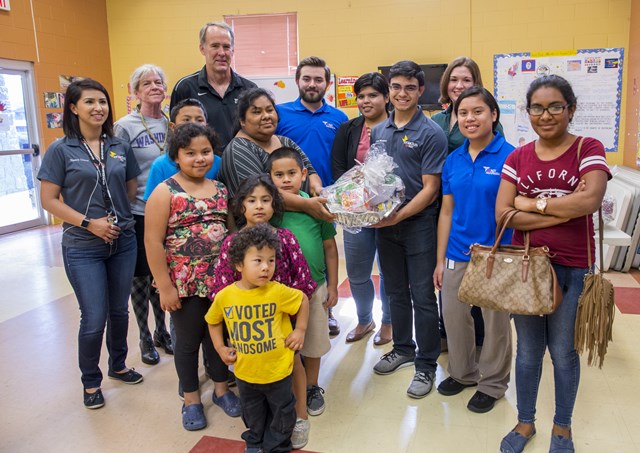 UTRGV students on Wednesday, Nov. 23, delivered turkeys and Thanksgiving food baskets to families from six Valley communities. The event was spearheaded by ENACTUS, a student organization in the Robert C. Vackar College of Business and Entrepreneurship, with students from about a half dozen student organizations and the School of Medicine. Together, they raised money and hosted food drives for canned goods to help 180 families. At center left, Brenda Hernandez, accepting her Thanksgiving basket, poses with her family and UTRGV volunteers from the Vackar COBE and the School of Medicine. (UTRGV Photo by David Pike)
MEDIA CONTACTS
Jennifer.Berghom@UTRGV.edu
UTRGV Senior Writer / 956-665-7192
Marci.Caltabiano@UTRGV.edu
UTRGV Director of News and Internal Communications / 956-665-2742