Sub Menu Toggle
UTRGV dean has meaningful musical interlude in Cuba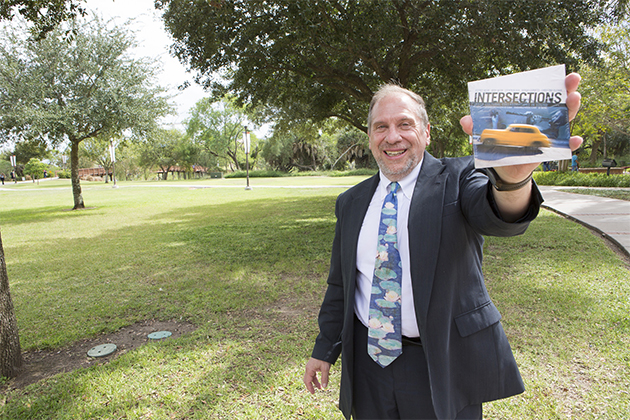 Dr. Steven Block, dean of the College of Fine Arts at UTRGV, displays a compilation CD recorded in Cuba, called Intersections. Block was among six composers from across the United States invited by PARMA to record their compositions played by members of the National Symphony Orchestra of Cuba. Block led a recording of his favorite work, Puttin It Together, for inclusion on the Intersections CD. (UTRGV Photo by Veronica Gaona)
By Cheryl Taylor
RIO GRANDE VALLEY, TEXAS – NOV. 22, 2016 –  On his 22nd day of employment at  The University of Texas Rio Grande Valley ,  Dr. Steven Block  spoke at the ceremonial construction launch March 22, 2016 of the $54 million  Academic Building  on the Brownsville Campus.
Block, the new dean of the  College of Fine Arts , said he was thrilled to have come to UTRGV in its second semester, and to arrive with the bonus of a new facility being built to accommodate many of the needs of the  School of Music .
As he was acclimating from life in Albuquerque, New Mexico, to life in the subtropical Lower Rio Grande Valley, Block also was preparing for his pre-arranged trip to another, even more tropical locale – Havana, Cuba.
A music scholar and composer, Block had been invited to participate in a recording session by  PARMA Recordings , a label out of North Hampton, New Hampshire, that specializes in contemporary music, with a new label devoted entirely to recordings in Cuba.
Block was among six composers from across the United States who had been tapped by PARMA to record a CD of their compositions played by members of the  National Symphony Orchestra of Cuba . He would oversee a recording of his oldest, and favorite, composition, "Puttin' It Together," to be part of the compilation CD, entitled  "Intersections."
"To spend eight days in Havana with other musicians was an offer I couldn't refuse," Block said. "My main interest was to collaborate with musicians in the national symphony – an ideal alliance, because this composition was conceived for classical music performers to be constrained by notation to perform music analogous to free jazz."
The group stayed in a private house reputed to have been the mansion once owned by the vice president of Cuban dictator Fulgencio Batista.
"My room was upstairs in a second part of the house that led through an extremely steep narrow staircase from a courtyard," Block said. "I shared a bath, with unreliable water availability, with a musician couple, Heidi and Charles, from Philadelphia."
Over several days, as their studio times came and went, the group gathered for meals and sightseeing, including a "short and disappointing" cigar factory tour.
" Old Havana  is an inner city that had better days, fell apart completely, and is now being rebuilt and restored, piece by piece, at a snail's pace," Block said. "The area of the cigar factory was more industrial than where we stayed, with narrow streets and sidewalks and even more crumbling buildings and infrastructure."
Block's turn to record was on day five in Cuba. He sat in the control room of the only state-of-the-art studio in Havana, while two saxophonists, two bass players and a percussionist displayed a deep understanding of his composition.
"This group of young Cuban professionals – I don't believe any of them were over 30 – far surpassed any previous tries of this composition," Block said. "The drummer told me he had studied his part for a month; the others also appeared to have devoted tremendous time practicing and rehearsing."
Block wrote "Puttin' It Together" when he was a 22-year-old graduate student at the University of Iowa in the 1970s, a time he reflects on as being musically naïve in regard to what classical musicians felt was possible. He said he did not understand the difficulty of capturing Free Jazz, the name given to a jazz style that is independent of chord function.
"What a memorable recording session in Havana," Block said. "When we finished the last take, the engineers and performers were applauding and the engineers were yelling "bravo" to the performers."
With his day in the studio completed, Block allowed himself a deep breath, and on the next day joined the others in his group, along with "tourists of every nation," for a tour of Ernest Hemingway's home in Cuba – "Finca Vigía," meaning "lookout house," located about a half-hour drive outside the city.
"I came home with the amazing memory of five national symphony musicians trying their hardest, and successfully recording my composition," Block said. "I can still see the vendors in the streets selling bananas, soda and black market packages of baked goods. But mostly I remember the free and indomitable spirit of the many people I met."
Block's "Puttin' It Together" on the "Intersections" CD was released on Oct. 14, 2016 and is available through various music outlets, including   iTunes, Amazon and  Naxos en Español .
"I returned to my new home in the Rio Grande Valley refreshed and eager to tackle my duties as dean of the College of Fine Arts," Block said. "I see UTRGV as a nurturing learning haven and launching pad for the tremendous pool of young talent that exists in South Texas and northern Mexico."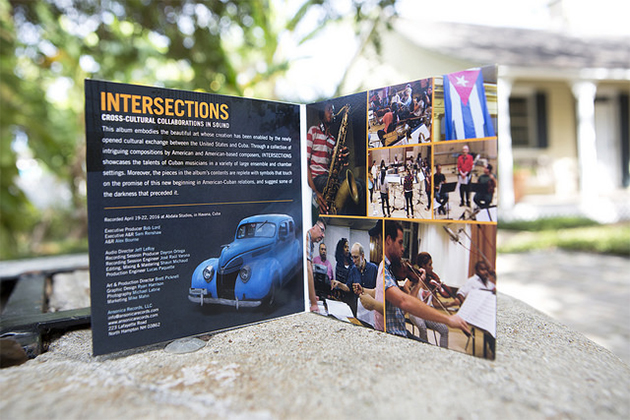 Dr. Steven Block, dean of the College of Fine Arts at UTRGV, was among six composers from across the United States invited to record their compositions played by members of the  National Symphony Orchestra of Cuba . Block led a recording of his favorite work, "Puttin' It Together," for inclusion on the  "Intersections"   CD.   (UTRGV Photo by Veronica Gaona)
MEDIA CONTACTS
Cheryl.Taylor@UTRGV.edu
UTRGV Senior Writer / 956-882-8787
Marci.Caltabiano@UTRGV.edu
UTRGV Director of News and Internal Communications / 956-665-2742