Sub Menu Toggle
UTRGV students to deliver Thanksgiving meals to families in need
UTRGV ENACTUS President Rebecca Reyes organizes food for distribution to needy families for the Thanksgiving holiday. Spearheaded by ENACTUS, a student organization in the Robert C. Vackar College of Business and Entrepreneurship, students representing almost all of the university's colleges and the School of Medicine have raised money and hosted food drives for canned goods to help 120 families in need. (UTRGV Photo by Paul Chouy)
WHAT: UTRGV students to deliver Thanksgiving meals to families in need
WHEN: 1 p.m. Wednesday, Nov. 23, 2016
WHERE: Various locations throughout the Valley. Students will leave from the UTRGV Edinburg Campus around 11 a.m. and arrive to their destinations by 1 p.m.
RIO GRANDE VALLEY, TEXAS – NOV. 21, 2016 – UTRGV students from a variety of disciplines will deliver turkey meals with all the trimmings to families in six communities throughout the Rio Grande Valley.
Spearheaded by ENACTUS, a student organization in the Robert C. Vackar College of Business and Entrepreneurship, students representing almost all of the university's colleges and the School of Medicine have raised about $3,000 and since Nov. 1 have hosted food drives that brought in canned goods to help 120 families in need.
Students began preparing meal baskets Monday morning, Nov. 21, and plan to wrap up their gifts on Wednesday with a frozen turkey for each family before heading out to deliver the meals.
The locations are:
El Paraiso, Office of Hidalgo County Precinct 3 Commissioner Joe Flores, 724 N. Breyfogle Road, Mission;
Proyecto Desarrollo Humano, 17617 Sabal Palm Drive, Peñitas.
Alamo Community Resource Center, 1429 S. Tower Road, Alamo.
San Carlos Community Resource Center, 230 N. 86th St., Edinburg.
La Victoria Community Center, 532 Gabriela St., Rio Grande City.
La Feria, City of La Feria facility, 1001 Pancho Maples Drive, La Feria.
 Students plan to leave the Edinburg Campus about 11 a.m. to arrive at the community locations by 1 p.m.
The communities were chosen because they are participating with the university in an initiative in which UTRGV students and residents work together to develop programs that benefit these neighborhoods.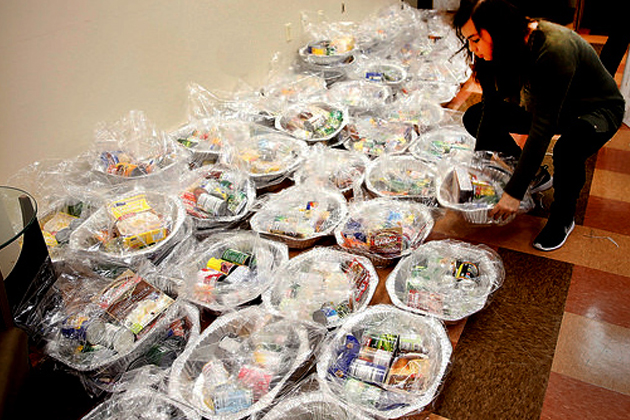 UTRGV students on Monday, Nov. 21, made gift food baskets that will be donated to families for the Thanksgiving holiday. Spearheaded by ENACTUS, a student organization in the Robert C. Vackar College of Business and Entrepreneurship, students representing almost all of the university's colleges and the School of Medicine have raised money and hosted food drives for canned goods to help 120 families in need. (UTRGV Photo by Paul Chouy)
MEDIA CONTACTS
Jennifer.Berghom@UTRGV.edu
UTRGV Senior Writer / 956-665-7192
Marci.Caltabiano@UTRGV.edu
UTRGV Director of News and Internal Communications / 956-665-2742