Sub Menu Toggle
UTRGV Health Occupations students host health fair, promote awareness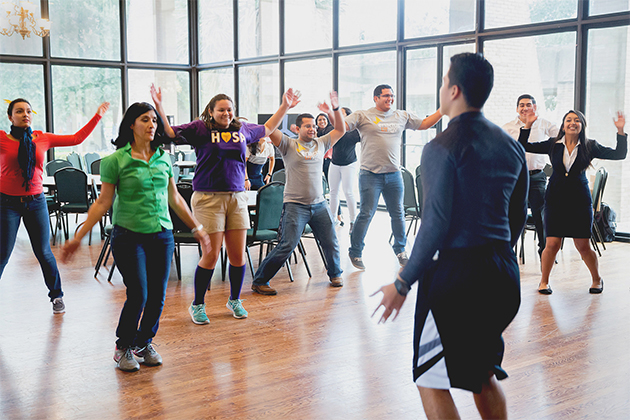 UTRGV Exercise Science student Carlos Portales leads a workout session during a recent Health Fair focused on cancer awareness, hosted by the UTRGV chapter of Health Occupations Students of America (HOSA). (UTRGV Photo by Paul Chouy)
By Neiby Rodriguez Rangel
EDINBURG, TEXAS – NOV. 18, 2016 –  Students from the UTRGV chapter of  Health Occupations Students of America ( HOSA) recently hosted the group's first public health fair, in the Ballroom on the UTRGV Edinburg Campus.
Jose Ibarra, 21, biology and psychology major and HOSA president, said the vision for the club's first event was educating the public about breast and lung cancers and the prevalence of such cancers in the community.
"People from our community are not well-informed about different diseases, and maybe aren't aware of events that could be beneficial for them," Ibarra said, "so doing this was a great idea. We had the information and just needed to relay it to the people of Hidalgo County."
There were three keynote speakers:
Gonzalez spoke about the benefits of breastfeeding, its role in preventing breast cancer, and the importance of reaching the community with that information.
"Since they are not coming to us, we need to go to them and make them aware that something as simple as breastfeeding can make an impact in reducing the risk of breast cancer and is incredibly beneficial to the baby's health," she said.
Zack Hurtado, 19, a biology student, said it's important to help people get informed.
"Events like this are important because not many people get the same level of education and knowledge about preventable diseases," he said. "Getting out there and learning from health fairs like this is a good thing."
Hurtado said he would like to see even more information shared with the community, like the range of factors that can cause cancer.
"For example, whenever your cook fatty foods, there's something released called polycyclic aromatic hydrocarbons that goes to your lungs and can cause cancer," he said.
Briana Gonzalez, 21, a pre-med biology student and HOSA vice-president, said another goal of the health fair was to engage HOSA members with the community.
"We wanted to have a starting event not only to get the information to the public, but also for the HOSA members who are going to be future doctors and nurses to start being engaged with their community," Gonzalez said. "They need to start learning to communicate the information that they have and be willing and able to help people."
HOSA leaders said they plan to host more fairs that will  address other geographically pertinent health issues.
"For our next health fair, we are planning on tackling concepts closer to home, especially for our Valley communities," Gonzalez said. "For example diabetes, obesity and hypertension. These diseases are preventable and we want to teach our community how they can fight them."
The organization is under the guidance of the UTRGV College of Sciences and the advisor is Dr.  Mirayda Torres-Avila.
MEDIA CONTACTS
Neiby.RodriguezRangel01@UTRGV.edu
Staff Writer / 956-665-3639
Marci.Caltabiano@UTRGV.edu
UTRGV Director of News and Internal Communications / 956-665-2742