Sub Menu Toggle
Veterans Honor Tree begins its tradition at UTRGV
PHOTO GALLERY: Veterans Day Ceremony, Brownsville Campus
PHOTO GALLERY: Veterans Day Ceremony, Edinburg Campus
By Vicky Brito
BROWNSVILLE, TEXAS – NOV. 11, 2016 – A very special tree honoring U.S. military veterans will be placed on The University of Texas Rio Grande Valley Brownsville Campus this Veterans Day.
The Veterans Honor Tree originated from the UTRGV Military and Veterans Success Center and will feature ribbons of various colors honoring different military veterans. The ribbons will be available for the UTRGV community to place on the tree.
"The tree's purpose is to have participation by the rest of the student body in support of veterans," said Enrique Becerra, vice president for Student Veterans of America at UTRGV. "The tree is from the students to the veterans."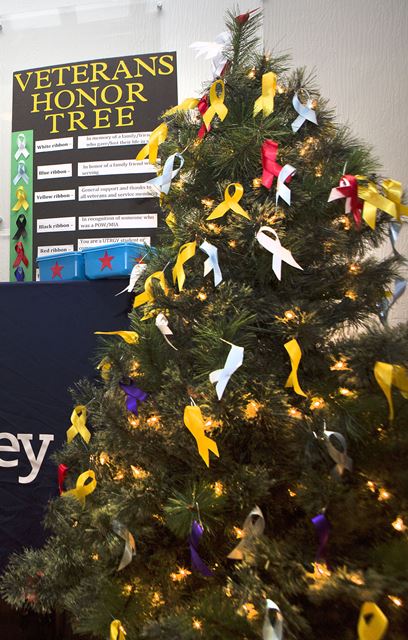 Becerra is a senior studying criminal justice and serves as a cadet in the U.S. National Guard Alpha Command in Brownsville and is also a cadet in the UTRGV ROTC.
"We want this tree to become a tradition, to continue for years to come to honor veterans," he said.
The tree will be placed in the PlainsCapital Gran Salón on Friday, Nov. 11, and will be part of the Veterans Day Ceremony that starts at 11 a.m. in that room.
Ribbon colors include the following:
White - Honors the memory of those who have died in service to their country.
Blue - Recognizes someone who is currently serving.
Yellow - Represents general support and thanks for all veterans and service members.
Black - Honors POWs or the MIA.
Red - Represents a current UTRGV student, staff or faculty member who has served or is currently serving in the military.
Purple - Recognizes Purple Heart recipients.
Event organizers said there are plans to expand the Veterans Honor Tree to the Edinburg Campus, and have it as a permanent display at the University Center.
MEDIA CONTACTS
Victoria.Brito @UTRGV.edu
UTRGV Informational Writer / 956-882-4330
Marci.Caltabiano@UTRGV.edu
UTRGV Director of News and Internal Communications / 956-665-2742