Sub Menu Toggle
Alumni recruiters tout their school districts to prospective hires at Teacher Jobs Expo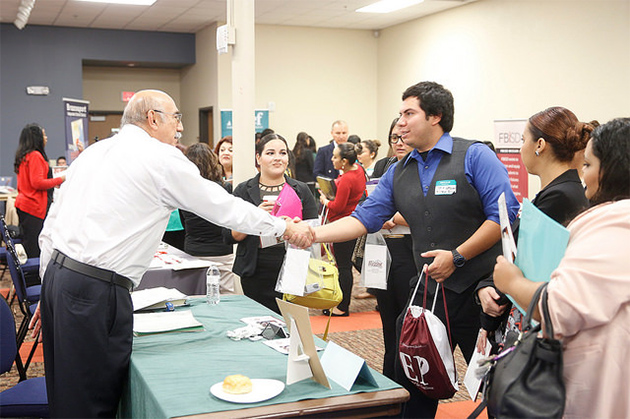 UTRGV Photo by Paul Chouy
PHOTO GALLERY: Fall 2016 Teacher Jobs Expo, Brownsville and Edinburg Campus  
By Cheryl Taylor
BROWNSVILLE & EDINBURG, TEXAS – NOV. 11, 2016 – Two graduates of The University of Texas Rio Grande Valley College of Education and P-16 Integration, Priscilla Avalos and Alyssa Gonzales, returned to their alma mater to recruit for their school districts at the fall Teacher Jobs Expo, Thursday, Nov. 10 on the Brownsville Campus, and Friday, Nov. 11 on the Edinburg Campus.
Both December 2015 graduates with bachelor's degrees in early childhood through sixth grade education, and bilingual certified, Avalos and Gonzales are from Pharr and Mission, respectively.
Avalos teaches fourth grade at Katherine Smith Elementary School in the Houston Independent School District. Gonzales teaches fifth grade at Plum Creek Elementary School in the Lockhart Independent School District.
Avalos credits her decision to the connection she made with Juan Santos, Houston ISD senior recruiter, Teacher Recruitment and Selection, about this time last year, at the November 2015 teacher jobs expo on the Edinburg Campus.
"We love to come to UTRGV to recruit teachers because the graduates are prepared and familiar with the challenges that face many of the students in our community," Santos said. "We know we can recruit future educators from UTRGV who understand the importance of preparing their students for careers in the global economy."
After the expo a year ago, Avalos held out for an offer close to home; when nothing materialized, she took a position as a teacher aide and started working on her master's degree.
"Months passed, and then Juan contacted me over the summer about an opening at a school in northeast Houston, and when I met the principal, Dr. Queinnise Miller, I knew Smith Elementary was the school for me."
Within two weeks, Avalos signed her contract with Houston ISD, stayed with cousins in Houston while attending the one-week new teacher orientation, found an apartment, returned to Pharr to load up her car, moved into her new place, and still was all smiles for her first day of class.
"I love my students and I have a wonderful principal, so full of energy and ideas," she said. "I am in a safe, convenient location, with everything I need – stores, a gym, a church – just blocks away, and only 20 minutes to my school. I am so grateful for everything."
Gonzales said she intended to move to San Antonio, where her brother lives, but when the time came to search for a school, she decided otherwise.
"I realized I wanted to be a part of a small school district," Gonzales said. "It was this time last year when I met Mrs. Pope representing Lockhart ISD at the teacher job fair. I learned about the growth in the area, and how the district is working on developing a bilingual program, and I felt I would be able to have a greater impact here than perhaps other, larger districts."
Finding the right fit
Faith Pope, director of elementary curriculum and instruction for Lockhart ISD, said this is the third time her school district has attended the UTRGV teacher job fair, with the first two fairs resulting in four "excellent" new hires.
"And today we hope to make it four more," she said. "In the last 10 years, Lockhart's English language learner student population has increased by 249 percent. This is the only teacher job fair that we attend outside our general area. We know most UTRGV graduates are bilingual, are Texas certified when they graduate, and are ready to walk into a classroom."
Alexis Fruia, a 2009 graduate of UTRGV's legacy institution, The University of Texas at Brownsville/Texas Southmost College, was assisting the Athlos Leadership Academy team with recruiting at the expo.
"I started my teaching career when the Jubilee Academic Center District opened here in Brownsville in the fall of 2009, and it has been a great six years," said Fruia, who is the elementary math interventionist. "We have amazing students and great faculty. I love being a part of this growing charter school, so I am happy to help recruit teachers that we will need for our new Brownsville campus that opens next year."
Although Round Rock Independent School District is a regular participant in the UTRGV teacher jobs expo, the team this time consisted of newcomers Mya Mercer, director of elementary staffing, and Arnold Barrera, director of secondary staffing.
"We are impressed; everything is professionally managed and the staff is friendly and helpful," said Barrera. "We are happy to report we've made contact with several good candidates, some elementary generalists, bilingual qualified, and some graduates seeking secondary positions in math, music and physical education. And we look forward to meeting more qualified candidates in Edinburg."
Representatives from Fort Bend Independent School District said their district had not attended the UTRGV Teacher Jobs Expo recently.
"We have reconsidered it," said Mary Peña, Fort Bend ISD human resources senior talent acquisition consultant. "We thought this fair might introduce us to future educators who have what we are looking for, especially teachers with bilingual certification, and we felt it would be worth our while and expense to attend this two-day event. Fort Bend ISD is growing, and we want graduates from UTRGV to know about us, and to consider us."
Thirty-one independent school districts participated in the fall Teacher Jobs Expo.
MEDIA CONTACTS
Cheryl.Taylor@UTRGV.edu
UTRGV Senior Writer / 956-882-8787
Marci.Caltabiano@UTRGV.edu
UTRGV Director of News and Internal Communications / 956-665-2742