Sub Menu Toggle
UTRGV Compass Leadership Academy helps light the path to a post-military career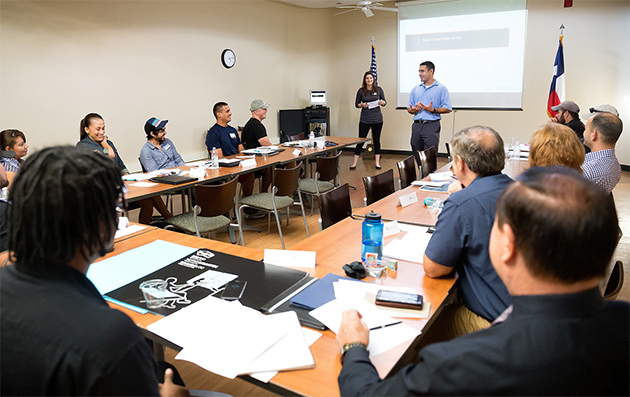 Lindsay Campbell and John Melendez, from The University of Texas at Dallas Center for Brain Health, conducted Strategic Memory Advanced Reasoning Training with UTRGV student veterans during the UTRGV Compass Leadership Academy in October on the Edinburg Campus. SMART is designed to help student veterans learn new ways of doing things, and has been shown to help with strategic thinking skills. (UTRGV Photo by Paul Chouy)
By Jennifer L. Berghom
EDINBURG, TEXAS – NOV. 7, 2016 –  UTRGV's Compass Leadership Academy launched in early October to help student veterans find the best path to a career after their military service.
Compass was developed to help student and alumni veterans successfully transfer the leadership skills they acquired in the military to university and civilian life.
Dr. Michael Banegas, associate dean of students for Student Support and himself a veteran, said the program is designed to make sure student veterans get the support they need to graduate and find employment.
He and fellow organizers of the program chose the name "Compass" to show the university's commitment to helping students discover their "true north." 
"Without true north, you can't find your direction," he said. "A compass, to us in the military, is an important element. In the military, we use a compass to find out where we came from and where we're going."
The academy provides a total of 12 hours training for veterans, to help them adapt their skills to their lives since returning to school and work.
Current participants have used computer simulation software that places them in a virtual reality setting, where they had to determine how to respond in situations they might face in realtime.
They also underwent Strategic Memory Advanced Reasoning Training (SMART) conducted by the  UT Dallas Center for Brain Health ,  in which they learned how to train their brains to learn new tasks.
Student veterans say the academy training has been helpful.
Kenneth Dawson, who served three years in the U.S. Air Force and graduated from UTRGV in May with a bachelor's degree in criminal justice, said the Compass Leadership Academy is helping him communicate better with civilians in the university setting.
"Compass helps me hone my leadership skills into bringing them into the classroom," Dawson said. "Veterans live in their heads, and Compass helps you get out of that.
"I feel that the connection and dedication UTRGV has to help its students – to give them the tools they need, to think outside the box – is unprecedented," he said.
Sgt. John Garcia served in the U.S. Marine Corps for four years and earned a bachelor's degree in psychology from UT Pan American in 2014. He went on to earn his master's degree in social work in 2016 from UTRGV, and now is taking prerequisite courses in hopes of attending medical school.
Garcia said he is glad UTRGV is offering the program and wishes he could have taken the training earlier.
"I can see how this would be most beneficial for those who are fresh out of the military," Garcia said. "I believe it could have helped ease the transition."
Another Compass Leadership Academy session is scheduled to be offered in December.
For more information, call (956) 665-7005 or email  compass@utrgv.edu.
MEDIA CONTACTS
Jennifer.Berghom@UTRGV.edu
UTRGV Senior Writer / 956-665-7192
Marci.Caltabiano@UTRGV.edu 
UTRGV Director of News and Internal Communications / 956-665-2742