Sub Menu Toggle
UTRGV grants first Distinguished Alumni Awards in special ceremony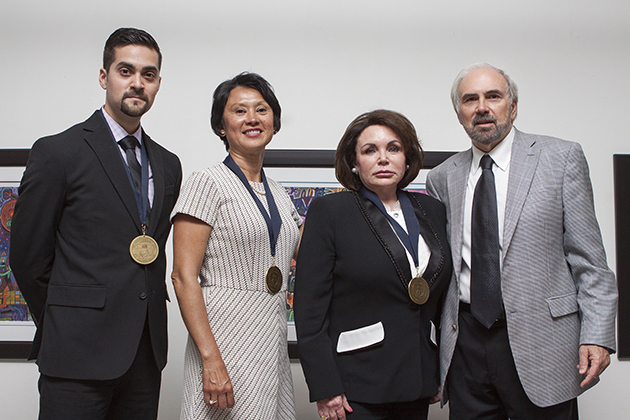 The University of Texas Rio Grande Valley recognized its first group of Distinguished Alumni in a special ceremony and reception May 13, 2016, at the Brownsville Museum of Fine Art. Here (from left), honorees Heriberto Reynoso, Alicia Margarita Torres and Lauryn Gayle White pose at the reception with UTRGV President Guy Bailey after receiving their awards. The fourth honoree, Michael Mancias, was unable to attend the event but sent a videotaped message. (UTRGV Photo by Veronica Gaona)
By Lisa Peña
BROWNSVILLE, TEXAS – MAY 17, 2016 – The University of Texas Rio Grande Valley has recognized four outstanding legacy alumni with the university's first Distinguished Alumni Awards. 
Recipients were honored Friday, May 13, at a dinner and ceremony at the Brownsville Museum of Fine Art. 
The Distinguished Alumni Award is the highest honor UTRGV alumni can receive. Recipients are graduates of UTRGV or its legacy institutions and are chosen based on career accomplishments, commitment to community service, and demonstrated service and support to UTRGV.
This year's honorees are:
Michael Mancias, a 2000 UTPA graduate, NBA trainer and personal trainer to LeBron James of the Cleveland Cavaliers.
Heriberto Reynoso, a 2011 UTB/TSC graduate, roboticist, entrepreneur and mentor to Rio Grande Valley high school students.
Alicia Torres, a 1983 UTPA graduate and current senior vice president and chief financial officer of the Altarum Institute, a non-profit health systems research and consulting organization.
Lauryn Gayle White, a 1969 graduate of Pan American College, a member of the Pan American University Board of Regents from 1983 -1989, and a Dallas business woman and philanthropist.
UTRGV Founding President Guy Bailey opened the presentation, saying the honorees "… show there are no limits for UTRGV graduates and demonstrate what is possible with a degree from our great university." 
Brownsville native Michael Mancias could not attend the awards ceremony. His brother, Luis Arias, accepted the award on his behalf. As a student at UTPA, Michael volunteered as an assistant basketball trainer and worked numerous basketball camps around the country.
After graduation, he accepted an internship with famed NBA sports trainer Tim Grover, Michael Jordan's personal trainer. During that summer internship, Mancias helped train Jordan for a comeback with the Washington Wizards in 2001. The internship opened the door for his career in the NBA. Mancias joined the Cleveland Cavaliers as an assistant trainer in 2004 and soon became personal trainer to LeBron James. 
Mancias sent in a recorded video message and shared some advice for young people today.  "Only you can hold yourself back. Stay focused on your goal. Work hard at it. It's not always going to be easy, but at the end of the day, it's all worthwhile," he said.
He said could not be part of the awards ceremony because the Cavaliers are in the midst of their playoff run. He also said he and his wife are expecting their first child "any day now." 
Heriberto Reynoso, also from Brownsville, is CEO and Founder of Reybotics, a company located in Mercedes. He develops robots and works with Valley students to solve real-world problems.
Currently, he is overseeing a team of 15 high school interns from Weslaco who are building robots that will clean the Arecibo Observatory dish in Puerto Rico. It is the largest single-dish radio telescope on Earth, the size of nine football fields, and there currently is no way to clean the dish. Reynoso and his interns will test their robots this month in Puerto Rico.
Reynoso is passionate about robotics and introducing robotics concepts into K-12 education.
In his acceptance speech, he said his love for robotics started with Legos, and he thanked his parents for allowing him to convert their garage into a robotics workshop. Reynoso said that when he was growing up, there weren't many robotics mentors in the Valley. He wants to change that with his company. 
"I want to inspire the next generation of scientists and engineers, so they can have that mentor, that friend to look up to and act as a role model," he told the crowd. 
Alicia Torres, originally from McAllen, traveled from her home in Ann Arbor, Michigan, to be a part of the evening. In her acceptance speech, Torres recalled how her migrant family traveled to Ohio during the summers to work in the fields. 
"I did not know my life could change so dramatically by attending this institution," she said.
Torres credited her sister with inspiring her to attend college and pursue a degree in accounting. Her sister mapped out her college career, she said, suggesting which courses she should take to finish in four years.   
"Since she was the only person I knew that had a college degree, I asked her advice," Torres said. She recalled her graduation day from UTPA as "…the beginning of the next chapter of my life." 
The final honoree of the evening was Dallas businesswoman and philanthropist Lauryn Gayle White. 
When she was on the Pan American University Board of Regents, she said, she was told a medical school in the Valley would not happen in her lifetime. But former UT System Regent Gene Powell, who was in the audience, "…made some of my dreams come true, and they were his dreams, too." 
"I think it's going to totally change the Rio Grande Valley," White said of the UTRGV School of Medicine. "It's been exciting in Dallas to go around different places and hear people talking about the medical school." 
White told the crowd she grew up on a farm in Hargill, north of Edinburg. She recalled starting the Delta Zeta sorority during her college years, and said she always enjoyed meeting new people at the student union.
Bailey closed out the Distinguished Alumni Awards presentation by noting the diverse interests amongst the honorees and pointing out an important similarity. 
"They've never forgotten where they come from," Bailey said. "They've always given back.  They've been rooted in their university. I can't tell you how much we appreciate what you've done."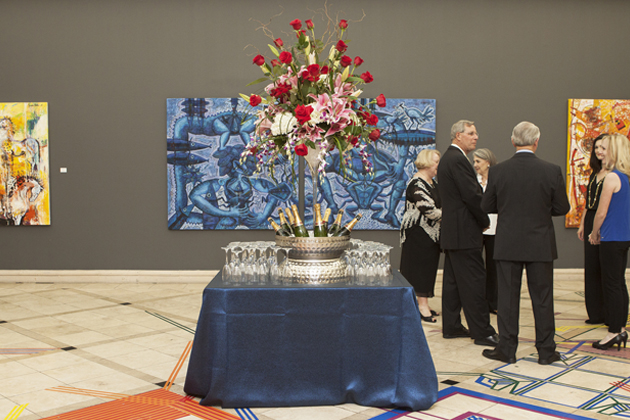 The University of Texas Rio Grande Valley held its first Distinguished Alumni Awards reception May 13, 2016, at the Brownsville Museum of Fine Art. (UTRGV Photo by Veronica Gaona)
MEDIA CONTACTS
Marci.Caltabiano@UTRGV.edu UTRGV Director of News and Internal Communications
956-665-2742

Jennifer.McGehee@UTRGV.edu UTRGV Director of Public Relations
956-882-5105