Sub Menu Toggle
Springing into the Future: UTRGV graduates earn degrees at three Saturday ceremonies
UTRGV Spring Commencement ceremonies opened at 9 a.m. for the College of Business & Entrepreneurship, College of Sciences and College of Education & P-16 Integration, on Saturday, May 14, 2016, at the McAllen Convention Center. Here, soon-to-be graduates file in to take their places. (UTRGV Photo by Paul Chouy)
By Jennifer L. Berghom
and Gail Fagan
McALLEN, TEXAS – MAY 14, 2016 – The University of Texas Rio Grande Valley continued its first spring graduation celebrations on Saturday, May 14, with three commencement ceremonies recognizing the commitment and success of 2,330 graduates.
The three ceremonies – 9 a.m., 1 p.m. and 5 p.m. – were held at the McAllen Convention Center. A total of 3,126 UTRGV students received degrees this semester, including 796 graduates recognized at an evening ceremony on Friday, May 13, at the UTRGV Brownsville Campus.
"UTRGV is your university. Student success is at the core of our institution and we want you to be successful," said Dr. Havidán Rodríguez, provost and executive vice president for Academic Affairs, who led the day's ceremonies. "Today, you have proven you can be successful. We look forward to your contributions in transforming the Rio Grande Valley, the state of Texas, the country, and, yes, the world."
In addition to conferring degrees throughout the day, UTRGV Founding President Guy Bailey presented Valley native Gene Powell, former chairman of The University of Texas System Board of Regents, with the UTRGV medallion for his role in establishing UTRGV and the new School of Medicine.
"I can't tell you how proud I am to be with you this morning to share in this very first spring graduation for UTRGV, and I hope to come back for many more," Powell said.
At the end of the ceremony, Rodríguez encouraged the newest UTRGV alumni to stay connected to their alma mater and to continue pursuing their higher education goals.
"Please remember, you will build the future, you will bring innovation, serve our communities, transform South Texas, and you will inspire the world," Rodríguez said.
MEET SOME OF THE GRADUATES
BRIGHT FUTURE AHEAD
Gabriela Cazares, a 24-year-old Edinburg resident who earned her bachelor's degree in accounting Saturday morning, said she was thrilled to have accomplished her goals and set an example for her three younger siblings and other relatives.
"It feels amazing to make your parents proud. If you have younger siblings or family members that are younger than you, even for older ones, set an example," Cazares said.
Cazares, who worked part-time in the UTRGV Office of Governmental and Community Relations, said she will miss the camaraderie she had with fellow students, co-workers and faculty members, but she is looking forward to the next chapter in her life.
"I'm interested in auditing … maybe go into law school. I'm pretty sure I'm going to come back for my master's degree," she said.
Her advice for students is to keep studying: "Keep working hard, and don't give up on your dreams."
NOWHERE BUT UP
Jacqueline Aldape, a 21-year-old Edinburg resident who earned her bachelor's degree in interdisciplinary studies with a specialization in bilingual education, said she will miss her classmates but looks forward to educating the next generation of students.
"I always knew I had a passion for teaching," Aldape said. "I thought, why not teach elementary students? I have a lot of patience."
A self-professed Disney fan, Aldape adorned her cap with the house in the film "Up," and included the message in the familiar Disney lettering, "Adventure is out there." She encouraged students to not procrastinate and to enjoy every moment they are in school.
Because, like the house depicted on her cap, she said, "It's going to fly by so fast."
CONQUERING LIFE'S CHALLENGES
The life of Rolando Serna, 47, from La Villa, is a book in the making. And one day, the UTRGV graduate intends to write it.
Serna picked up his master's in literature on Saturday.
"I was scared of college," said Serna, who had his first child at age 14, and who, before graduating from high school, joined the Marines and fought in the Gulf War.
When he got home, suffering from PTSD and 80 percent disabled, he started college but didn't do well. He got involved in drugs and landed in prison. However, while there, his cellmate was an English professor from Canada who introduced him to reading great books and aspiring to learn more.
"I owe him everything," said Serna, who eventually returned to UT Pan American to study math and engineering.
When his UTPA English professor saw promise in his writing and had him present one of his papers at a conference in Chicago, Serna made the switch to an English major and graduated with his bachelor's degree in 2006. 
A poet, member of the English Honor Society and veterans advocate, Serna plans to earn a Ph.D. so he can teach at the college level. But he also is earning his truck-driving license, so he can spend his summers on the road. He hopes his pursuit of learning of all kinds sets an example for his children.
"I wanted to show my kids that they can do it … I wanted to change the course of my family's life," Serna said.
His son, Rolando Serna Jr., one of seven children, is also a UTRGV student and an ROTC cadet.
SEEING BEYOND THE BLINDNESS
Another May 14 UTRGV graduate, 38-year-old Rene Garza, has been blind for 10 years. But he didn't let blindness stop him from earning his bachelor's degree in rehabilitation services. A former licensed paramedic, he suffered retinal detachments exacerbated by diabetes.
His fiancé motivated him to go back to school.
"She said, 'You can do it,'" he said. 
He received intensive training for the blind, including learning to read Braille, at the Texas Department of Assistive and Rehabilitative Services (DARS) Criss Cole Rehabilitation Center in Austin. He enrolled at UT Pan American in 2013, when he moved back home to have the support of his family.
His nieces served as his sighted guides, he said, and the university's Student Accessibility Services provided him course materials, books and syllabi in usable formats and a reader scribe for exams.
"They treated me with VIP service, always making sure my needs were being met," he said.
Garza, who described how quickly he picked up Braille and Tactile Sign Language, hopes to get his second summer internship with DARS working with the deaf/blind community, and after that, hopes to enroll in a master's program at Texas Tech to be closer to his fiancé, who lives in Killeen.
"I became a role model for my family and friends," he said. "They saw me going to school and now they want to go back to school. If I can do it, they can."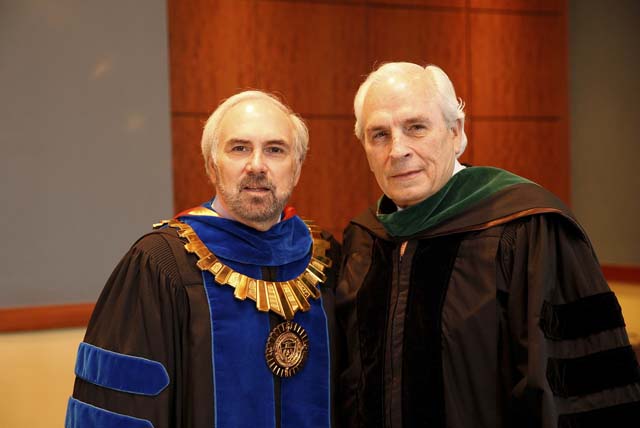 UTRGV Founding President Guy Bailey (left), wearing the Regalia of the Office of President, poses with Valley native Gene Powell, former chairman of The UT System Board of Regents, at one of Saturday's three Spring Commencement ceremonies at the McAllen Convention Center. On stage, Bailey thanked Powell for his continued support, and presented him with the UTRGV medallion to honor his role in establishing UTRGV and the new School of Medicine. (UTRGV Photo by Paul Chouy)
MEDIA CONTACTS
Marci.Caltabiano@UTRGV.edu UTRGV Director of News and Internal Communications
956-665-2742

Jennifer.McGehee@UTRGV.edu UTRGV Director of Public Relations
956-882-5105