Sub Menu Toggle
UTRGV hosts conference to address mental health, substance abuse, HIV prevention
UTRGV School of Medicine Dean Dr. Francisco Fernandez speaks during the "Healthy Communities: Mental Health, Substance Abuse and HIV Prevention Conference" on Friday, May 13, 2016 at the University Ballroom in Edinburg, Texas. The two-day conference is hosted by The University of Texas Rio Grande Valley School of Medicine and UTRGV Continuing Education. (UTRGV photo by Paul Chouy)
By Jennifer L. Berghom
EDINBURG, TEXAS -- MAY 13, 2016 — Addressing a packed ballroom at The University of Texas Rio Grande Valley, Hydeia Broadbent urged healthcare providers and others involved in patient care to make sure they address not just physical but also mental health.
"It's about empowering the individual," said Broadbent, a 31-year-old HIV/AIDS activist who was diagnosed with HIV when she was just 3 years old. "Make sure your clients and patients are empowered."
Broadbent was one of several speakers at UTRGV's two-day "Healthy Communities: Mental Health, Substance Abuse and HIV Prevention Conference," which began Friday, May 13, at the UTRGV Ballroom on its Edinburg Campus. The conference concludes Saturday, May 14.
The conference brought together professional healthcare providers, indigenous healers, community health workers and residents to discuss the delivery of prevention and treatment services within a cultural, holistic and interdisciplinary framework.
Throughout the conference, attendees heard from several healthcare professionals who addressed issues related to treating mental illness, addictions, and HIV and other sexually transmitted infections. They also participated in breakout sessions.
Broadbent, who has been advocating since she was 6 years old for people who have been diagnosed with HIV, gave advice on how to better help patients, especially youths, who are battling the illness. Among her tips: Make sure patients have a good support system; connect patients with counselors who can help them manage stress; and make sure patients take their medications. She also encouraged attendees to talk to the young people in their lives about HIV and AIDS.
"If I didn't have the support of my family, I don't know how I would've gotten through middle school and high school," she said.
Dr. Eugenia Curet, assistant dean for Student Support and Counseling Wellness for the UTRGV School of Medicine and one of the event's organizers, said this is the third in a series of conferences at the university that address mental health issues. The conferences began at UT Pan American, and this event is the first at UTRGV.
"I think it is important that we get medical and behavioral health practitioners – as well as students from the university, faculty and staff and community residents – to come and share the latest things happening in the areas of mental health, behavioral health, substance abuse and HIV prevention," Curet said.
The conference is also intended to shed light on the work done by indigenous healers – community caregivers to whom many residents go first for healthcare issues – and promotores, community healthcare workers who provide culturally appropriate services in their neighborhoods, to show how those in traditional medicine can work with non-traditional practitioners to better serve the Valley.
"I hope that the participants are more aware of the need to address the issues of substance abuse and HIV in our communities and can recognize the need to collaborate with existing efforts to increase awareness about prevention issues about substance abuse and HIV," Curet said.
Dr. Francisco Fernandez, inaugural dean of the UTRGV School of Medicine, said the conference is another way the School of Medicine aims to bring together professionals from a variety of disciplines to develop a collaborative approach to providing care for Valley residents.
"We are bringing together people who, in a sense, work separately and in distinctly different practices – behavioral health is different from substance abuse and chemical dependency services. But here we are, learning from each other and, more important than learning from each other, learning a better way to practice by combining all that we have to share," he said.
"This is how we hope to improve the manpower of all allied health professions," said Fernandez, who also was a presenter during the conference. "Instead of working in silos, we work in teams to bring about the collaborative care that is greatly needed for the citizens of our community."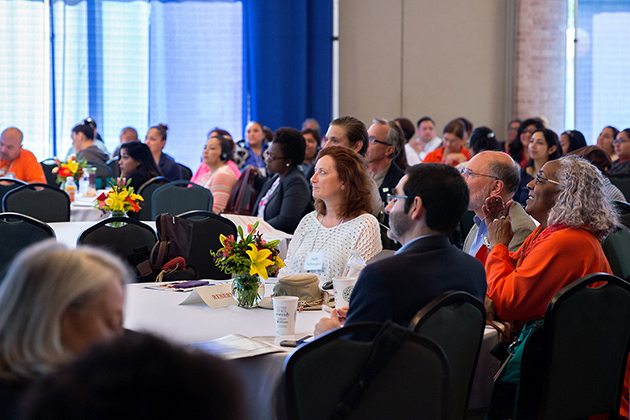 Attendees at the UTRGV "Healthy Communities: Mental Health, Substance Abuse and HIV Prevention Conference" on Friday, May 13, 2016 at the University Ballroom in Edinburg, Texas. The two-day conference is hosted by The University of Texas Rio Grande Valley School of Medicine and UTRGV Continuing Education. (UTRGV photo by Paul Chouy)
MEDIA CONTACTS
Marci.Caltabiano@UTRGV.edu UTRGV Director of News and Internal Communications
956-665-2742

Jennifer.McGehee@UTRGV.edu UTRGV Director of Public Relations
956-882-5105