Sub Menu Toggle
UTRGV and UHF hold symposium to address healthcare disparities and access
During a collaborative symposium Wednesday, May 11, between the United Health Foundation and the UTRGV School of Medicine, Dr. Francisco Fernandez (second from left), inaugural dean of the School of Medicine, joined panelists Eloisa Tamez (far left), professor in the UTRGV School of Nursing, Dr. Norma A. Pérez, executive director of the Hispanic Center of Excellence, and Dr. Carlos Hernandez, president of WellMed and moderator of the symposium. The event, held in the Medical Education Building atrium on the UTRGV Edinburg Campus, focused on the need for and ways to expand healthcare access in underserved, at-risk communities. (UTRGV photo by Paul Chouy)
By Jennifer L. Berghom

EDINBURG, TEXAS – MAY 11, 2016 – In a pivotal collaboration meant to address the challenges of meeting healthcare needs in underserved areas of the Rio Grande Valley, The University of Texas Rio Grande Valley School of Medicine and United Health Foundation have come together for a two-day meeting focused on those concerns.
The School of Medicine on Wednesday afternoon hosted a symposium at its new Medical Education Building on the Edinburg Campus that brought together leaders in healthcare to discuss what can be done to close the gaps in access to healthcare, especially in Valley colonias.

The symposium touched upon the United Health Foundation's report, "America's Health Rankings – Spotlight: Prevention," which found that the use of clinical preventive services and interventions is uneven and varies by race, income, education and geography.
In particular, significant contrasts exist in the use of clinical preventive services, such as health insurance and a dedicated health provider, receiving recommended immunizations, cholesterol checks or colorectal cancer screenings by Hispanic adults versus non-Hispanic white and non-Hispanic black adults, with Hispanics using these services at often much lower rates.

In 2015, the UTRGV School of Medicine received a $2.8 million grant over three years from United Health Foundation to help support the Colonia Integrated Care Program: VIDAS (Valley Interprofessional Development and Services). The initiative aims to unite the region by building an integrated, interprofessional collaborative that will create a sustainable model for healthcare delivery to the most vulnerable members of the community.

The grant is part of United Health Foundation's "Helping Build Healthier Communities" program, which is providing critical resources to nonprofit, community-based organizations throughout the United States to improve community health.

Dr. Francisco Fernandez, inaugural dean of the UTRGV School of Medicine, said partnerships like the one the medical school has with United Health Foundation promotes connecting different groups to provide resources otherwise not available, to serve their communities.

"It accelerates the process tremendously," he said. 

Dr. Juliet V. García, senior advisor to UT Chancellor William H. McRaven, Office of Community, National and Global Engagement and former president of UT Brownsville/Texas Southmost College, delivered the keynote address. She praised Fernandez for his commitment, and for coming to the Valley to start the medical school and establish partnerships that provide more access to healthcare in the region.

Garcia called the Valley an "interface zone" connected to two countries and a diverse biosphere, and said the region needs to see its uniqueness as an asset. She mentioned the successes of the university's chess and physics programs, and said the same can be done with medical education in the Valley.

Dr. Carlos Hernandez, president of WellMed, which is owned by United Health Group, the largest health care provider in the country, moderated the panel discussion, which included panelists Fernandez; Dr. Eloisa Tamez, School of Nursing professor at UTRGV and past president of the National Association of Hispanic Nurses; and Dr. Norma A. Pérez, executive director of the Hispanic Center of Excellence, School of Medicine Office of Student Affairs and Admissions, the University of Texas Medical Branch.

The panelists shared how their respective areas have collaborated with other agencies to provide healthcare access to underserved communities.

Fernandez talked about STITCH – the South Texas Integrated Team Collaborative for Health – initiative, which involves healthcare providers from various disciplines working together to treat patients in colonias, and the promotores training program formed in collaboration with South Texas College and Texas A&M University.
"You have to create an opportunity for access," he said.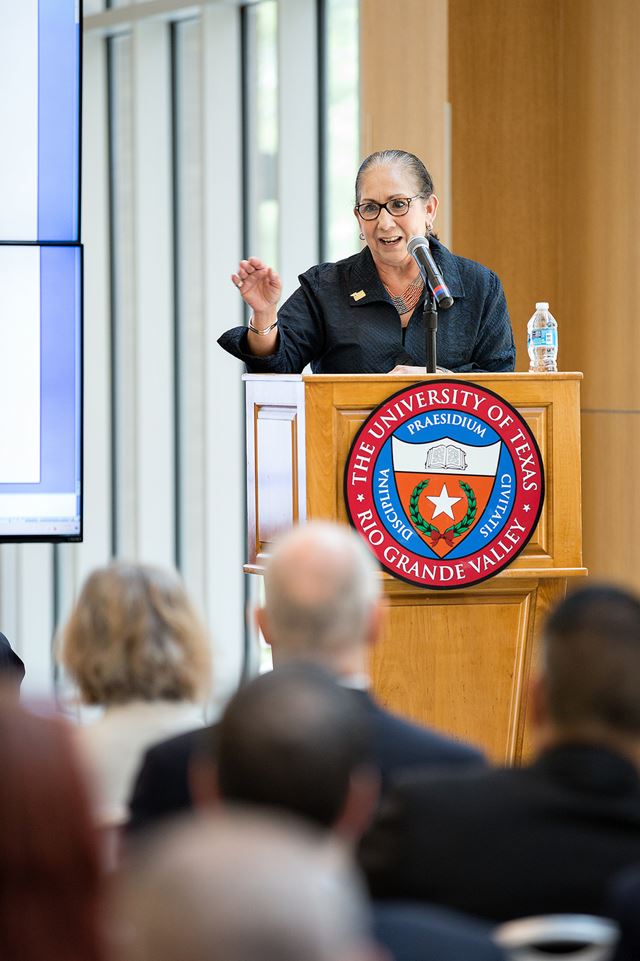 Dr. Juliet Garcia, senior advisor to UT Chancellor William H. McRaven, Office of Community, National and Global Engagement and former president of UT Brownsville/Texas Southmost College, delivered the keynote address during the United Health Foundation - UTRGV School of Medicine symposium on improving access to healthcare. The event was Wednesday, May 11, 2016, in the atrium of the new Medical Education Building on the Edinburg Campus. (UTRGV photo by Paul Chouy)
MEDIA CONTACTS
Marci.Caltabiano@UTRGV.edu UTRGV Director of News and Internal Communications
956-665-2742

Jennifer.McGehee@UTRGV.edu UTRGV Director of Public Relations
956-882-5105