Sub Menu Toggle
Master Chorale 'sings for its supper' at Winter Haven Resort noonday concert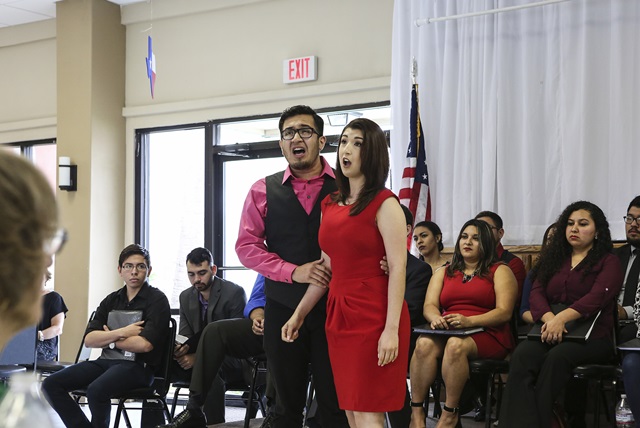 Music students Aaron Bravo and Leslie Atkinson sing a selection from "Street Scene" when the UTRGV Master Chorale serenaded residents of Brownsville's Winter Haven Resort on Wednesday, March 30. (UTRGV Photo by Veronica Gaona)
Photo Gallery: Master Chorale at Winter Haven Resort
BROWNSVILLE, TEXAS – MARCH 31, 2016 – The melodious sounds of Broadway musicals, movie tunes and a variety of operas filled the clubhouse of Brownsville's Winter Haven Resort, as music students from The University of Texas Rio Grande Valley serenaded an enthusiastic audience on Wednesday, during a volunteer appreciation luncheon.
"We have a dedicated and enthusiastic group of Patron of the Arts members who live at Winter Haven Resort, so today was a great opportunity to thank them for their contributions to the Patron community," said Catherine Compton, UTRGV Patron of the Arts program coordinator.
Twenty-four members of the UTRGV Master Chorale, under the direction of Dr. Sean Taylor, opened the program with a scene from Felix Mendelssohn's oratorio Elijah.
"The chorale has been working hard, rehearsing for its upcoming spring semester performance of Elijah, which is part of the Patron series, at 7:30 p.m. Tuesday, April 12," Taylor said.
Among the solos that followed were soprano Monica Garza, who held the audience spellbound with "O mio babbino caro," a famous aria for soprano from Giacomo Puccini's opera Gianni Schicchi.
A transplanted New Yorker who has lived full-time at Winter Haven Resort for 11 years, Howard Slackman was among the 160-some residents attending the luncheon. Slackman, as chairman of the resort's communication committee, worked with Compton to organize the event.
"Cathy organized a wonderful program, bringing the students and three faculty members to our resort today," Slackman said. "These talented students gave a packed clubhouse an outstanding singing recital. It was a great program. I know these students will become music teachers, band and choral directors, and will have a positive impact on school children for years to come. We so greatly appreciate their visiting with us."
Soprano Doris Cedillo sang another Puccini favorite, "Quando m'en vo," from La Bohème, and Brenda Garza delighted the audience with "Mio caro bene" from Handel's Rodelinda.
Brandon Binder performed "You don't need to love me," from the 2013 Broadway musical If/Then, and Allen de la Garza performed "She Loves Me" from the 1963 musical of the same name.
Esdras Alvarado enchanted the audience with "Some Enchanted Evening" from South Pacific.
Promoting their lead roles in the upcoming Bravo Opera Company performance of Street Scene, an opera by Kurt Weill with lyrics by Langston Hughes, Aaron Bravo and Leslie Atkinson sang "We'll go away together."
Members of UTRGV's Bravo Opera Company, Bravo and Atkinson have been rehearsing since the beginning of the semester. Street Scene will be performed at 7:30 p.m. Saturday, April 23, and again at 3 p.m. Sunday, April 24, at the TSC Arts Center in Brownsville.
"It's been a lot of hours, but this is what we love. We feel like we are just about ready for the big stage," said Atkinson, a senior music major from Harlingen.
The show ended with a standing ovation.
Among those who visited with the students after the concert were Gerhard and Vaike Berg and Vic and Peggy Salinas, who said they always purchase annual "Angel" memberships to Patron events, allowing them six passes so they can invite friends to attend performances.
"We go to almost every show and enjoy them all," Peggy Salinas said. "This is the best bargain in town."
Slackman said he hopes the student concert will become an annual event.
"It was a wonderful experience for our voice students to perform for this supportive group, and Winter Haven Resort residents got a nice preview of the music theatre, opera and choral performances on the Patron of the Arts series," Compton said. "I hope we will be asked back for an encore."
More information and tickets for upcoming events are available at patron.utrgv.edu.
MEDIA CONTACTS

Marci.Caltabiano@UTRGV.edu UTRGV Director of News and Internal Communications
956-665-2742
Jennifer.McGehee@UTRGV.edu UTRGV Director of Public Relations
956-882-5105