Sub Menu Toggle
High achievers seek extra academic challenges in UTRGV Honors College
Dr. Mark Anderson, dean of the UTRGV Honors College, said the college provides a community where high-achieving, ambitious students can learn, share ideas and get involved in research projects. Student Lorena Guerra, shown here with Anderson on the Edinburg Campus, said Honors College was so transformational for her, she switched her major. (UTRGV photo by Paul Chouy) 
RIO GRANDE VALLEY, TEXAS – MARCH 23, 2016 – Lorena Guerra, a senior at The University of Texas Rio Grande Valley, had her sights set on becoming a dentist when she graduated from Donna High School in 2012. When she entered college that fall, she began the necessary pre-dental courses such as biology and chemistry.
"I knew I wanted to challenge myself, so I applied to the Honors College during my first semester," Guerra said.
The UTRGV Honors College, by means of its enhanced curriculum, serves academically talented and ambitious students who value intellectual growth and want to make the most of their undergraduate experience. It is open to UTRGV students of all majors.
Guerra began taking the college's enhanced, in-depth core classes while she continued with her program of study in science.
"Those first two years were a real eye-opener to me. The required Honors College humanities courses really blew me away," Guerra said. "I felt my interest in science waning as I became more and more fascinated with history, literature and philosophy."
Guerra changed her major and will receive her bachelor's degree in English in May 2016. In addition, she is working on an alternative teaching certification through Teacher Builder, and hopes to begin teaching high school English in the fall of this year.
Dr. Mark Andersen, dean of the UTRGV Honors College, said the college provides students an extra sense of community where they can learn, share ideas and get involved in research projects.
"Honors College is an academic home for high-achieving students who aren't satisfied with being just above average, and are looking for greater challenges," he said.
As a self-directed, "honors-by-contract" project under the observation of one of her professors, Guerra researched Plato's "Timaeus" and presented college-level lectures on aspects of that classical writing.
"The reading, research, writing and lecturing was a good learning experience and gave me valuable practice teaching time," said Guerra, who works as a substitute teacher for the Donna Independent School District and the Pharr-San Juan-Alamo Independent School District.
Another Honors College student, Brownsville native Shangir Siddique, is in pre-medical 4+1 BS/MPH (Bachelor of Science in Biology / Master of Public Health) EMSAP (Early Medical School Acceptance Program). Siddique got a head start on college, graduating from the UTRGV Mathematics and Science Academy at the age of 17, already halfway through his bachelor's degree.
Now 19, he is finishing up his undergraduate pre-medical degree while simultaneously working on his Master of Public Health in Epidemiology from The University of Texas Health Science Center at Houston School of Public Health Regional Academic Health Center, located on the UTRGV Brownsville Campus.
"I am participating in Honors College to expand my own knowledge and receive a more well-rounded academic foundation with the addition of the humanities classes, while still having a focus on science that is preparing me for my future career," Siddique said.
Two extra courses Siddique is taking for honors are called Big History One and Big History Two.
"The professor of these two fascinating courses has given me the opportunity to write an honors thesis, which is preparing me for my next step, since I will soon write a thesis for my master's in public health," he said.
Honors students are encouraged to obtain internships. Siddique has been awarded an Archer Fellowship at The University of Texas Archer Center in Washington, D.C., for this summer, and as part of the Archer program, he hopes to secure an internship in a public health capacity.
"Study abroad is also encouraged for Honors College students," Andersen said. "An Honors faculty member conducts a short-term summer course that focuses on history and literature. Last summer, Dr. Chris Keller took a group to Ireland, and this summer we have a group of about 20 planning on a trip to Italy."
About 275 students currently are enrolled in the Honors College.
"Our goal is to have about 5 percent of the overall student body participate in Honors College," Andersen said. "UTRGV is the most exciting institution in the country today, and along with its expansion will come more and greater opportunities for students. Honors College is an important part of this exciting, forward-thinking new university." 
For more information on the Honors College, contact Cynthia Guerrero at (956) 665-3145 or email cindy.guerrero@utrgv.edu.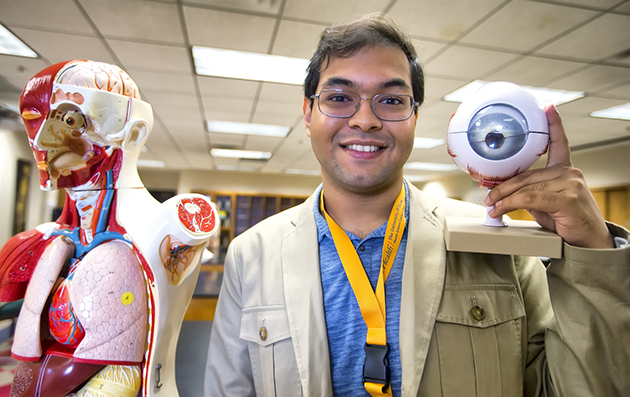 Brownsville native Shangir Siddique, a UTRGV Honors College student, is in pre-medical 4+1 BS/MPH (Bachelor of Science in Biology / Master of Public Health) EMSAP (Early Medical School Acceptance Program). (UTRGV Photo by David Pike)
MEDIA CONTACTS

Marci.Caltabiano@UTRGV.edu UTRGV Director of News and Internal Communications
956-665-2742
Jennifer.McGehee@UTRGV.edu UTRGV Director of Public Relations
956-882-5105