Sub Menu Toggle
UTRGV's Villalobos receives national honor for higher education service, teaching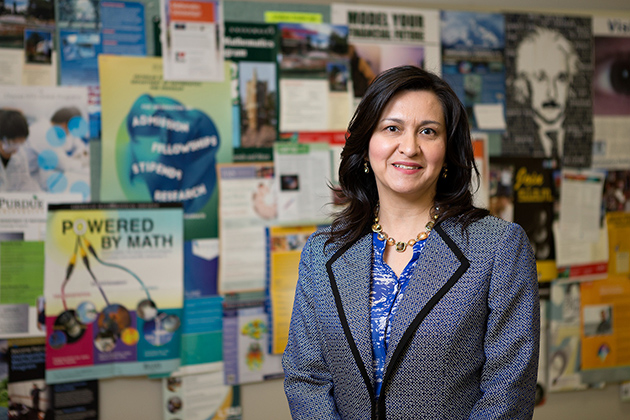 UTRGV Interim Director and Professor of Mathematical & Statistical Sciences Dr. Cristina Villalobos has been recognized by the American Association of Hispanics in Higher Education to receive the national 2016 Outstanding Latino/a Faculty in Higher Education: Service/Teaching in Higher Education Award. (UTRGV photo by Paul Chouy)
By Gail Fagan
RIO GRANDE VALLEY, TEXAS – MARCH 8, 2016 – Dr. Cristina Villalobos, President's Endowed Professor of Mathematics at The University of Texas Rio Grande Valley, says her drive to create more opportunities for students to pursue and excel in science, technology, engineering and math (STEM) took root when she was an undergraduate student at UT Austin.
"There were very few Latinos pursuing college and STEM degrees and careers," said Villalobos, a Valley native and first-generation college graduate. "The Valley has much talent that comes in all colors, and we need to tap and mold that talent to unleash each student's potential."
This year, Villalobos, ad interim director of UTRGV's School of Mathematical and Statistical Sciences and founding director of the Center of Excellence in STEM Education (C-STEM), has been selected by a panel of higher education experts to receive the national 2016 Outstanding Latino/a Faculty in Higher Education: Service/Teaching in Higher Education Award from the American Association of Hispanics in Higher Education (AAHHE).
"AAHHE is proud to recognize Cristina Villalobos for her passion in working with university students. She is by all accounts an exemplary teacher/professor," said AAHHE President Dr. Loui Olivas in an AAHHE release announcing the award.
The annual award honors an individual who has provided outstanding service through creation or expansion of a program, innovative programming or direct work with students, and/or has provided excellent instruction in a teaching-oriented institution.
"She is one of few Latinas heading mathematics departments across the nation," said Dr. Ala Qubbaj, UTRGV vice provost for Faculty and Affairs and Diversity, who nominated Villalobos for the award. "Her passion for and dedication to teaching is seen through the many students she has prepared and mentored for Ph.D. programs in mathematics."
Currently, only 7 percent of STEM doctoral degrees are awarded to underrepresented minorities, although minority groups comprise 30 percent of the U.S. population.
"One of my goals is to prepare students for doctoral programs, but more importantly, I wish to contribute to the pipeline of increasing the number of women and Latinos in faculty positions," Villalobos said.
KEY ACCOMPLISHMENTS 
Villalobos is the PI of the $3.7 million grant that created the C-STEM, one of three centers funded nationwide through a Department of Defense grant. As the C-STEM director, Villalobos has focused on strengthening STEM academic programs and providing resources for the academic and professional development of students and faculty.
In addition, she is a co-PI of UTRGV's National Science Foundation (NSF) ADVANCE grant, aimed at increasing the representation, participation and leadership of women faculty in STEM fields.
She also is co-PI of the NSF Louis Stokes Alliances for Minority Participation, which provides hands-on summer research opportunities for students, aimed at increasing the quality and quantity of students successfully completing STEM baccalaureate degree programs and matriculating successfully into graduate programs.
"It is all about creating opportunities," Villalobos said. "When we provide our students with awareness and access to research, summer programs and an education, we are providing them with an opportunity to make an impact within their own families and their careers."
Her skills at teaching, student mentoring and STEM leadership have garnered her the following recognitions:
2013 Distinguished Undergraduate Institution Mentor Award from the Society for the Advancement of Chicanos and Native Americans in Science (SACNAS).
2013 University of Texas Regents' Outstanding Teaching Award.
2012 HENAAC Luminary Award from Great Minds in STEM.
A faculty member at legacy institution UT Pan American since 2001 and now at UTRGV, Villalobos earned her Ph.D. in computational and applied mathematics from Rice University and is an active researcher in the area of optimization, optimal control and modeling.
Villalobos will receive AAHHE award during the organization's 11th annual national conference, March 10-12 in Costa Mesa, Calif.
In its ninth year, AAHHE is a national, nonprofit and cross-disciplinary higher education organization primarily focused on the need to develop Latino/a faculty and senior administrators, as well as serving as a leading research and advocacy group for Hispanic higher education issues. 
MEDIA CONTACTS

Marci.Caltabiano@UTRGV.edu UTRGV Director of News and Internal Communications
956-665-2742
Jennifer.McGehee@UTRGV.edu UTRGV Director of Public Relations
956-882-5105