Sub Menu Toggle
Professor, students abuzz with neurobiological research on honey bees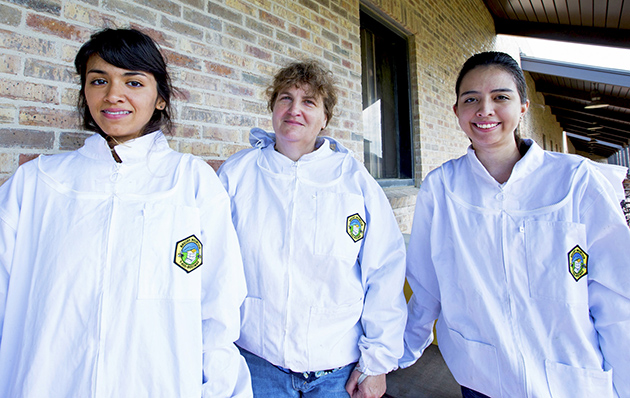 Dr. Julie A. Mustard (at center), assistant professor of biology at UTRGV, is conducting neurological research by studying honey bees, with the help of student researchers Valerie Alvarez (left) and Mariaolga Montes de Oca. Mustard, a neurobiologist, is studying the bees' molecular mechanisms to find out how cells in the brain change during the learning process. (UTRGV Photo by Veronica Gaona)
By Cheryl Taylor
RIO GRANDE VALLEY, TEXAS – JUNE 24, 2016 – Dr. Julie Mustard, assistant professor of biology at The University of Texas Rio Grande Valley, gets down to business every day at her Brownsville Campus laboratory, which includes a balcony where she cares for two honey bee hives.
Mustard, a neurobiologist, works with the busy insects to study their molecular mechanisms – their proteins and genes – to find out how cells in the brain change during the learning process.
"By studying bees, we can also understand how human brains work, because cells in bees and humans work the same way," she said.
From her early days as an undergraduate chemistry lab assistant at Harvey Mudd College in Claremont, California, and then continuing through years of molecular and biochemical research – which included three years as a postdoctoral fellow in the Department of Zoology at the University of Otago, New Zealand – Mustard has been building up to her research specialty, the neurobiology of the honey bee (Apis mellifera).
"Insects serve as models, and bees in particular are extraordinary learners. They just have a more simplified brain than we do," she said. "Specifically, I am researching what happens in the brain when we learn. When we understand the process on a cellular level, we can apply what we learn in bees to understand problems like dementia and addiction in humans as well."
Just as Pavlov used sound and meat to condition his dogs, Mustard uses a Pavlovian-style learning protocol. Instead of a bell, she trains bees with flower odors, and instead of meat, she uses a sugar solution as a reward. Students in her research group also experiment with including caffeine or alcohol in the reward to examine their effects on learning.
"We have shown that nectar containing caffeine improves bees' memories," she said. "Alcohol, on the other hand, reduces a bee's ability to learn and remember."
Previous research has shown that bees are good communicators, able to share information regarding feeding grounds.
"A bee will return to the hive to alert fellow worker bees to the news of a good patch of blossoms to feed upon," Mustard said. "She will communicate by performing what is called a 'waggle dance' that indicates the direction and distance of the flower patch from the hive." 
STUDENT RESEARCHERS
Two students working with Mustard this summer are Mariaolga Montes de Oca and Valerie Alvarez, both first-generation college graduates who received their bachelor's degrees in biology in May from UTRGV.
When they start their graduate studies in the fall, Mustard will act as their research mentor.
"I never imagined I would be working hands-on with bees," said Montes de Oca, from Brownsville. "As a kid, I was attacked by a bunch of bees so I've pretty much avoided them ever since. But working alongside Dr. Mustard has really put that fear to rest. And all the protective equipment gives me a sense of security."
Alvarez, also from Brownsville, said working with bees never occurred to her.
"I met Dr. Mustard when she was teaching her second semester at UTRGV," Alvarez said. "I would always go into her office to talk about lectures, and she told me about her research and how she was going to start a lab. I offered to volunteer and really enjoyed it, and eventually started working with her."
After completing their master's degrees, Alvarez and Montes de Oca plan to attend medical school. In their spare time, they already are studying for the Medical College Admission Test (MCAT).
Mustard said she really enjoys doing research with students, whether they are undergrads or graduate students.
 "I strongly encourage students to get involved in research projects. The skills they develop in learning how to design experiments and analyze data will be helpful, no matter what career they decide to pursue. Doing research is really what science is all about."
PHOTO GALLERY: https://www.flickr.com/gp/utrgvnews/i474pB
RELATED ARTICLE: New York Times: How Caffeine Evolved to Help Plants Survive and Help People Wake Up
RELATED RADIO BROADCAST: National Public Radio: Getting the Springtime Buzz on Bees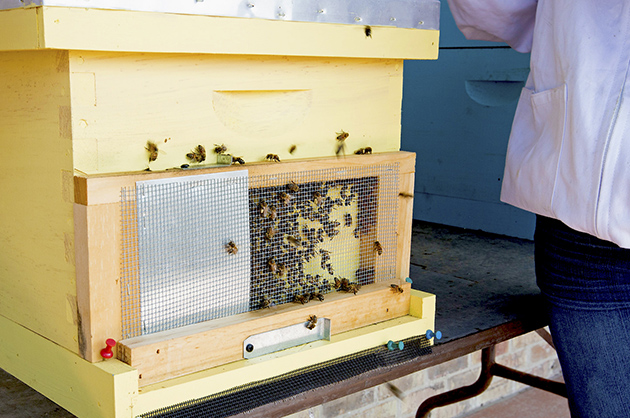 Dr. Julie A. Mustard, assistant professor of biology, is conducting neurological research at UTRGV by studying honey bees. Shown here is part of her laboratory, which includes a balcony where she cares for two honey bee hives. (UTRGV Photo by Veronica Gaona)
MEDIA CONTACTS
Marci.Caltabiano@UTRGV.edu UTRGV Director of News and Internal Communications
956-665-2742
Jennifer.McGehee@UTRGV.edu UTRGV Director of Public Relations
956-882-5105