Sub Menu Toggle
UTRGV Health & Biomedical Sciences Freshmen Research Initiative to launch third cohort this fall
Edna Rivero, Rolando Trevino and Mario Patlan, UTRGV Biomedical Science majors, are shown here preparing to perform a Western Blot to determine protein levels of their samples.
RIO GRANDE VALLEY, TEXAS – JUNE 9, 2016 – The Biomedical Freshman Research Initiative (BFRI) in the UTRGV Department of Health and Biomedical Sciences helps students interested in authentic research experiences that have an impact on the scientific community.
This fall, BFRI Director Dr. Sue Anne Chew, assistant professor in Health and Biomedical Sciences, will accept the program's third cohort of students, as 50 new freshmen enter the two-year BFRI program.
BFRI is an undergraduate research initiative program open to students in the Biomedical Science (BMED) Bachelor of Science degree program. Students learn the basic principles of research in their first semester, then jump directly into active research projects, working with UTRGV faculty in multiple disciplines in what the program refers to as a research stream.
Started in fall of 2013 by Drs. Michael Lehker and Kari Brewer Savanah and adapted from a UT Austin FRI Initiative, the BFRI was started as a way of engaging entering freshmen in the research process during their first semester in college.
Lehker, founding dean of the College of Health Affairs and professor of Health and Biomedical Sciences, calls the program "an alternative pathway."
"Through BFRI, our students are engaged in authentic research experiences while working with faculty mentors," he said.
The foundation of the Biomedical Science program focuses on research, and the BFRI ensures that a greater number of students gain both the exposure to and training in research methods.
Beginning with a research methods course, students learn and rapidly apply the basic research principles that are part of the scientific process. Students accepted into the FRI program are given the opportunity to engage in laboratory research. Through inquiry-based learning, they design and execute research projects, while obtaining hands-on research skills they will use throughout their university and future professional careers.
One of the benefits of the program is that students get to engage in research while obtaining course credit toward their bachelor's degree in Biomedical Sciences.
After learning the basics, students are placed in small research groups, with each group working in a different faculty-led research stream. They work collaboratively with UTRGV faculty research stream mentors and instructors, and their projects are designed to yield important research data for the principle investigator. Ultimately, their research will lead to significant contributions to the research literature and address critical issues in healthcare.
PREVIOUS COHORTS
A group of the first cohort of BFRI students conducted research in a stream under Lehker in the Department of Health and Biomedical Sciences, where they investigated the differential gene expression of virulence genes in a pathogenic protozoan.
Another first cohort research stream – led by Dr. Saraswathy Nair in the Department of Health and Biomedical Sciences and in collaboration with Dr. Murat Karabulut in the Department of Health and Human Performance – worked on a project that paired biomedical science research with exercise science research, to assess the impact of dynamic versus isometric lower body exercises on blood pressure, flexibility and stress hormone levels during whole body vibration.
The second cohort continued the project led by Nair, and under the direction of Dr. Hongxing Lu, they examined alpha amylase and cortisol levels in a group of students who took part in a six-week physical activity intervention to study the effect of exercise on both stress and obesity among college-age students.
In another research stream, a group of the second BFRI cohort worked with Dr. Karen Martirosyan in the Department of Physics, examining how effective different concentrations of antimicrobial nanoparticles were against the E. coli bacterium.
ADDITIONAL BENEFITS
Student retention in the STEM fields increases among BFRI students. Since the program's inception, the first two cohorts have seen large retention rates, with 80 percent of BFRI students pursing a degree at UTRGV.
Of that 80 percent pursing a degree at UTRGV, 78 percent are pursuing a degree in biomedical science and 22 percent are pursing degrees in biology, exercise science, chemistry and other fields.
Biomedical Science student majors interested in the Biomedical Freshman Research Initiative should contact Chew at sueanne.chew@utrgv.edu or (956) 882-6518, or visit the program website at http://www.utrgv.edu/hbs/student-engagement/fri/index.htm for more information.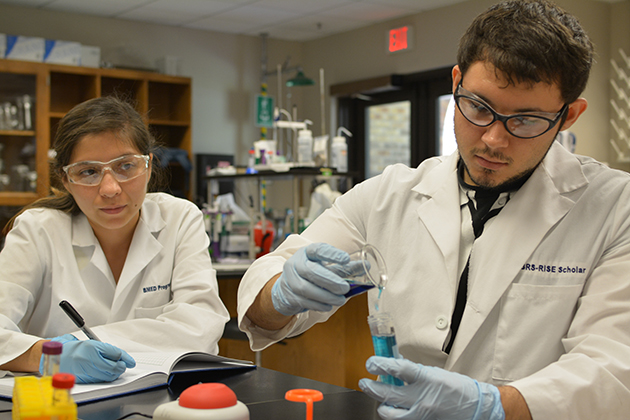 Crystal Ramirez and Victor Hinojosa, UTRGV Biomedical Science majors, are shown here making different buffer solutions for use in their research.
MEDIA CONTACTS
Marci.Caltabiano@UTRGV.edu UTRGV Director of News and Internal Communications
956-665-2742
Jennifer.McGehee@UTRGV.edu UTRGV Director of Public Relations
956-882-5105