Sub Menu Toggle
Music students tuning up for summer music programs in Texas, Italy and England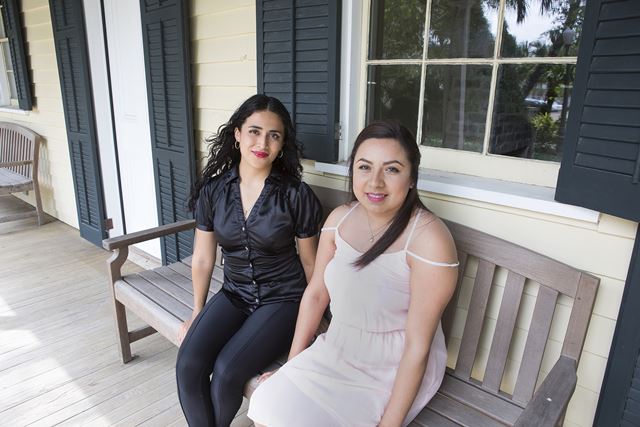 UTRGV music majors Doris Cedillo (at left) and Katia Mares will head across the Atlantic Ocean to study opera July 4-13 at the Bassi Brugnatelli International Singing Symposium in Robbiate, Italy. (UTRGV Photo by Veronica Gaona)
By Cheryl Taylor
RIO GRANDE VALLEY, TEXAS – JUNE 3, 2016 – Brownsville native José "Joey" Garcia, a senior music education major at The University of Texas Rio Grande Valley, became emotional when he discovered the name of the scholarship that would help him participate in the Spotlight on Opera summer training program.
"It was a shock to see I was awarded funds from the Barry T. Horn Endowment for the Arts," Garcia said.
Brownsville native Barry Horn, who died in 2009, served in several capacities at The University of Texas at Brownsville and Texas Southmost College. During his eight years at UTB/TSC, Horn was manager of the Jacob Brown Civic Center, where he successfully launched the Arts and Entertainment performing season, then joined the Division of Institutional Advancement and became associate vice president for Development.
He is remembered for his dedication and commitment to the thousands of students who benefited from the endowments and scholarships he helped create.
"My mom and Barry were friends, and when I was in middle school, he was very supportive and encouraged me to never stop pursuing music. Now, he is still helping me carry out my dream of a career in music and theater, all because Barry's friends honored his memory by creating a scholarship."
TEXAS: Spotlight on Opera in San Marcos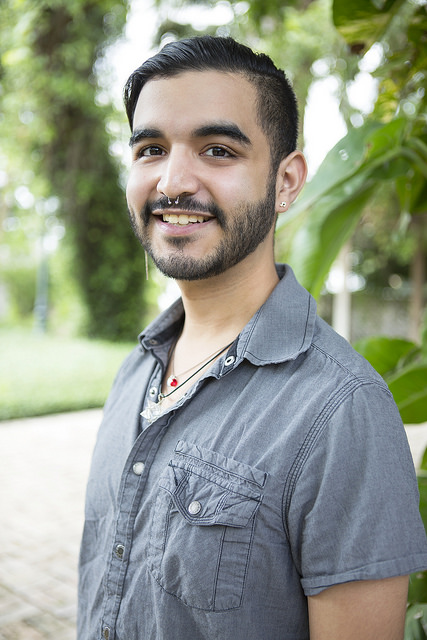 UTRGV music student José "Joey" Garcia is among four students who will attend the Spotlight on Opera summer program at Texas State University in San Marcos, Texas. (UTRGV Photo by Veronica Gaona)
Garcia will join three other music students – Leslie Atkinson, Brandon Binder and Evany Jackson – going to Spotlight on Opera. Garcia has been working extra hours at the Weslaco Starbucks, and Harlingen native Evany Jackson has been saving her earnings as a choral scholar at Treasure Hills Presbyterian Church in Harlingen.
Spotlight on Opera, hosted by Texas State University in San Marcos, runs from June 29 to July 31, with performances open to the public. Garcia's focus will be on directing, while Atkinson, Binder and Jackson will receive training in opera and musical theater.
"Our days will be completely full, with classes in the morning, rehearsals in the afternoon, and performances that start about a week after we arrive," Garcia said. "The program includes two operas, Carmen and Albert Herring, some opera scenes performances, two recitals and several musical theater revues. We are all so eager to get started and learn everything we can."
ITALY: International Singing Symposium
Music majors Katia Mares and Doris Cedillo will head across the Atlantic Ocean to study opera, July 4-13, at the Bassi Brugnatelli International Singing Symposium in Robbiate, Italy.
Mares, from Brownsville, and Cedillo, from Matamoros, both supplement their school expenses by singing in Brownsville church choirs – Cedillo at Episcopal Church of the Advent and Mares at First Presbyterian Church.
To help finance their tuition in Italy, the students received a partial tuition scholarship from the UTRGV School of Music. Cedillo gave a benefit recital at her church, and Mares will give a recital at 3 p.m. Sunday, June 5, at First Presbyterian Church of Brownsville.
The students will know a friendly face while in Italy. Dr. Kenneth Saxon, UTRGV School of Music associate professor, is a collaborative pianist on the symposium faculty.
"This is a tremendous opportunity for Katia and Doris to work with faculty of international reputation and experience, in the beautiful setting of the Palazzo Bassi Brugnatelli," Saxon said. "They will be together with young professionals from all over the world, studying and performing Italian opera and enjoying an unparalleled cultural experience that will enhance their growth as musicians."
Mares admits to being shy, and she knows this experience – which includes her first airplane ride – will take her out of her comfort zone.
"This will throw me out there, expose me to new things and surround me with successful and very professional individuals. I see this as a great learning opportunity," she said.
When the day comes to walk across the commencement stage in about a year and a half, both Mares and Cedillo will be the first in their families to graduate with a bachelor's degree.
"My family and friends keep me going with their encouragement and support," Cedillo said. "I will learn so much from this trip, and I will have so many stories to tell my mom."
ENGLAND: Cornish-American Song Institute
Seven music students – Carlos Flores, Alondra Gonzalez, Elisabeth Kleinsmith, Matthew Mancillas, Cecilia Molina, Briana Olivares and Pedro Valdez – will attend the Cornish-American Song Institute, June 4–26, in Oxford and Falmouth, England.
Alondra Gonzalez, a 19-year-old sophomore music performance major from Matamoros, has raised funds online through gofundme.com and by giving a benefit recital at Brownsville's Carlotta Petrina Cultural Center.
"I was blessed to have the remainder of my expenses covered by a local benefactor," she said. "Attending this program is very important to me, because I know it will help me grow as a musician and gain experience on stage."
The students will be accompanied on their English musical adventure by Dr. David Sadlier, assistant professor, UTRGV School of Music, who founded the Cornish-American Song Institute (CASI) in 2011.
"Study abroad is essential in the growth of young musicians, allowing them to learn from the history and customs of a foreign culture" Sadlier said. "Perhaps most important, though, students learn from a new peer group, and from CASI's international faculty, in one of the great centers of art song, making this program a life-changing experience."
The group will spend their first week in Oxford, England, where they will focus on the history, genesis and source material for their assigned repertoire.
"Each year, CASI chooses a theme that applies to all of the music, lectures and day trips," Sadlier said. "This year's theme is 'Folk and Legend.'"
The students will spend the second two weeks in picturesque Falmouth, on the southern coast of England's Cornish peninsula. There, they will continue their studies with coaching and applied lessons, and will attend master classes with visiting faculty, including Grammy Award-winning collaborative pianist Roger Vignoles.
"Art song requires imagination, knowledge and commitment from performers to share the full story," Sadlier said. "This program ensures students experience the history, context and inspiration for the words and music."
MEDIA CONTACTS
Marci Caltabiano Ponce, UTRGV Director of News and Internal Communications
956-665-2742

Jennifer McGehee Valdez, UTRGV Director of Media and Public Relations
956-882-5105