Sub Menu Toggle
Rehab services students learn, share with UK professionals during study abroad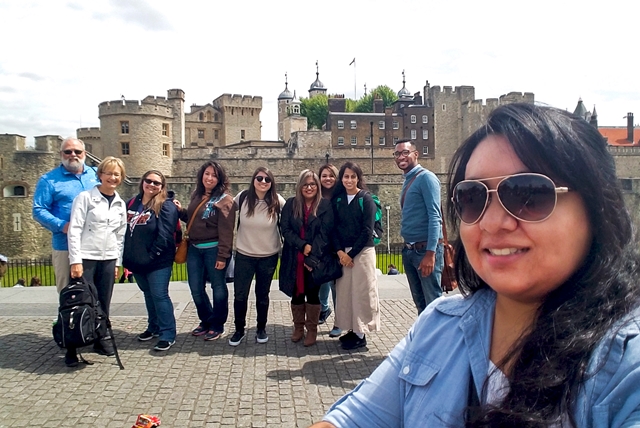 With the Tower of London in the background, the study abroad group included, left to right, Dr. Bruce Reed, Dr. Joan Reed, Amber Chavez, Lenice Villanueva, Tiffany Cantu, Claudia Estrada, Sophia Garza, Orlinda Cabrera, John Chance Williams; and front right, Maria Martinez. (UTRGV Courtesy Photo)
By Cheryl Taylor
RIO GRANDE VALLEY, TEXAS – JULY 28, 2016 – Eight UTRGV students traveled to London, England, and Edinburgh, Scotland, for a study abroad course in May led by Dr. Bruce Reed, professor of rehabilitation and counseling in the College of Health Affairs School of Rehabilitation Services and Counseling.
"The focus of this course is on learning about disability services and policies as well as attitudes toward those with disabilities in England and Scotland," Reed said. "Teaching this class while travelling in a foreign country is a tremendous way to help students build greater capacity for empathy and understanding, which will lead to success in their future careers."
Prior to setting off on their journey, the group met for a couple of classes on the Edinburg Campus.
"Some of us already knew one another, but none of us knew everyone, so it was beneficial for us to spend some time together and participate in ice-breaking activities since we were going to be together for two weeks," said Amber Chavez, a junior from Edinburg pursuing a bachelor's degree in general rehabilitation.
Once in London, the group checked into the Hilton Olympia hotel and wasted no time before setting off to see the sights via the Hop-on Hop-off bus.
The next nine days were a combination of classes, guest speakers and visits to social services agencies. Students interacted with their professional counterparts to learn about public policy and the types of services available to citizens in London and throughout the United Kingdom.
Reed's schedule took advantage of every free moment to maximize sightseeing – visiting museums, trying out neighborhood restaurants, learning to maneuver the London Underground and enjoying a theater performance of "The Lion King."
Day trips out of London included bus tours to Bath, Stonehenge, Windsor Castle, Greenwich and Cambridge.
On one field trip to an outlying neighborhood of London, the students toured an adult day center run by a non-profit agency and an adult independent living center, both staffed by professionals to work with autistic clients.
"At the adult day center, I was impressed by the adequate resources, including a lunchroom, a recreation room and a well-stocked library," said Chance Williams, a UTRGV rehabilitation counseling Ph.D. candidate from Charlotte, N.C. "The staff seemed very committed, and were encouraging clients to utilize the Internet as a means of communication and networking. Their passion and desire to make everyone feel included was very evident."
An excursion to Twickenham, in the London Borough of Richmond upon Thames, took the team to meet with social workers at the Twickenham Agency, a social services office that serves individuals with all types of disabilities.
"Social workers in the UK function in a capacity similar to what our rehabilitation counselors do," Chavez said. "We had a really informative meeting at the Twickenham Agency, discussing the various disability policies in place in the UK. Also, the employees were very interested in hearing what we had to share about our programs in the United States."
At the agency, the group received a presentation by Nicola Herbertson, founder of Hao2.eu, described on its website as "a social firm promoting the use of the latest in creative and digital technologies for inclusive innovation." Herbertson and her team at Hao2.eu developed the AIM Grid, a 3-D virtual-world software to assist individuals with disabilities using on-screen visualization techniques.
"The AIM Grid can remove social barriers, too," said Tiffany Cantu, a Mission native who just received her bachelor's degree and has started work on her master's degree in rehabilitation counseling. "Someone with autism, for example, can attend a virtual class; they can meet and interact with classmates online until such time as they are comfortable meeting in person. It's a wonderful tool – it helps individuals conquer fears and move forward with their daily lives."
While in Twickenham, the group enjoyed lunch at Cafe Sunshine, a restaurant staffed by adults with learning difficulties.
"Lunch at Cafe Sunshine was such a treat," Cantu said. "It's in an area called Riverside and overlooks the Thames River, and there's a beautiful garden. I would love to see a place like this get started at home."
To begin the last four days of the trip in Scotland, the group boarded the train at London's King's Cross station for the five-hour trip to Edinburgh, where they disembarked at the historic Waverley Station, with its famous glass-domed ceiling.
"I was so excited to be on my first train ride – it was awesome," Chavez said. "We all enjoyed the beautiful and changing landscapes as we traveled north. I'll always remember the breathtaking image of fields covered with yellow flowers."
Lectures and tours continued in Edinburgh, where they learned from one lecturer – a disabled doctoral student – that wheelchair access on the University of Edinburgh campus is limited.
"From what we observed and what we learned, the UK has some great advantages for people with disabilities, and some of its programs seem to truly be trying to maximize the life of the individual," Chavez said. "However, it appears they still have a long way to go to fully include people with disabilities into society."
Dr. Joan Reed, director of UTRGV University College Learning Framework, accompanied her husband and the students on the journey.
"Experiential learning is powerful, especially with the kinds of intercultural exchanges that happen in study abroad," she said. "In my role as a teacher and mentor of first-year students, I encourage students to think early on about study abroad and to incorporate it into their degree plan."
PHOTO GALLERY: https://www.flickr.com/gp/utrgvnews/JDmU0r
MEDIA CONTACTS

Cheryl.Taylor@UTRGV.edu
UTRGV Senior Editor
956-882-8787
Marci.Caltabiano@UTRGV.edu
UTRGV Director of News and Internal Communications
956-665-2742