Sub Menu Toggle
USDA grant to UTRGV nurtures new scientists to address food challenges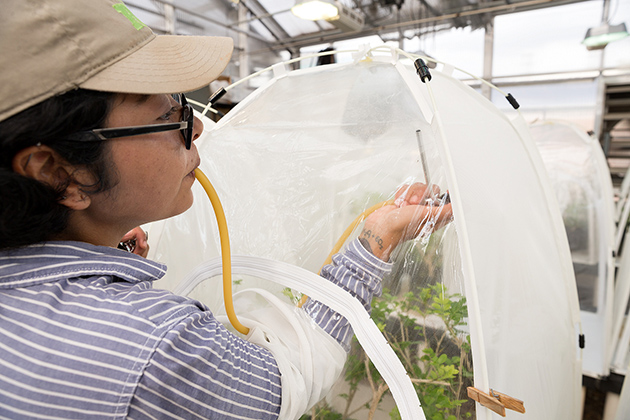 UTRGV biology student Roxann Lerma uses a special, filtered tool to collect wasps ( Tamarixia radiata) that can help manage citrus greening disease. Her research is conducted under a grant in which UTRGV and other students work with scientists from the UTRGV, the USDA, Texas A&M University, the Texas A&M Kingsville Citrus Center, and the Texas Citrus Pest and Disease Management Corporation in Weslaco. (UTRGV Photo by Paul Chouy)
By Gail Fagan
RIO GRANDE VALLEY, TEXAS – JULY 27, 2016 –  A new grant to The University of Texas Rio Grande Valley will help train students to become the next generation of agricultural research scientists focused on future challenges in  climate change and food security.
The three-year grant from the  U.S. Department of Agriculture's National Institute of Food and Agriculture (NIFA)  will support 30 undergraduate students in developing research and engaging in experiential learning, while working with first-rate scientists from the USDA, Texas A&M University, the Texas A&M Kingsville Citrus Center, Texas Citrus Pest and Disease Management Corporation in Weslaco and UTRGV. 
The qualifying students – half from UTRGV and the rest from South Texas College, Texas State Technical College, Texas A&M University and Texas A&M University-Kingsville – will work on real-life research focused on  citrus greening disease  (Huanglongbing, or HLB) and on  cattle fever ticks  (CFT) – two ongoing threats for food security not only in the Lower Rio Grande Valley region but worldwide. 
 "The overall goal is to provide students with hands-on training in the management of these major agricultural threats and help them develop the critical skills needed to generate innovative solutions that will meet these and future challenges in food security and climate change in the United States," said  Dr. Teresa Patricia Feria , UTRGV associate professor of biology and the grant's principal investigator. 
It is the first time the USDA NIFA, under the  Agricultural Food and Research Initiative –Food, Agriculture, Natural Resources and Human Sciences Education and Literacy grant , will fund undergraduate research fellowships, with Feria among the first group of applicants to receive it.  
HLB, considered one of the most serious bacterial plant diseases in the world, is fatal for citrus trees. It is spread by the  Asian citrus psyllid  (ACP), a tiny insect – smaller than the head of a pin – that feeds on the trees' leaves and stems. 
Cattle fever is transmitted by cattle fever ticks and is often deadly for cattle. While cattle fever and CFTs were eradicated from the continental United States in the 1940s, there is still a permanent quarantine buffer zone  between Texas and Mexico, where CFT outbreaks still occur. The buffer zone extends more than 500 miles along the Rio Grande from Del Rio, Texas, to the Gulf of Mexico. 
"We are facing challenges in regard to changing temperature and precipitation that is affecting the abundance and the distribution of ticks, for example, and it is bringing new pathogens to plants, also," Feria said. "This is the first time we are including this component of climate change … We have the great opportunity here at UTRGV to be a lead institution in conducting key climate change research."
Students will get training in fieldwork, monitoring and analysis of lab samples to detect and control the pathogens responsible for HLB and CFT, which will help them gain better understanding of the plausible responses of species to climate change. They also will gain data-presenting skills through scientific writing workshops, and have the opportunity to attend local, state and national conferences. 
"We are hoping to prepare them with the tools to engage in graduate studies or to join the agriculture workforce," Feria said.
Other collaborating investigators on the grant are Dr. Adalberto Pérez de Leon, director, USDA-ARS Knipling-Bushland U.S. Livestock Insects Research Laboratory in Kerrville; Dr. Maria Dolores Esteve-Gassent, program co-director and assistant professor of veterinary pathobiology, College of Veterinary Medicine and Biomedical Sciences, Texas A&M University, College Station; Dr. Mamoudou Setamou, associate professor, Texas A&M University-Kingsville Citrus Center in Weslaco, and Jon Dale, operations manager, Texas Citrus Pest and Disease Management Corporation (TCPDC) in Weslaco.
MAKING A DIFFERENCE
Hannah Moreno, a sophomore biology and music performance major at UTRGV, began working under the grant this summer at the USDA/ARS Cattle Fever Tick Research Laboratory located at the former Moore Air Force Base, where she first volunteered as a high school graduate.
Moreno is interested in research because it allows her to make a difference.
"In research, I am not only making an impact on one person, but a lot of people," she said.
Currently, Moreno is involved in the lab's molecular work related to a research project in Puerto Rico to determine how the CFT transmits disease agents to cattle.
She hopes to publish her research on amplifying a gene – one never amplified before – that is associated with the ability of CFT to be resistant to pesticides.
Moreno said she is learning scientific techniques and how to work with the laboratory equipment and solutions.  
"This grant is allowing me to collaborate with these scientists and providing me a great foundation in the research world."
ENGAGED LEARNING, ENHANCED SKILLS
At the TCJPD's greenhouse in Weslaco, Roxann Lerma, a UTRGV senior biology major from Donna, is contributing to the citrus industry's work on biocontrol techniques to fight the ACP – the insect that transmits HLB.
There, she helps raise and collect a parasitic wasp –  Tamarixia radiata – a predator of ACP used to control the citrus greening without the excessive use of pesticides.
"They are hard to see," Lerma said of the tiny wasp – even smaller than the ACP – as she collects them via a small tube from greenhouse citrus plants and places them in vials for use by area citrus growers. 
Lerma also scouts for early detection of the harmful insect in Valley citrus groves and helps advise growers on the use of the wasp to help control HLB. 
"This grant is enabling me to diversify my interest in different fields of research," she said. "I started out with just basic analysis, and now I can help out with plant and animal interactions when it comes to biological control and agricultural sciences."
For more information or to apply, contact Feria at  teresa.feriaarroyo@utrgv.edu  or  Ruby de la Garza , USDA HSI regional director, at  ruby.delagarza@osec.usda.gov .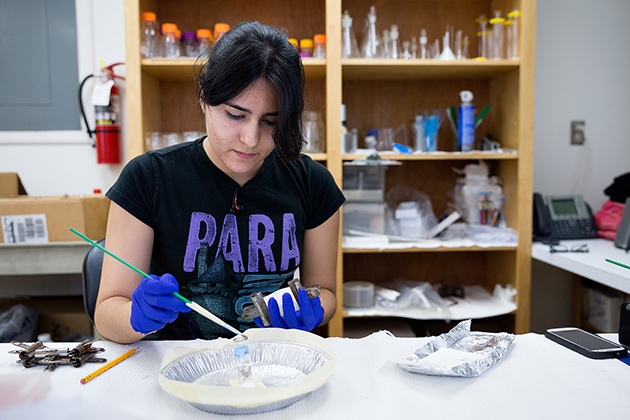 UTRGV biology student Daniela Sanchez uses a brush to transfer cattle fever ticks into a pesticide-treated packet at the Moore Field Air Base in Mission. Her research is conducted under a grant in which UTRGV and other students work with scientists from the UTRGV, the USDA, Texas A&M University, the Texas A&M Kingsville Citrus Center, and the Texas Citrus Pest and Disease Management Corporation in Weslaco. (UTRGV Photo by Paul Chouy)
MEDIA CONTACTS
Gail.Fagan@UTRGV.edu
Senior Writer / 956-665-7995
Marci.Caltabiano@UTRGV.edu
UTRGV Director of News and Internal Communications / 956-665-2742