Sub Menu Toggle
International group of archaeozoologists holds first meeting in United States at UTRGV
Members of the International Council For Archaeozoology (ICAZ) Eighth Bird Working Group meeting were able to observe local wildlife during an excursion to the Estero Llano Grande State Park in Mercedes during the January 2016 conference hosted by UTRGV. (UTRGV photo by Paul Chouy)
PHOTO GALLERY LINK
https://www.flickr.com/gp/utrgvnews/5kAi56
By Gail Fagan
EDINBURG, TEXAS – JAN. 22, 2016 – In his first trip to the Rio Grande Valley from his home in the Netherlands, researcher and freelance biologist Jørn Zeiler was able to see more than 60 species of birds he had never seen before.
"It was exciting," said Zeiler, analyzing the Neolithic bone material of birds and mammals. "You needed three pairs of eyes and three pairs of ears to see and hear everything. It was all new to me."
Zeiler was among a group of scientists and graduate students from around the world visiting The University of Texas Rio Grande Valley's Edinburg Campus Jan. 11-14 for a meeting of the Bird Working Group of the International Council for Archaeozoology (ICAZ).
It was the first time the group, which was formed in 1991, has held their meeting in the United States.  The meeting was hosted by the UTRGV College of Sciences' Department of Biology and School of Multidisciplinary Sciences, and the Office for Sustainability. Sponsors were the UTRGV College of Sciences, Office for Sustainability and Beta Analytic Inc.
The ICAZ Bird Working Group members traveled from Great Britain, the Netherlands, Japan, France, Argentina, Belgium, Australia, Ecuador and across the United States to attend the meeting, which is held every four years, said Dr. Frank Dirrigl Jr., UTRGV associate professor of environmental science and an organizing committee member.
"Some of the smartest people in the field are right here to share their information," Dirrigl said during the visit.
Archaeozoologists primarily study the relationships between humans and animals over time by analyzing animal remains from archaeological sites worldwide. The ICAZ Bird Working Group, an interdisciplinary group of researchers, includes archaeozoologists, archaeologists, zoologists and ornithologists. They study the bones of birds and examine the relationships between people and birds in prehistoric, historic and, at times, contemporary contexts.
"These people are interested in bird use, bird hunting, symbolism, representation in paintings, ceramics, rock art and anything related to the domestication of birds, like chickens. They identify the remains, look at marks on the bones, and the different contexts, to study in terms of other archaeological artifacts and interpreting how people might have used them," Dirrigl said. "They match that up with what they know about the animals today – their adaptations, their ecology, the habitats or environments that they live in."
Research topics discussed during the weeklong meeting included bird use as food and in rituals;  bird hunting and local extinctions from over-hunting of birds; effects of prehistoric agriculture on migratory birds; bird and human migration; and cave remains of birds. The presenters' research findings will be published in Springer's international journal "Archaeological and Anthropological Sciences."
Keynote speakers included naturalist and accomplished nature photographer Seth Patterson, and Dr. Timothy Brush, ornithologist and UTRGV professor of biology.
Brush, who studies the habitat use, nesting, competition, predation and breeding ecology of birds in primarily Texas and northern Mexico, is author of "Breeding Birdlife of a Tropical Frontier, the Lower Rio Grande of Texas." During his presentation, he described the changing birdlife of the Valley utilizing a large array of photographs of birds found locally.
Attendees also enjoyed a welcoming reception at the Museum of South Texas History in Edinburg, where they were greeted by UTRGV Provost and Executive Vice President for Academic Affairs Dr. Havidán Rodríguez and other university administrators.
They also had guided excursions to Santa Ana National Wildlife Refuge (NWR) in Alamo and the Estero Llano Grande State Park/World Birding Center in Weslaco. In addition, many group members went on a special post-meeting trip to the Sabal Palm Sanctuary in Brownsville and the South Padre Island Birding and Nature Center.
"UTRGV is honored to host this meeting of experts in their field," Rodríguez said. "Academic gatherings such as this help UTRGV meet our goal of building sustainable partnerships."
Dr. Markus Tellkamp, another first-time visitor to the Valley, is a biologist and faculty member at Yachay Tech University in northern Ecuador. He said he saw a lot of the same species of birds at the Santa Ana NWR that he had seen in Yucatán, Mexico.
"They were in a slightly different context, further north at the edge of their range," said Tellkamp, who primarily studies bird remains from archaeology sites in Ecuador and bird physiology, measuring the metabolic rates of current birds in the Andes Mountains and its correlation to the ecology of each species.
Tellkamp said the Valley is known as "a famous place" for birds in the United States.
"It is a great venue for a group like this," said Tellkamp, who shared his findings on specimens of song birds and ground doves found at the El Azúcar archaeological site in coastal Ecuador.
"Overall, this meeting has been a great experience," Tellkamp said.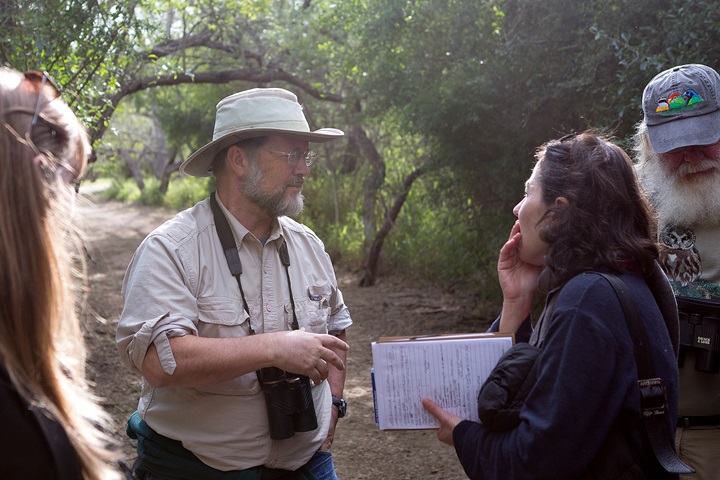 UTRGV Professor Dr. Timothy Brush guided members of the International Council for Archaeozoology (ICAZ) Eighth Bird Working Group, during an excursion to observe local wildlife at Estero Llano Grande State Park in Mercedes. The conference was hosted by UTRGV, and was the first ever held in the United States by the group. (UTRGV photo by Paul Chouy)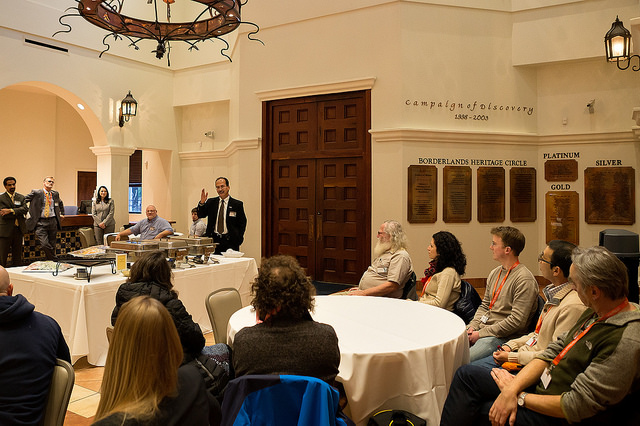 UTRGV Provost Dr. Havidan Rodriguez welcomed attendees of the International Council for Archaeozoology (ICAZ) Bird Working Group at the Museum of South Texas History in Edinburg. The conference was hosted by UTRGV, and was the first ever held in the United States by the group. (UTRGV Photo by Paul Chouy)
MEDIA CONTACTS

Marci.Caltabiano@UTRGV.edu UTRGV Director of News and Internal Communications
956-665-2742
Jennifer.McGehee@UTRGV.edu UTRGV Director of Public Relations
956-882-5105