Sub Menu Toggle
UTRGV student film a finalist in 100 Hour Film Race; seeking votes for Audience Choice Award
Actors Brey Browne and Addyson Lawrence perform a scene from the UTRGV-student-produced short film, "Visit." The film has been named one of 20 finalists in the 100 Hour Film Race international competition. (UTRGV Courtesy Photo)

TO VOTE FOR "VISIT," go to:  http://www.filmracing.com/100hourfilmrace.
By Jennifer L. Berghom
RIO GRANDE VALLEY, TEXAS – JAN. 21, 2016 – The University of Texas Rio Grande Valley is once again a finalist in an international film competition and is asking for the community's voting support to garner top prize.
"Visit," a short film by students in The University of Texas Rio Grande Valley's film club, the Director's Cut Film Initiative, has been named one of 20 finalists in the 100 Hour Film Race 2015 international film competition.
As a finalist, the group stands to win up to $1,500 in cash and free software. The competition is sponsored by Sony, Red Giant, Mocha by Imagineer Systems and Boris FX.
This is the second consecutive year the Valley has been represented in the finals. Last year, a UTPA student entry in the 2014 race — "Azul Pastel" — won Best Cinematography and the Audience Choice award, thanks to votes and support from the community.
Participating filmmakers were tasked with creating a short film in just 100 hours that included the theme of mistaken identity, the action of drinking from a straw, and use of a mask as a prop.
Contestants are eligible for more than $20,000 in prizes.
The competition also gives awards in the following categories: Best Film, Best Direction, Best Writing, Best Actor, Best Actress, Best Acting Ensemble, Best Cinematography, Best Editing, Best Original Music Score, Best Music Supervision, Best Sound Design, Best Animation, Best Visual FX, Best Special FX, Best Costume Design and Best Make-Up.
Participants also can win for the Audience Choice award if they receive enough votes on the festival's website by Jan. 28.
All 20 films are available for viewing here: http://www.filmracing.com/100hourfilmrace.
"Visit" is a two-and-a-half-minute-long film that follows a girl and her father during an outing to a carnival. When they arrive home, they receive an unexpected surprise.
Eduardo Gamba, the film's director and editor, graduated from UTRGV in December with a degree in film. He and fellow budding filmmakers started the Directors Cut Film Initiative film club in late 2014 and have hosted local competitions, as well as entering other contests.
Festivals like the 100 Hour Film Race allow filmmakers to showcase the Valley and its talent and resources, he said.
"We have this organization and we want to urge people to work together and participate in these festivals, because that's how we get attention down here," Gamba said. "We got it before. 'Azul Pastel' was in the top 20 last year, so that got some attention down here."
Gamba worked on "Azul Pastel" and decided to enter the contest this year to see how well he and his fellow filmmakers would do.
"When we found out we made it, we were shocked, because it's one of the most competitive film races out there," he said. "Getting in the top 20 is amazing."
Tom Grabowski, UTRGV associate professor of theater, and interim chair of the Department of Theatre/Television/Film, said the program encourages students to participate in such competitions to hone their skills.
"I'm real proud of what our students do, especially when they do these self-started (projects)," he said. "It's not an assignment. It's because they are interested in practicing and extending their craft beyond what we teach them in the classroom."
Referring to a UTRGV advertisement on display at the McAllen-Miller International Airport, Grabowski said the university's students have proven their talent and abilities through these competitions. Last year's winner, UTPA alumna Nina Chávez Góngora, is attending film school in Prague and her film continues to be a contender in other international film contests, he said.
"You know how at the McAllen Airport it says, 'We will study the stars?' We also create the stars," Grabowski said.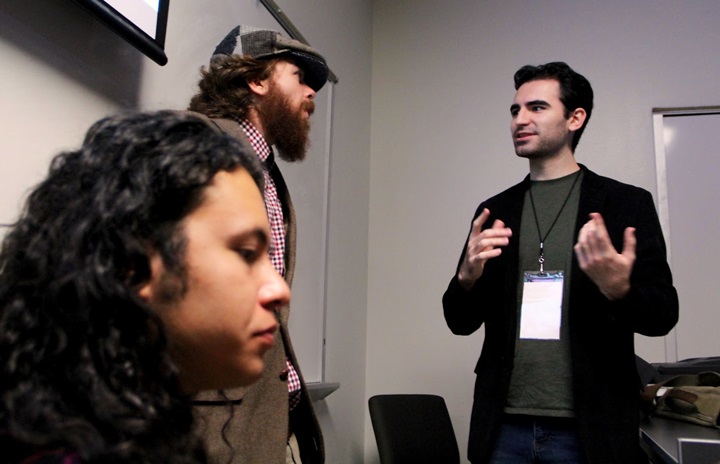 Eduardo Gamba, UTRGV alumnus and director of the short film, "Visit," talks with crew members while shooting the film. "Visit" has been named one of 20 finalists in the 1—Hour Film Race international competition. (UTRGV Courtesy Photo)
MEDIA CONTACTS

Marci.Caltabiano@UTRGV.edu UTRGV Director of News and Internal Communications
956-665-2742
Jennifer.McGehee@UTRGV.edu UTRGV Director of Public Relations
956-882-5105