Sub Menu Toggle
Sen. Juan 'Chuy' Hinojosa gifts $50,000 to UTRGV to support his endowment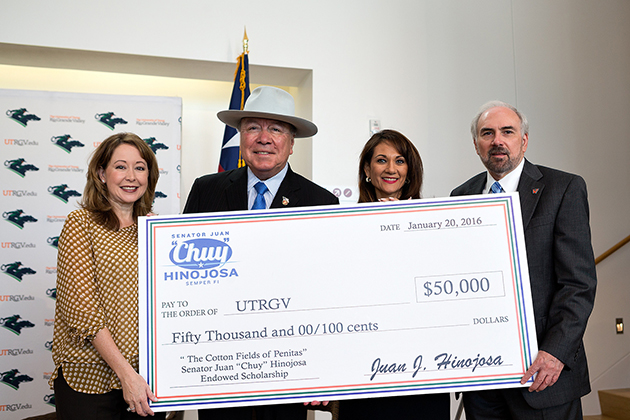 Sen. Juan 'Chuy' Hinojosa (wearing his trademark hat) on Wednesday, Jan. 20, 2016, presented a check for $50,000 to UTRGV President Guy Bailey (at right), during a press conference at the Performing Arts Center on the UTRGV Edinburg Campus. Also shown here are Dr. Kelly Cronin, UTRGV vice president for Advancement (at left) and Veronica Gonzales, UTRGV vice president for Government and Community Relations. The gift will fund scholarships and supports the already established 'The Cotton Fields of Peñitas' Senator Juan 'Chuy' Hinojosa Endowed Scholarship.' (UTRGV Photo by Paul Chouy)
By Melissa Vasquez
EDINBURG, TEXAS – JAN. 20, 2016 – From the fields of Peñitas to the halls of the Texas Capitol, State Sen. Juan "Chuy" Hinojosa (D-20) says he has created a political legacy he could never have achieved without family, friends and supporters. 
Now, he is paying it forward by helping first-generation college students, like himself, at The University of Texas Rio Grande Valley.
On Wednesday, Jan.20, Hinojosa presented UTRGV a $50,000 gift to support "The Cotton Fields of Peñitas" Senator Juan "Chuy" Hinojosa Endowed Scholarship, an endowment he began in 2013 at The University of Texas-Pan American, a UTRGV legacy institution. 
"For me, education is the best equalizer we have in our society," Hinojosa said during a press conference at the UTRGV Performing Arts Center on the Edinburg Campus. "Education is knowledge and knowledge is power. … Education is a way out of poverty." 
The scholarship supports first-generation college students pursuing degrees in all majors at UTRGV. The funds for the scholarship were accumulated when Hinojosa, who was elected the Senate's President Pro Tempore this past 84th Legislative Session, was chosen by fellow senators to serve as "Governor for the Day," an honor bestowed on a select few. 
The day usually involves large ceremonial events, but Hinojosa chose to forego those events and instead raise money for endowed scholarships for universities across his senatorial district. His efforts resulted in $50,000 for UTRGV, along with funds for several other colleges in his district – South Texas College and Del Mar College.
"We all need to do our part in helping our students. Tuition continues to increase, and student loans get bigger and bigger. It is important for all of us to help them graduate so they will not be hindered, and have financial issues become an obstacle for them to graduate," he said. 
UTRGV President Guy Bailey called Hinojosa "a true ambassador for The University of Texas Rio Grande Valley" and "one of the best public servants in the state of Texas."
"Sen. Hinojosa exemplifies excellence in giving back to our community, state and our nation, and always supporting education," Bailey said. 
He thanked Hinojosa for his generous gift, and for his continued support of UTRGV and its efforts to be the leader in student success in the state and nation.
"I don't know where we would be without him. If you look at what he has done for the institution and what he has done in the last Legislature, we all owe him continuous thanks for what he has done," Bailey said. 
Hinojosa's deep commitment to higher education and university support includes the following: 
During the 2013 Legislative Session, Hinojosa authored Senate Bill 24, the historic legislation that created UTRGV and the UTRGV School of Medicine.
In May 2013, Senate Bill 24 was passed unanimously by the Texas House and Senate, making UTRGV eligible to receive funding from the Permanent University Fund (PUF). This gave South Texas access to nearly $200 million that can be used for the construction of new facilities.
Hinojosa helped secure legislative approval of Tuition Revenue Bonds to provide a major portion of the funding for the Performing Arts Center on the Edinburg Campus. The remaining funds came from the state's Higher Education Assistance Fund.
Hinojosa passed landmark legislation that supported the establishment of the Regional Academic Health Center (RAHC), which promotes physician training on the Texas-Mexico Border.
Since his election to the Texas Senate in 2002, Hinojosa has secured more than $100 million for new construction for universities in his district. 
MEDIA CONTACTS
Marci.Caltabiano@UTRGV.edu UTRGV Director of News and Internal Communications
956-665-2742
Jennifer.McGehee@UTRGV.edu UTRGV Director of Public Relations
956-882-5105