Sub Menu Toggle
Vackars give more than $2 million to UTRGV for scholarships, largest gift in university history
UTRGV President Dr. Guy Bailey (at left), Janet and Robert Vackar, owners of the Bert Ogden Auto Group, and Dr. Kelley Cronin, vice president for advancement, on Tuesday, Jan. 12, 2016, announced a gift of more than $2 million from the Vackars to UTRGV. It is the largest gift in the university's history. The announcement came during a press conference at the UTRGV Performing Arts Complex on the Edinburg Campus. (UTRGV Photo by Paul Chouy)
By Gail Fagan
RIO GRANDE VALLEY, TEXAS – JAN. 12, 2016 – The University of Texas Rio Grande Valley has announced the largest scholarship gift received in the institution's history – more than $2 million from Robert "Bob" and Janet Vackar, Valley automotive sales giants and longtime supporters of the RGV community.

The gift, presented at a press conference Tuesday, Jan. 12, 2016, at the Performing Arts Center on the Edinburg Campus, will create two scholarship endowments for academically qualified undergraduate and graduate students, who are working while going to school; $1 million will go to each endowment.
"This is a seminal event in the history of our institution," said UTRGV President Guy Bailey, who stressed the impact the gift will have on students and the university. "First, with $2 million, the payout from that endowment over perpetuity will enable many students who could not have gone to school here. It also sets a pattern of philanthropy for everyone who follows. The Vackars' great generosity and passion for higher education sets the bar for everyone as we go forward."
The Robert C. Vackar Endowed Scholarship for Aspiring Entrepreneurs will support students pursuing a degree in the College of Business and Entrepreneurship.
The Janet Ogden Vackar Spirit of Philanthropy Endowed Scholarship will provide financial assistance to students pursuing a mass communications degree in the College of Liberal Arts.
The Vackars also announced an additional $80,000 for the Susan Lewis Vackar Clark Endowed Memorial Scholarship previously established at the university. The scholarship is named after Bob Vackar's late sister, a 1963 graduate of then Pan American College and an elementary school teacher. 
The Vackars – owners and principal dealers of the Bert Ogden Auto Group, which includes 13 dealership locations housing 16 individual franchise lines across the Valley – both grew up in the Valley, the children of entrepreneurs who owned Edinburg-based businesses and inspired dedication to hard work and community service.
"This is very close to my heart because I kind of grew up down the street," Janet Vackar said. "My dad opened his first car dealership on University Drive. I hung out there and knew his passion was the students. They were his great customers. And also the faculty would come and buy from him."
She said the public relations and marketing aspect of their business is her passion, so it was important for her to help mass communication students reach their goals. Her marketing skill has, over the years, branded her father's long-ago shout out – "Dale Gas!" – as a legendary and long-lasting refrain across South Texas.
"There is a lot of growth here, and we can make this an even better university than it is already," she said.
Bob Vackar, who early on worked alongside his father at Vackar Lumber & Supply in Edinburg, credited much of the auto group's recent success to the performance of the many university graduates they have employed, with more than 80 of them hired the past year alone.
"One of the things that has driven us to do this is not just the growth we've had, but because of the students we have hired from UTRGV. They have done remarkably well. We have been able to move many of them into jobs that make them 10 to 15 years ahead of where they should be in their careers. They have been exceptional. We couldn't have done this without them," he said.
Bob met Janet by chance in Houston, after he had graduated with a degree in business from Texas A&M University, served in Vietnam in the U.S. Army and worked at Shell Oil. He brought his innovative sales skills and business acumen to the union. After the death of both of Janet's parents in an automobile accident, Bob assumed the role of dealership principal and operator in 1992. Since then, Bert Ogden has grown to be the largest automobile dealership in South Texas, with locations in Mission, McAllen, Edinburg and Harlingen and more than 700 employees.
An advocate of hard work, Bob said he wanted the scholarships to help those students particularly who are working full or part time while going to college.
"We want to help keep students in school," he said.
THE IMPACT ON UTRGV STUDENTS
Alberto Adame, president of the UTRGV student body, said many students are grateful for the Vackars' support.
"We are celebrating," he said. "Their gift will provide resources that many students will be able to enjoy. It is very significant, the growth that we have experienced these past few years."
Dr. Mark Kroll, dean of the College of Business and Entrepreneurship, said the endowments will enable his college to accommodate many students financially who otherwise would not be able to attend university.
"That means we can identify strong students who might not otherwise be able to come to UTRGV, and we will capture them and keep them. It is a great day," Kroll said.
Adrian Burone, a 2001 business graduate of UTRGV's legacy institution UT Brownsville/Texas Southmost College, worked for an advertising agency while he was going to school; Bert Ogden was one of their accounts. In 2003, he went to work for the auto group and now is general manager and partner of the Bert Ogden Toyota dealership in Harlingen.
He said he began as a salesperson and advanced through a variety of positions.
"You had to learn the business from the bottom up," he said of his ascent in the Bert Ogden organization.
Burone, who attended the announcement along with a group of Bert Ogden employees, called the gift "remarkable," recalling the years it has taken him to pay off student loans and how this kind of support will help future students stay in school.
"A lot of donations will maybe help someone out for at least that moment, but this offers an opportunity to get an education that can open doors for you for the rest of your life," Burone said. "The Vackars have made such a difference in so many lives, including mine. It's wonderful that they have been so blessed and, in turn, are blessing the lives of others."
Dr. Kelly Cronin, UTRGV vice president for Institutional Advancement, echoed Burone's comments about the Vackars' generosity and the long-term impact of the gift.
"I want to say that you – the Vackars – will never know every student whose life you chose to change with the legacy you created today. But they will forever know the Vackar family," Cronin said.
VIDEO
For videos of the press conference, go to https://www.sendspace.com/folder/7sv4z0. To cut directly to the announcement segment, click on the link slugged "UTRGV Check Presentation.MP3" and forward to 8:30.)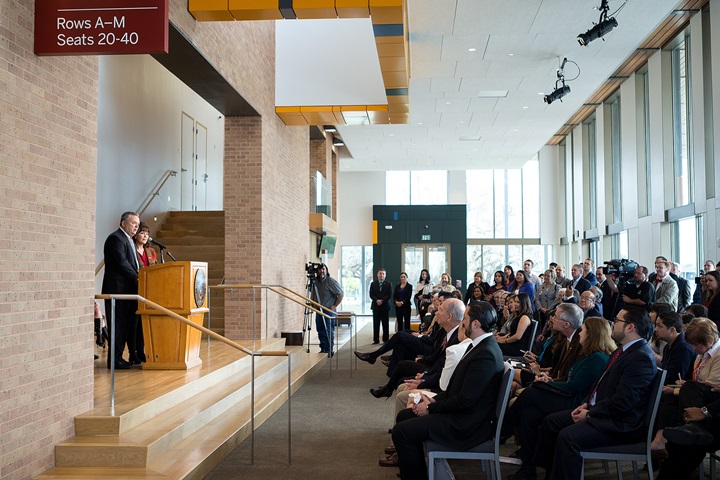 The University of Texas Rio Grande Valley on Tuesday, Jan. 12, 2016, announced the largest gift in the university's history – more than $2 million from Janet and Robert Vackar (at the podium), owners of the Bert Ogden Auto Group. The announcement was made during a press conference at the UTRGV Performing Arts Complex on the Edinburg Campus. (UTRGV Photo by Paul Chouy)
MEDIA CONTACTS

Marci.Caltabiano@UTRGV.edu UTRGV Director of News and Internal Communications
956-665-2742
Jennifer.McGehee@UTRGV.edu UTRGV Director of Public Relations
956-882-5105