Sub Menu Toggle
UTRGV Chess hosts top-titled players at 'GM-norm' International Chess Tournament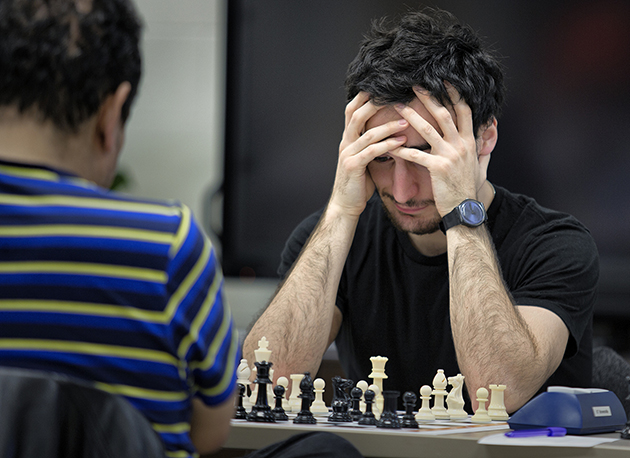 Ranked chess players from around the world are gathered on the UTRGV Brownsville Campus to participate in a GM-norm International Chess Tournament. Here, Zurab Javakhadze, of the country of Georgia, competes against Roberto Martin Del Campo of Mexico. The tournament concludes on Sunday, Jan. 10. (UTRGV Photo by David Pike)
By Cheryl Taylor
BROWNSVILLE, TEXAS – JANUARY 8, 2016 – The first GM-norm International Chess Tournament hosted by The University of Texas Rio Grande Valley began on Tuesday, Jan. 5 and will continue throughout the week until the final round is played on Sunday, Jan. 10.
Under the watchful eye of International Chess Federation (FIDE) Arbiter Korey Kormick, the 20 tournament participants include four grandmasters and six international masters hailing from nine countries – Belarus, Canada, Cuba, Georgia, Hungary, Mexico, Poland, Russia and the United States.
FIDE "norm" tournaments are designed for players to match their abilities against more highly ranked players in order to obtain norms for international titles. The highest title in chess is grandmaster (GM), followed by international master (IM) and FIDE master (FM).
"As the tournament sponsor, we have invited a few internationally titled players to create strong competition, benefitting some of the UTRGV players as well as those who have come in from out of town," said Coach Bartek Macieja.
Although a couple of the competitors are middle school age, most of the 20 competitors are members of university teams, including The University of Texas at Dallas, Texas Tech University and Yale University.
Matthew Larson, a freshman mathematics major at Yale University – and a member of the Yale chess team – said he is striving to qualify as FM. Another player from across the country, and already a FIDE master, Dale Haessel of Canada, is working toward breaking into the next level to warrant the letters IM before his name.
One of the young competitors is Akshita Gorti, who already has achieved the title of woman international master (WIM). Thirteen-year-old Gorti traveled to Brownsville from Virginia with her mother. 
IM Awonder Liang, 12, came to Brownsville with his father, Will Liang. Liang is a two-time world champion in his age group and is the second-youngest international master in history.
Liang started playing chess at the age of 5 in the Madison, Wisc., said his father, who remarked on the growth and increased status of the UTRGV Chess Program.
"People all over the word are watching this university," Will Liang said.
Coach Bartek, a grandmaster and world-renown chess player who became coach in December 2012, confirmed Liang's comment.
"International coverage has grown tremendously as we have rebuilt the UTRGV team over the past three years," Macieja said. "We have worked hard to develop existing players and recruit new players, resulting in our strongest team ever, with four grandmasters and three international masters."
Macieja said he is pleased to welcome GM Carlos Hevia from Cuba this semester, with two more grandmasters in line to start at UTRGV in the fall semester.
"This team has a great future," Macieja said. "I am optimistic as we prepare for the Final Four in April. Webster University is the favorite. They outnumber us in grandmasters, but we now have our four, so we will be competitive."
Two UTRGV grandmasters playing in the GM-norm tournament are Andrey Stukopin and Holden Hernandez, who helped propel the team to second place in the 2015 Pan-Am Intercollegiate Chess Championship, held Dec. 27-30 in Cleveland, Ohio.
The Pan Am Intercollegiate Chess Championship resulted in the Final Four rankings: Texas Tech University, UTRGV, Webster University and Columbia University.
The Final Four, officially the prestigious President's Cup, will take place April 1-3, 2016, at the New York Athletic Club in New York City.
"We are so proud of our team and their success, and we will all help them be ready to play in the President's Cup in April," said IM Alfonso Almeida, senior program coordinator for chess.
The current tournament is being held in room 118 of Cortez Hall on the Brownsville Campus.
The public is welcome to observe the games.
SCHEDULE OF REMAINING GAMES
Round 6: 4 p.m., Friday, Jan. 8         
Round 7: 10 a.m., Saturday, Jan. 9
Round 8: 5 p.m., Saturday, Jan. 9
Round 9: 8:30 a.m., Sunday, Jan. 10
Follow the GM-norm International Chess Tournament at www.monroi.com.
For more information, contact Bartek Macieja at bartek.macieja@utrgv.edu or Alfonso Almeida at alfonso.almeida@utrgv.edu or call (956) 882-7561 or (956) 882-7562.
MEDIA CONTACTS
Marci.Caltabiano@UTRGV.edu UTRGV Director of News and Internal Communications
956-665-2742
Jennifer.McGehee@UTRGV.edu UTRGV Director of Public Relations
956-882-5105