Sub Menu Toggle
UTRGV School of Medicine's Medical Education Building nearing completion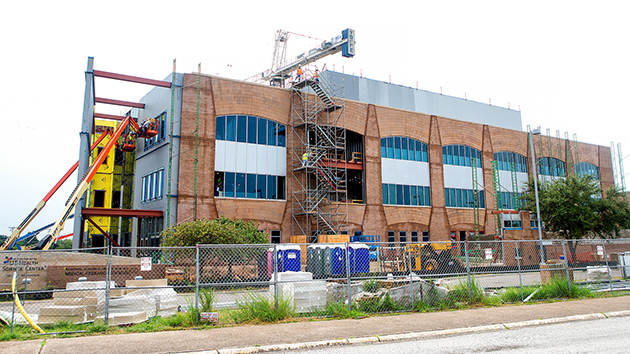 By Gail Fagan
EDINBURG, TEXAS – FEB. 22, 2016 – The new, state-of-the-art UTRGV Medical Education Building, located in the heart of the Edinburg Campus, will be more than a bricks-and-mortar structure. By bringing together world-class faculty and eager new students – many from the Rio Grande Valley – it soon will join UTRGV medical facilities across the Valley to produce highly educated, culturally attuned doctors to serve the region, where the ratio of doctors to patients is barely half the national average and significantly lower than the state average..
The 88,260 gross-square-foot structure, now close to completion, is a two-building facility adjacent to the Edinburg Regional Academic Health Center (ERAHC). The facility includes one three-story building (the west wing) that houses large and small medical classrooms, conference rooms, clinical simulation and digital anatomy labs, faculty offices, and dean's office and student services suites.
A separate one-story building (the east wing) houses a student education center/library, auditorium, group study rooms and student lounge. An exterior plaza and covered walkways connect open breezeways that join the two structures.  
On a recent hard hat tour, Dr. Gabriel A. de Erausquin, M.D., Ph.D., M.Sc., founding chair of the School of Medicine's Department of Psychiatry and Neurology, said the building, and what it offers, are "beautiful."
"From the library to the lounge to the simulation center and classrooms, everything is built for and around the learning experiences of students, which is what we want," De Erausquin said.
Dr. Francisco Fernandez, inaugural dean of the School of Medicine, describes the building as "fantabulous."
"That is a combination of fantastic and fabulous," said Fernandez, who will have an office on the top floor of the west wing. "I can't wait until it is open and we have the first student walk through the door. I will be out there greeting every single one."
Construction on the $54 million building began in July 2014 and is expected to be substantially complete in April 2016. The first medical school classes will be held there in fall 2016.
MEDIA CONTACTS

Marci.Caltabiano@UTRGV.edu UTRGV Director of News and Internal Communications
956-665-2742
Jennifer.McGehee@UTRGV.edu UTRGV Director of Public Relations
956-882-5105