Sub Menu Toggle
New historical trail signs erected in Brownsville mark Valley role in American Civil War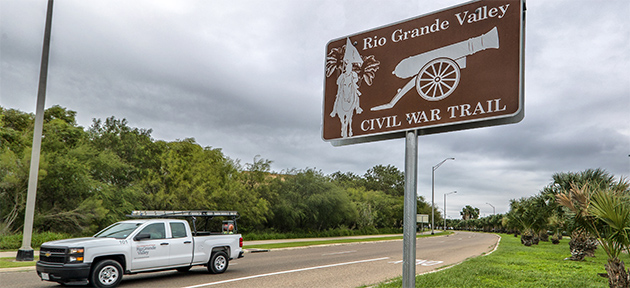 This RGV Civil War Trail sign is located on West University Drive in Brownsville, shown heading east. Cameron County has the most sites of the five counties highlighted on the historic trail which depicts the Valley's rich history in telling the story of the American Civil War. (Courtesy Photo)
RIO GRANDE VALLEY, TEXAS – DEC. 19, 2016  –  Fourteen new historical highway and street signs marking the  Rio Grande Valley Civil War Trail  have been erected throughout Brownsville, including several on the campuses of The University of Texas Rio Grande Valley and Texas Southmost College.
The UTRGV  Community Historical Archaeology Project with Schools (CHAPS)  spearheaded these Cameron County trail signs with a grant funded by the Brownsville Community Improvement Corporation (BCIC).
"The National Park Service was the first to sponsor one of these signs, which was erected on Highway 4 in front of the entrance to Palmito Ranch Battlefield," said Dr. Russell Skowronek, UTRGV professor of history and anthropology and founding director of the CHAPS Program. "We have hopes that other municipalities would follow suit. When we discovered that the BCIC would sponsor such a project, we applied right away."
UTRGV's CHAPS Program designed, developed and launched the Rio Grande Valley Civil War Trail in February 2015, in an effort to permanently mark the sesquicentennial observation of the last land battle of the American Civil War, which took place at Palmito Ranch Battlefield in Brownsville.
After a successful project debut, the CHAPS Program has continued its efforts to provide regional educators with professional development training to teach Rio Grande Valley K-12 students about the area's role in the Civil War.
For more information about CHAPS, contact Dr. Russell Skowronek at 956-665-3231 or  russell.skowronek@utrgv.edu .
MEDIA CONTACTS
Cheryl.Taylor@UTRGV.edu
UTRGV Senior Writer / 956-882-8787
Marci.Caltabiano@UTRGV.edu
UTRGV Director of News and Internal Communications / 956-665-2742