Sub Menu Toggle
Graduate Profile: August 2016 graduate Luis Basurto celebrates making the most of his college career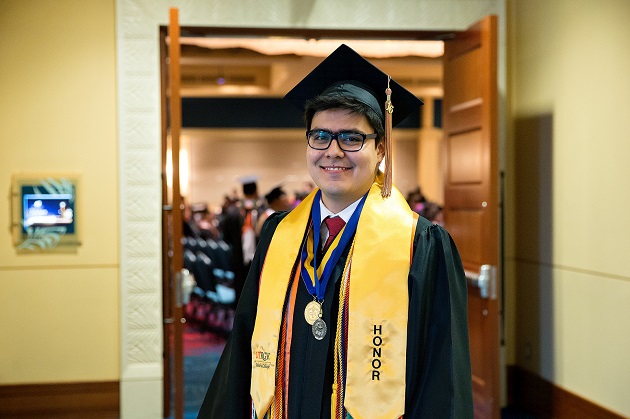 Luis Basurto, 23, travelled from his new job in Washington, D.C., to be one of 502 summer 2016 UTRGV graduates who were able to walk in the university's fall 2016 commencement ceremonies. (UTRGV Photo by Paul Chouy)
By Gail Fagan
RIO GRANDE VALLEY, TEXAS – DEC 17, 2016 –  Luis Basurto, 23, travelled from his new job in Washington, D.C., to be one of 502 summer 2016 graduates who were able to walk in UTRGV's fall 2016 commencement ceremonies.
"I am joyful. It is something I have worked on for five years and it has been a lot of sacrifice," said Basurto, a native of Tampico, Mexico.
Basurto graduated  magna cum laude and from UTRGV's Honors College, with a Bachelor of Business Administration focusing on economics and finance.
Now a health policy researcher at the Urban Institute, a think tank focused on social and economic policy research, Basurto credits his success to the support he received from his family and UTRGV faculty and administrators, as well as to taking advantage of the many opportunities made available to students at UTRGV.
"My Honors College director then, Dr. Ken Buckman, helped me to see my potential," he said. "Also, being around the other Honors College students is inspiring and you get to do things you thought you would never do and visit places you never thought you could visit."
Basurto participated in four Honors College study abroad trips, to Turkey, Austria, Italy and Ireland, and spent one summer studying at the London School of Economics in England.
"Traveling makes you more critical and a better observer. It is enlightening," he said.
Basurto has presented his research before the Federal Reserve Bank of Dallas and served as a Peer Review Board member for the bank's Economics Scholars Program.
Through his work with the Economics Society, a student organization at UTRGV, he was part of a student team that won first place in 2014 in a national competition that promoted awareness of the national debt. The winning team was recognized by President Bill Clinton at a Clinton Global Initiative University event.
Selected to be an Archer Fellow in Washington, D.C., this past spring, Basurto worked as a research intern at the American Enterprise Institute, another college experience he says was "amazing." 
"This program gives you the opportunity to go from the Valley to D.C., and puts you together with top notch students nationwide from schools like Harvard," he said.
Basurto's future plans include eventually earning a Ph.D. in economics and returning to Mexico. 
"I came here to get a quality education, but plan to go back home and help fix things there," he said. "But I want to gain more experience and expand my network before returning."
He said he would advise those just entering college to make the most of their undergraduate career.
"It's all about planning and working for it, definitely," Basurto said.
MEDIA CONTACTS
Gail.Fagan@UTRGV.edu
Senior Writer / 956-665-7995
Marci.Caltabiano@UTRGV.edu
UTRGV Director of News and Internal Communications / 956-665-2742