Sub Menu Toggle
ROTC cadet Ilse Aranda receives commission as second lieutenant in U.S Army Reserves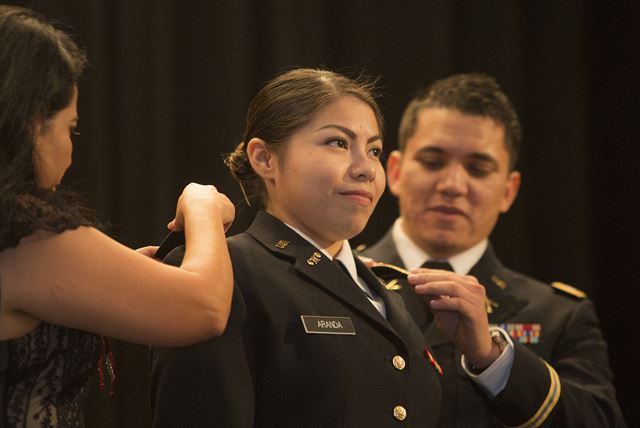 UTRGV graduating senior Ilse Aranda received her gold bars as a 2nd lieutenant in the U.S. Army Reserves, during the U.S. Army ROTC Fall Commissioning Ceremony, held Thursday, Dec. 15, 2016, in the UTRGV Library Auditorium on the Edinburg Campus. (UTRGV Photo by Silver Salas)
By Cheryl Taylor
EDINBURG, TEXAS – DEC. 16, 2016 – Ilse Aranda, a UTRGV graduating senior, stood proudly in her uniform as she received her gold bars as a 2nd lieutenant in the U.S. Army Reserves, during her commissioning ceremony Thursday, Dec. 15, in the Library Auditorium on the Edinburg Campus.
The only U.S. Army Reserve Officer Training Corps (ROTC) cadet at UTRGV to be commissioned at the end of the fall 2016 semester, Aranda graduates with her Bachelor of Science in Clinical Laboratory Science (CLS) at the 9 a.m. commencement ceremony on Saturday, Dec. 17, at the McAllen Convention Center.
"I will use my new degree as a chemical officer in my assignment with the 321st Civil Affairs Brigade, Headquarters and Headquarters Company, in San Antonio," Aranda said. "I look forward to my new unit, and also to receiving further training that will certify me to more complex applications and greater responsibilities."
Aranda, 23, already has accepted a job at McAllen Medical Center, where she has been fulfilling her clinical rotations for her degree.
"This field is very broad, and can lead to many career options, such as hematology, forensics, infection control, or branching out to physician assistant studies," she said. "Other than hospital labs, CLS graduates can work with a blood bank, private clinic or in public health."
Lt. Col. Walter Llamas, UTRGV professor of military science and department chair, said Aranda is admired by the other cadets for her positive attitude and perseverance.
"Cadet Aranda's degree is not an easy one, and it required many laboratory hours. But she was able to be successful at both her academics and the ROTC," Llamas said. "She has been a mentor to others in her free time, to help them get over the hurdles and ensure they remain in the program."
After graduating from Valley View High School in 2012, Aranda left for basic training as an enlisted soldier in the U.S. Army Reserves. She returned home in time to start the spring 2013 semester at UT Pan American.
"When I started at UTPA, I knew I wanted to study a field in healthcare, but felt I didn't have the personality to pursue medical school or nursing. So, I looked at the various medical programs, and clinical laboratory science jumped out at me," she said.
Participating in the Simultaneous Membership Program at UTPA and then UTRGV allowed Aranda to be enlisted in the Reserves and take part in the ROTC program.
"I've just had my last drill and said goodbye to the 370th Transportation Company in Brownsville, the unit I've been assigned to throughout my four years in college," she said.
FOUR FORMATIVE YEARS
Aranda feels her college experience was enhanced greatly by her participation in ROTC.
"We participated in intramural sports, bike rides and 5- and 10-K runs. We posted the colors at campus events. We visited veterans who aren't so mobile any more. It was a great group to be a part of," she said.
Aranda also was an active member and 2016 president of the Clinical Lab Science Student Organization (CLSSO). Sandra Tijerina, associate professor and CLS program director, said Aranda's leadership skills were evident throughout her term as CLSSO president.
"Ilse was very organized in conducting meetings and leading fellow members in fundraising activities, and also in service-learning projects such as our blood drives," Tijerina said.
Aranda said managing a group is not a simple task.
"I found myself using a lot of the skills I learned in ROTC when I took on the role of CLSSO president," she said. "Our club attended the CLSSO annual meeting in San Antonio last spring, which was really worth the effort of the fundraising to cover our expenses. We all learned a lot, and got to network with others in the field."
Aranda has a strong belief that she is fulfilling a duty to her country, to her community, and especially to her family: As the first to obtain a college degree, she strives to be a role model to her 14-year-old brother.
Llamas said Aranda is a strong leader.
"I see Ilse contributing as a reserve officer for many years, serving in the military and her community and helping others along the way," he said. "She is a selfless, service-oriented person who lives the Army values every day."
CLINICAL LABORATORY SCIENCE
The Clinical Laboratory Science Program in the UTRGV Department of Health and Biomedical Sciences was selected as one of 20 finalists for its national awards by Excelencia in Education, a nonprofit organization focused on the success of Latino students.
Program Director Tijerina said the UTRGV CLS program pass rate on the American Society for Clinical Pathology Board of Certification national exam for the fall 2015 graduating cohort was 90 percent. The retention rate for that cohort was 100 percent, and all of the graduates, 21 in total, found jobs within five months of graduation.
For more information on the Clinical Laboratory Science Program, contact Tijerina at 956-665-2296 or Sandra.Tijerina@utrgv.edu.
UTRGV ROTC
The U.S. Army ROTC celebrates its 100th anniversary this year, and its 34th year at UTRGV and its legacy institutions. ROTC prepares students for officer responsibilities in the active Army, Army Reserve, or Army National Guard following graduation or after deferment to attend advanced civilian schooling. ROTC cadets learn self-discipline and acquire leadership skills and the experience sought by employers of college graduates. Scholarships are available.
For more information on ROTC, contact Pedro Constante, UTRGV's Army recruiting operations officer, at (956) 665-3601 or Pedro.Constante@utrgv.edu.
MORE PHOTOS: 
https://www.flickr.com/gp/utrgvnews/EfdQXj
MEDIA CONTACTS

Cheryl.Taylor@UTRGV.edu
UTRGV Senior Writer / 956-882-8787
Marci.Caltabiano@UTRGV.edu
UTRGV Director of News and Internal Communications / 956-665-2742