Sub Menu Toggle
UTRGV COEC awarded $1.25M DOE grant to establish Industrial Assessment Center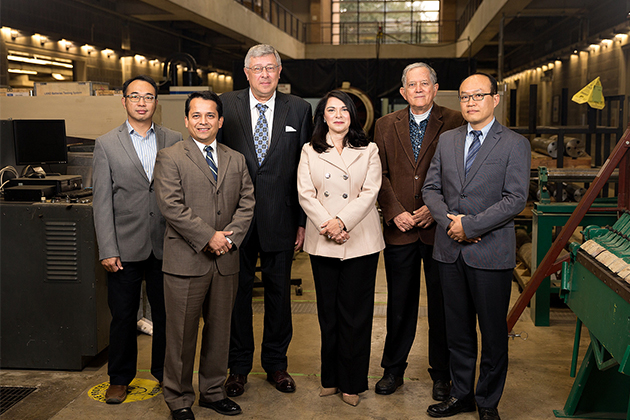 The UTRGV College of Engineering and Computer Science has been awarded a $1.25 million grant by the Department of Energy to house the South Texas Industrial Assessment Center, the only IAC in the UT System. Shown are UTRGV College of Engineering & Computer Science faculty involved in the project: (from left) Dr. Chu-Lin Cheng, co-PI and assistant professor of civil engineering; Dr. Hiram Moya, co-PI, STIAC associate director and assistant professor of manufacturing and industrial engineering; Dr. Alexander Domijan, dean of the UTRGV COEC and principal investigator for the project; Marianella Franklin, Chief Sustainability Officer; Dr. Jamie Ramos, co-PI and associate professor of electrical engineering; and Dr. Younggil Park, co-PI and assistant professor of mechanical engineering. (UTRGV Photo by Paul Chouy)
By Vicky Brito
RIO GRANDE VALLEY, TEXAS – DEC. 15, 2016 –The UTRGV College of Engineering and Computer Science has been selected by the U.S. Department of Energy to house the South Texas Industrial Assessment Center.
The selection brings with it a $1.25 million grant to fund the five-year project.
UTRGV will house the only Industrial Assessment Centers (IAC) in the UT System. An IAC conducts energy studies to identify opportunities to improve productivity, reduce waste and save energy.
The STIAC will provide industrial energy assessments, at no cost, to local small- and medium-size enterprises. Through the provision of these industrial assessments, the STIAC has the potential of helping manufacturers save millions of dollars each year in energy, productivity and water management costs.
Dr. Alexander Domijan, dean of the UTRGV College of Engineering and Computer Science (COEC), serves as principal investigator for the project.
The team for this project is made up of COEC professors and colleagues in related areas. In addition to Domijan, they are:
Co-PI and STIAC Associate Director Dr. Hiram Moya, assistant professor of manufacturing and industrial engineering.
Co-PI Dr. Chu-Lin Cheng, assistant professor of civil engineering.
Co-PI Dr. Younggil Park, assistant professor of mechanical engineering.
Co-PI Dr. Jamie Ramos, associate professor of electrical engineering.
Marianella Franklin, Chief Sustainability Officer.
Henry Oh, director of the Texas Manufacturing Assistance Center.
COEC students will conduct site visits, designed to add to their knowledge and skills in the field. The idea is to place the graduate students as point persons and have the undergraduates shadow them. They will observe and provide additional input for an assessment and energy audit of the building, and will make recommendations on how to help save energy and control costs.
"There are three areas that we would work with the client right away," Moya said. "First, we look at power consumed. For example: Are you using an efficient system and location to store your products so that you are not wasting too much energy? Secondly, we assess if their process is efficient and determine where there is room for improvement. Lastly, we look at water consumption and ways to be more sustainable."
Once the students submit their recommendations to faculty, faculty then will review and make additional recommendations, as needed, and will present the final report to the requesting entity.
The team currently is planning 20 site visits per year. The goal of the team is to train 20 students each year as energy efficiency experts.
"The idea is that our students have the experience to go in and do a consulting type of assessment and be able to communicate effectively the recommendations that we have," Moya said.
The DOE recently retired five of 28 active centers, and this year opened nine under the new application process.
Domijan said centers like the STIAC have durability, depending on the value of their work, and the STIAC team will be able to reapply for an extension in 2022. Texas A&M in College Station is one of the longest-standing centers, and the only other one in Texas.
MEDIA CONTACTS
Victoria.Brito@utrgv.edu
Informational Writer / 956-882-4330
Marci.Caltabiano@UTRGV.edu
UTRGV Director of News and Internal Communications / 956-665-2742