Sub Menu Toggle
UTRGV Center for Teaching Excellence expands to Brownsville Campus, helps promote faculty success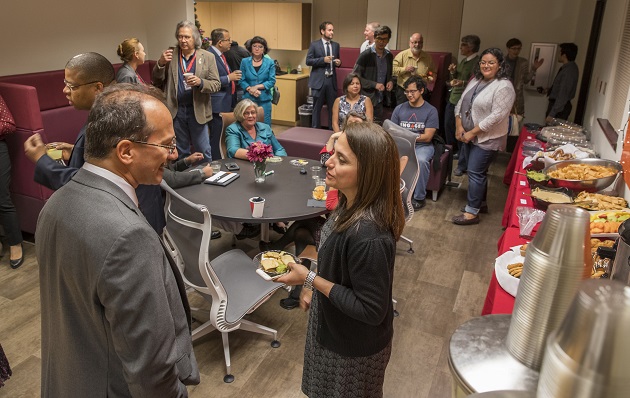 The UTRGV Center for Teaching Excellence officially opened Thursday, Dec. 15, 2016, on the Brownsville Campus. The center will provide an area for professors and teaching assistants to receive guidance and training, as well as a place to have private meetings with colleagues. (UTRGV Photo by David Pike)
By Vicky Brito
BROWNSVILLE, TEXAS –DEC. 15, 2015 – The University of Texas Rio Grande Valley's Center for Teaching Excellence, a dedicated location where faculty can meet and network, is now open on the Brownsville Campus.
A reception was held in the center's Main Building location – Room 1.212B – on Thursday, Dec. 15, 2016, to celebrate the opening.
The CTE is designed to promote teaching effectiveness across various disciplines and faculty ranks, and to enhance productive connections for faculty research and teaching.
Dr. Javier Cavazos, assistant professor of counseling in the Department of Education in P-16 Integration, serves as director of the CTE.
"We try to help graduate teaching assistants, lecturers, assistant professors and professors improve their teaching," Cavazos said. "This is a place where faculty come together to discuss the best practices of teaching."       
The CTE opened in May 2015 on the Edinburg Campus, in the Education Complex, Room 1.525.
Since its inception, the Center for Teaching Excellence has hosted 90 events, including workshops and trainings, attended by more than 650 faculty members and more than 200 graduate students.
"A significant number of faculty and graduate students have been impacted by this center," said Dr. Ala Qubbaj, vice provost for faculty affairs and diversity. "With the opening of this facility, we think we are going to see more faculty and more students being impacted by the expansion to Brownsville."
Dr. Havidán Rodríguez, UTRGV provost and executive vice president for academic affairs, attended the opening and thanked Cavazos for his dedication and support for UTRGV faculty.
"After looking at Dr. Cavazos' credentials, I saw a great teacher, an outstanding scholar and someone who is incredibly committed to enhance these processes and take a leadership role to ensure that our faculty and students are successful. He really is an outstanding choice to lead the CTE," Rodriguez said.
MEDIA CONTACTS
Victoria.Brito@utrgv.edu
Informational Writer / 956-882-4330
Marci.Caltabiano@UTRGV.edu
UTRGV Director of News and Internal Communications / 956-665-2742