Sub Menu Toggle
UTRGV celebrates first anniversary with music, cupcakes and optimism for the future
UTRGV President Guy Bailey and students celebrated the university's first anniversary on Wednesday, Aug. 31, 2016, with celebrations on both the Edinburg and Brownsville Campuses. The parties included more than 1,200 cupcakes, a 2,000 T-shirt giveaway and a mariachi anniversary serenade. (UTRGV Photo by Paul Chouy)
By Jennifer L. Berghom
RIO GRANDE VALLEY, TEXAS – AUG. 31, 2016 – To celebrate its one-year anniversary, The University of Texas Rio Grande Valley marked the big day Wednesday with two shindigs that included more than 1,200 cupcakes, a 2,000 T-shirt giveaway and a special birthday serenade.  
In the year since UTRGV opened its doors to more than 28,000 students, the university has started a medical school, helped confirm one of Albert Einstein's key theories, expanded academic programs, and garnered accolades from national college ranking sites.
"How many 1-year-olds can say all of those things after one year," said Dr. Kristin Croyle, UTRGV's vice president for Student Success.
UTRGV President Guy Bailey said UTRGV is unique, and he praised the UTRGV community for coming together to achieve so much in such a short time.
"You're part of a great university, a university that is only going to get better," Bailey said. "We have all of our bright days, all of our future, ahead of us. … The dreams of the Valley are coming true at UTRGV. … We're going to do great things together."
UTRGV Student Government Association President Denisse Molina-Castro, flanked by the SGA Brownsville Campus Vice President Alondra Galván and SGA Edinburg Campus Vice President Peter Averack, recounted the university's accomplishments, including its role in proving Einstein's prediction of the existence of gravitational waves, and UTRGV's ranking as the third best college in The University of Texas System in Forbes Magazine's 2016 "America's Top Colleges" list.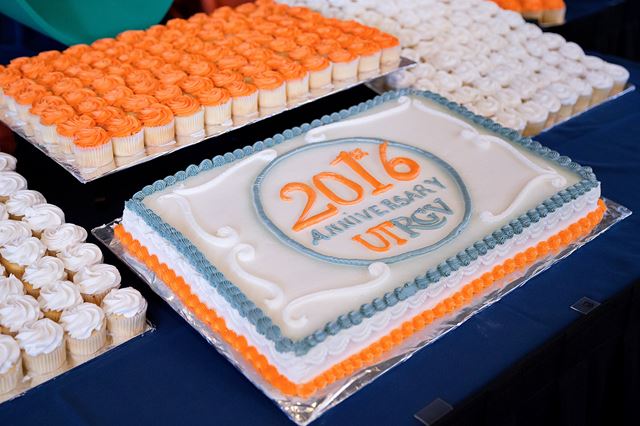 What anniversary celebration would be complete without cake! UTRGV celebrated its first anniversary on Wednesday, Aug. 31, 2016, with music, giveaways, cake, and more than 1,200 cupcakes. (UTRGV Photo by Paul Chouy)
"In our inaugural year, all eyes were on UTRGV," Molina-Castro said. "Everyone wanted to see whether UTRGV would succeed or fail. …With hard work and dedication we've built upon these accomplishments to become the very best."
UTRGV hosted birthday celebrations on both campuses – one at the UTRGV Ballroom in Edinburg and one at PlainsCapital El Gran Salón in Brownsville – where students were treated to free cupcakes and T-shirts to commemorate a successful first year. UTRGV's Pep Band ushered in the festivities with music, and the mariachi performed the traditional "Las Mañanitas" serenade to help celebrate.
The Best Week Ever continues Thursday, Sept.1, with the OGE International Meet and Greet at 11 a.m. at the Main Courtyard, Brownsville Campus; Picnic with the President from 11:45 a.m. to 1:45 p.m. at the UTRGV Ballroom, Edinburg Campus; and The Stomp from 5:30-8:30 p.m. at the University Recreation (UREC) Building, Edinburg Campus.   
For a complete listing of events, visit the Best Week Ever page at www.utrgv.edu.
Read more about UTRGV's successful first year here.
PHOTO GALLERY:  https://www.flickr.com/gp/utrgvnews/0M3BMU
MEDIA CONTACTS
Jennifer.Berghom@UTRGV.edu
UTRGV Senior Writer / 956-665-7192
Marci.Caltabiano@UTRGV.edu
UTRGV Director of News and Internal Communications / 956-665-2742