Sub Menu Toggle
UTRGV STDOI professor takes part in dental genetics study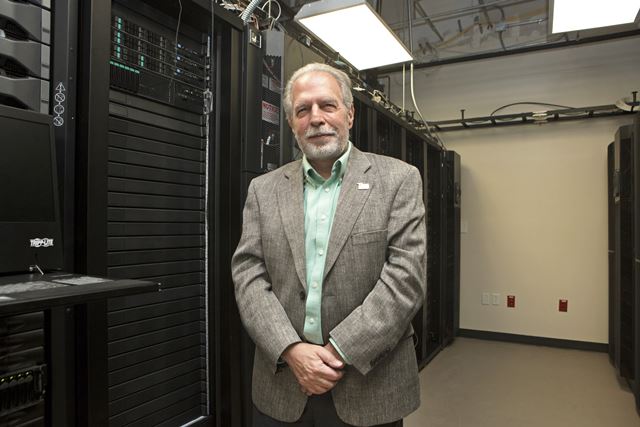 Dr. Michael Mahaney from the STDOI at UTRGV works with University of California at Berkeley Associate Professor of Integrative Biology Leslea Hulsko to collect and analyze data from pedigreed baboons at the Southwest National Primate Research Center in San Antonio. (UTRGV Photo by Veronica Gaona)
By Vicky Brito
BROWNSVILLE, TEXAS – AUG 22, 2016 – Dr. Michael Mahaney, professor at The University of Texas Rio Grande Valley South Texas Diabetes and Obesity Institute (STDOI), has contributed to research of colleague Dr. Leslea Hlusko, associate professor of integrative biology at University of California Berkeley, in the identification of distinctive features of primate teeth that allow the researchers to track the evolution of apes and monkey ancestors.
Their work was published in the August 2016 issue of the Proceedings of the National Academy of Sciences, USA.
"This shows that we can use the power of evolutionary history to unlock what is going on genetically in animals on whom you can't experiment, such as humans," Hlusko said. "We found two inherited traits, but identifying the traits is only the first step. We now have to identify the genome sequences that underlie these traits, which will aid our continuing studies of the evolution of variation in the development and arrangement of teeth in our own species."
Mahaney is part of the 22-member team recruited by Dr. Sarah Williams-Blangero from San Antonio when she joined UTRGV in 2014 as director of STDOI.
Hlusko and Mahaney first met while Hlusko was studying dental variation in non-human primates while working on her Ph.D. at Pennsylvania State University.
At the time, Mahaney was working at the Southwest Foundation for Biomedical Research, now the Texas Biomedical Research Institute, in San Antonio. The facility is home of the Southwest National Primate Research Center.
"Half of my work in genetics at that institution was with non-human primates, such as baboons," Mahaney said. "We had developed a very nice, very large pedigree and population of baboons, and we knew all of the family relationships between them."
The pedigree was six generations deep, which made them beneficial resources for Hlusko's genetic studies.
Mahaney's graduate research experience with skeletal, dental and sexual maturation in genetic disorders was also useful to the research.
"I was very familiar with genetic studies of dental variations," he said. "I've done some work even during my graduate training on dental evolution, using dental traits to understand the evolution of non-human primates and humans."
Mahaney served as an outside advisor and examiner for Hlusko's Ph.D. work. They have worked together, collecting data on baboon populations, for 16 years and have published 11 papers together.
MEDIA CONTACTS
Victoria.Brito @UTRGV.edu
UTRGV Informational Writer / 956-882-4330
Marci.Caltabiano@UTRGV.edu
UTRGV Director of News and Internal Communications / 956-665-2742